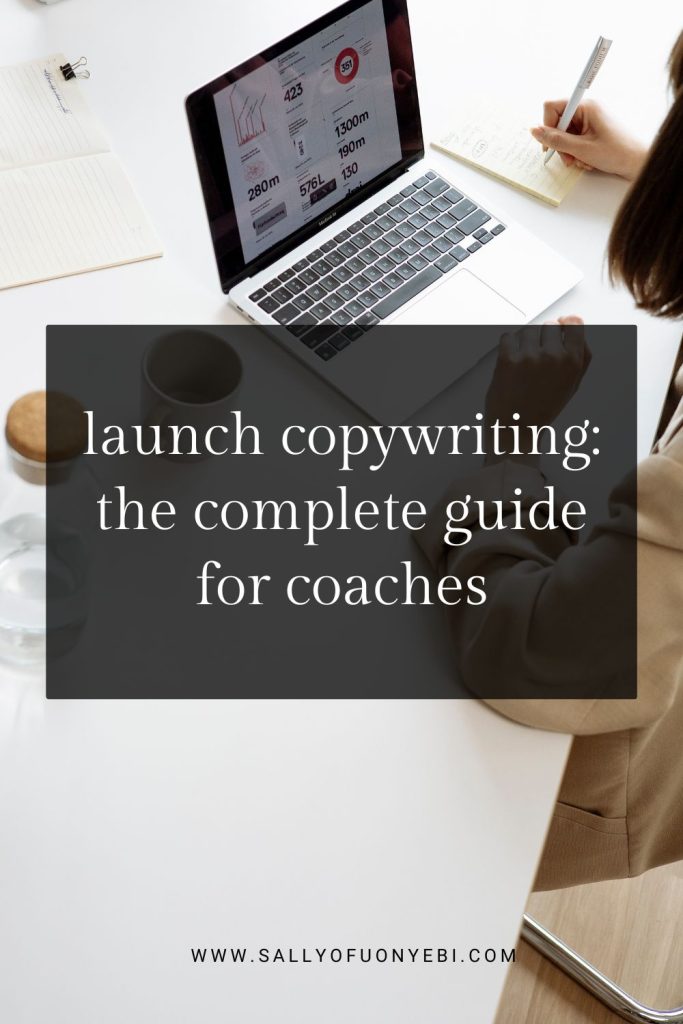 As coffee is to Starbucks, so is launch copywriting to launching.
You've spent days, weeks, maybe even months creating your offer and it's finally ready. Woohoo! I know you can't wait to show the world and help transform their lives.
But, you won't just make promotional posts and expect that your phone starts chiming with sales notifs. Even if this offer is what your ideal clients need, simply asking them to buy your stuff doesn't mean they will. This is because there's a process to it.
So, how do you get people to see the transformation your course, program, or service offers?
You need launch copywriting and I offer this as a done-for-you service if you need a "hands-off and relax" solution.
Several entrepreneurs wait till the last minute before doing their launch copy because they think it's simply writing. But, that's just another copywriting myth. Don't make that mistake.
Today, you will learn everything you need to know about launch copywriting. So, put on your scuba gear, and let's dive in!
What is launch copywriting?
Launch copywriting is the process of creating messaging that drives launch sales. Every product or service needs marketing copy that'll make potential customers see its value and buy. Copy for new products has to be more strategic since they're novel.
Launch copywriting examples for creatives
As a coach or course creator, here are 10 vital launch copywriting examples (or assets) you need to know:
1. Pre-launch copy
i.) Social media and forum content: Everything you've been posting on your social platforms has always been posts or captions until you're about to launch. Every post you put on social media in your pre-launch phase is "copy" — social media copy.
Your social media copy should be of various types and formats. It's better to experiment with different copy types, not just those focused on conversions. Why? At this time because you want to build as much buzz as you can for your launch.
Types of social media copy:

Informational posts: Educational posts

Aspirational posts: Inspirational posts

Promotional posts
Sneak peeks
Personal posts
Behind the scenes
ii.) Emails to prep your audience: Don't just stop on socials. Move your hot leads into an email list, and nurture them with pre-launch emails. Repurpose your social content and share exclusive emails that give subscribers insights into what your offer is about and why they need it.
iii.) Blog series: If you've built a reasonable amount of traffic for your blog, you can create a launch blog series to walk your audience through your pre-launch till the actual launch day. This is also an effective way to blow up organic traffic and build your email list.
2. Landing page copy
When launching, there's a need to prepare your tease piece (also known as hype piece) and a landing page for it. The tease piece is essential to get leads prior to your launch and can be in the form of a webinar, live masterclass, or PDF download.
For your tease piece landing page, you need conversion copy to turn visitors into signed-up leads.
3. Tease-piece email sequence
You need to nurture leads who sign up for your tease piece after they've attended or received it. This is a great channel to build trust and turn interested leads into paying clients.
4. Sales page copy
Some people call a sales page, "the money page". Sales page copywriting is messaging for the page that'll sell your offer. It's a page that summarizes your launch — everything your social posts, blogs, and emails point to, where your ideal clients can learn about your offer and pay for it.
5. Open-cart messages
This can be your launch sequence or social media posts. Essentially, your cart should be opened for ideally seven days, but not more than 10. During this period, you should focus on getting people to buy your offer because your cart is only open for a limited period.
6. Post-launch copy
Every launch needs post-launch copy. The post-launch phase involves sending:
"Thank you" and onboarding emails to all your new clients
Abandoned cart emails to those who didn't complete their purchases.
7. Ad copy
Whether you plan to run sponsored ads on blogs and in email newsletters, or paid social media ads on platforms like Facebook and Instagram, you need sales copywriting.
8. DM Scripts
This refers to copy for your social media direct messages. When launching, your DMs should aim to convince clients who aren't yet convinced by your feed or story posts. This is why you need scripts for your launch.
9. Quiz-funnel copy
If you plan to use a quiz like my brand messaging quiz as the primary lead generator for your email list, you'll need strategic quiz questions.
10. Affiliate copy
If you have affiliate partners for your new course or program, you can consider giving them message templates, instead of leaving them to come up with their marketing copy.
11. SEO website copy
This isn't a required copy asset for every launch. But, if you're looking to launch your website, rather than a course or program, you need SEO website copywriting. Your website message should align with your dream clients and be discoverable on search engines.
Who is a launch copywriter?
A launch copywriter is a professional who creates strategic copy that markets and sells your offer. A copywriter who creates launch content plans out every piece of launch message you share from pre-launch to post-launch, so you can get results-driven copy without feeling overwhelmed.
Should you hire a launch copywriter for your program or course?
So, you're planning to launch your new course, program, service…
And you're here thinking "should I hire a launch copywriter or just DIY your copy?"
Yes, you should hire a launch copywriter, and here's why:
Your pre-launch phase should last at least six weeks and you need to be intentional about the messaging you share during this period.
You want to balance information, value, aspiration, and promotion so you can make sales without appearing desperate.
Every piece of content has to meet your ideal clients in whatever stage they are in the buyer's journey.
Launch messaging is about stacking marketing information. You want them to go from understanding your product to being ready to buy.
During your open cart period, you want your email sequences, social media promotions, and DM scripts amongst others to do one thing — convert to sales.
Your launch copy should establish you as an authority your audience can know, like, and trust to help solve their needs.
All these need a copywriting strategy that a launch copywriter can handle. You need strategic messaging that can turn your market research and offer transformation into empathetic, cash-driven copy that sells.
Questions to ask yourself before hiring a launch copywriter
Now that you know why you need a launch copywriter, how do you know who to hire? Here are five questions you need to answer before hiring a launch copywriter:
Do you have a clear vision for your brand?
Who are your ideal clients?
What kind of results do you want to get?
What's the launch copywriter's process like?
Does the copywriter's values align with mine?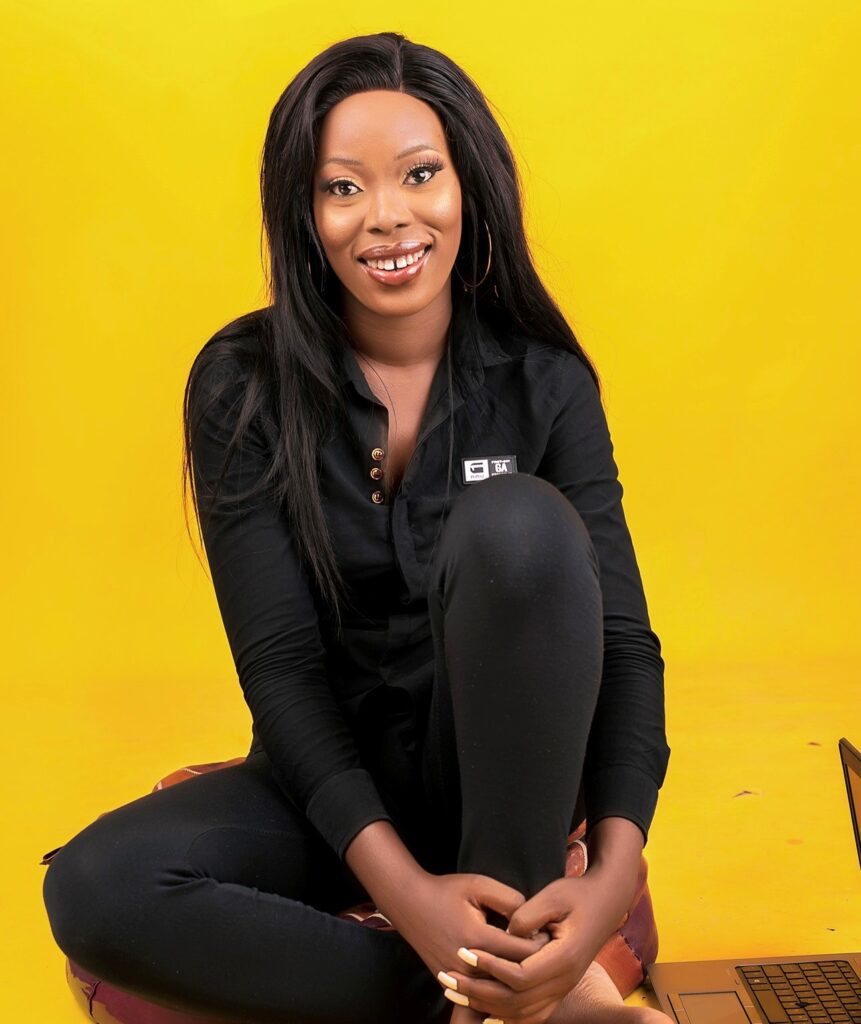 Are you a coach, course creator, or service-based entrepreneur getting ready to launch?
Let's work together to create sales-driven messaging for your offer.
I'd love to hear about your project.
Some examples of my launch copywriting projects
I've had the privilege of working on launch copywriting and strategy projects for awesome coaches and course creators. Here's a brief review of what these projects look like:
Tobi Akomolafe – Bag Pattern Designer

Tobi is a professional bag pattern designer who came to me when she needed help launching her course. It was a detailed course which was about 4x the price of her mini-course. She had no launch strategy and wanted sales-driven copy that'll get her a 3x increase in sales.

It was fun creating her entire launch copy. The result?

Tobi made 10x of her regular sales, which is more than three times her launch goal.
"Sally created clear, engaging sales copy for my fashion brand. I've never had my sales message so simple yet captivating, and in my brand voice.

My sales growth shot through the roof. She asked what success would mean for me and I said x3 increase in sales. I got a 10 times increase in course sales! And her client relation is second to none. I absolutely recommend Sally."

– Tobi A.
tania lopez – parenting coach

Tania is a parenting coach who focuses on helping overwhelmed moms build deeper connections with their children. She knew what she wanted to share but didn't know how to build a launch messaging strategy around this.

After our strategy session together, Tania gained clarity about her message. Also, she walked away with a custom strategy tailored to her business and clients' needs.
"I had a great session with Sally about my launch and am super impressed with the plan she created specifically for me. She has such a clear view of my business, ideal clients, and goals. She came up with a whole host of launch content ideas in different formats and structured my content plan in a way I totally love. Sally is a master at storytelling and I highly recommend her as a person and professional!"

– Tania l.
Now that you know what launch copywriting means, let's dive into how to write sales-driven launch copy.
How to write launch copy that sells
Understand your ideal clients
Create a launch strategy
Plan your messaging
Paint the to-come transformation
Use empathy
Outsource your launch copy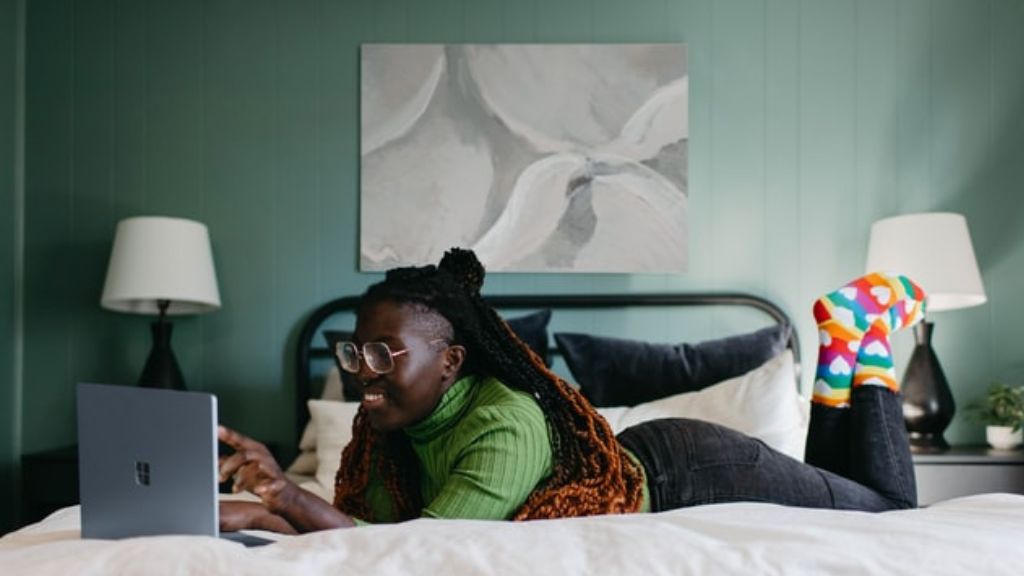 While it's easier to hire a launch copywriter, you can do it yourself if you're on a shoestring budget.
If you plan to DIY your launch copy, here are the steps to take:
1. Understand your ideal clients
You can't sell to people you don't know or understand. Before you start writing launch copy, take the time to create your customer avatar, and know their dreams and neck-deep pain points.
Find out what makes them tick. What solutions are they looking for? What language do they consistently use when addressing their situations? You can find out through market research and mining voice-of-customer data.
2. Create a launch strategy
When planning your launch copy, you need a launch strategy. Every successful launch has a well-thought strategy behind it. A launch strategy allows you to plan and monitor every stage of your entire launch workflow.
A launch plan involves the process of planning your launch goals, marketing strategy, and an editorial calendar for your pre-launch, launch, and post-launch content.
You can grab this launch workbook to ensure that you don't miss anything.
3. Plan your messaging
There's more need to "plan" your messaging than to simply write it. Poor messaging is one of the commonest launch mistakes entrepreneurs make that leads to low sales and conversions. Structure your launch content such as themes, social posts, blog content, and emails.
What theme/topic will your launch focus on?
Where will you mine for customers' stories?
What content formats and types will you use to communicate your offer?
How will you use the voice-of-customer data you've gathered?
How will you streamline your message through the buyer's journey?
What would your sales sequence look like?
What types of launch messaging should you for your launch phases? (Refer to launch copywriting examples above).
4. Paint the to-come transformation
You must have heard the saying, "Benefits over features." There's no overemphasizing how important this is.
People don't know whether or not they're interested in your product, but they're always interested in their dreams and goals.

– Sally ofuonyebi
This is why offer scrutiny is an important process. You'll find a section to help you scrutinize your course, program, or service in this FREE Ready-to-Launch Worksheet.
What are the features of the offer?
What are the root benefits of these features?
How will the offer transform their lives?
You can create behind-the-scenes content, walkthrough guides, offer breakdowns, or offer demos and free trials.
5. Use empathy
Let go of shaming marketing tactics and focus on empathy. The best way to do this is to focus on them and detach yourself from the sale.
While you might want to state the obvious, don't shame your audience. Instead, let your audience know that you feel their pains.
For example, if I were working 23/7, I'd become overwhelmed, frustrated, and less productive, I'd want you to tell me things can get better, not shame me for working so hard.
Say you understand that I want to build my dream brand so badly, but I don't have to work till my body and soul hurt. Then, I'd be happy to listen to whatever solution you offer.
6. Outsource your launch copy
If writing isn't your forte, you don't have to do it. It's not only frustrating doing something you're not good at, in this sense, but it can also be risky.
Launch copywriting is not just writing. It requires research, strategy, psychology, personality infusion, and writing. It involves taking a holistic view of your launch plan and creating copy that drives results. If this isn't your zone of genius, outsource to a launch copywriter.
If you plan to build your brand, then you should focus on your superpowers and outsource your weaknesses to capable talents.
One of the best ways to build your brand strength is to outsource your weaknesses.

– sally ofuonyebi
Outsourcing will allow you to focus on the parts of your business that light you up. More so, you'll save time while getting brand-aligned launch copy.
FAQs about my launch copywriting service
Here are some frequently asked questions about my done-for-you launch copywriting and their answers:
1. What does your launch copywriting service include?

You'll find what you need to know about the launch copywriting service here.
2. How long does it take to complete a launch copy project?

The launch copy process, with your full cooperation, takes two to three weeks depending on your offer.
3. How much do you charge for launch copywriting?

My launch copywriting service starts at $2500. You can see more about it here.
4. How long should I book a launch copy project in advance?

It's best to book anywhere from six to eight weeks from your launch date. But, if you have a quick deadline, we can work something out.
5. What if I don't have a launch strategy?

It's okay if you don't have a launch strategy. This step is factored into my launch copy packages. And even for those who'd rather DIY their copy, I offer an intensive strategy power hour to help them map out a custom launch strategy for their businesses.
6. How do you guarantee results?

I create launch copy assets (using research and marketing psychology skills) designed to help you achieve your launch goals. However, copy conversion depends on other things such as your enthusiasm and the product itself.

I'll play my part to ensure you hit your launch goals. If you're ready to play yours, I want to work with you!
Wrap up: Launch copywriting for creatives
Launch copywriting can be easy. You don't have to feel frustrated at the thought of launching because you're selling a transformation.
You can create launch copy that attracts your ideal clients and sells your offers without losing your peace.
I believe that every creative entrepreneur can launch from a place of ease and confidence, and that's what I help you achieve.
---
Get instant access to my Launch Worksheet!
This worksheet helps you build a working launch strategy that prioritizes your goals so you can launch profitably.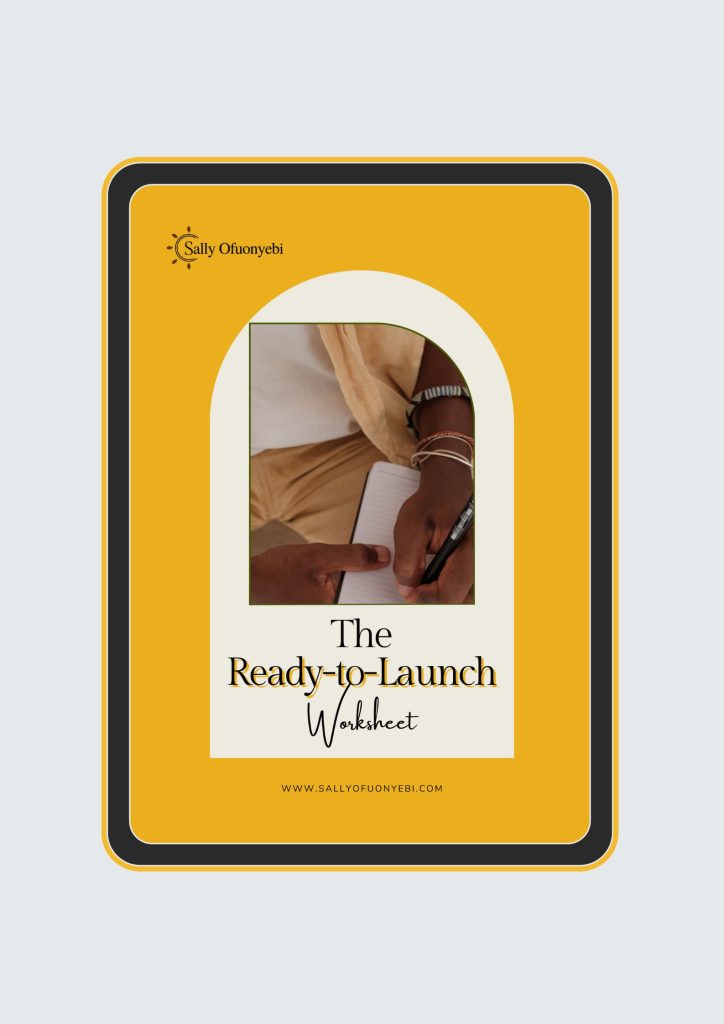 Share this post with your friends!