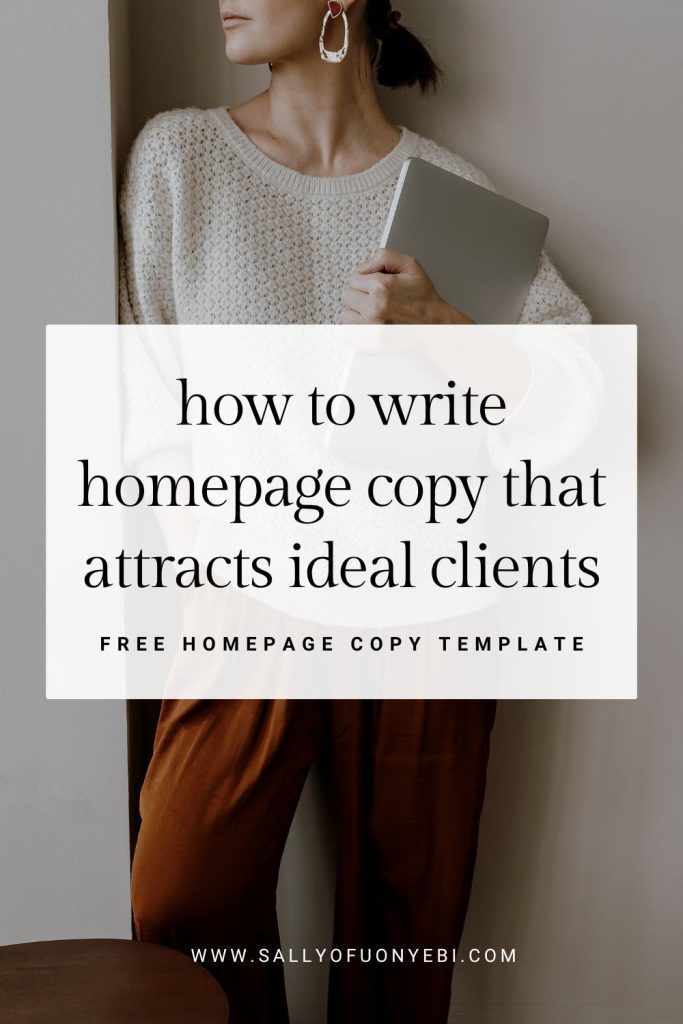 The first time my dad came to visit me at my apartment (it was an emotional experience for me 'cause my dad works more than he cuddles), he made a statement right before he walked in through the compound gate.
"Sally, I love this place! It is beautiful and spacious."
But, it's not just well-built homes people feel this way about. They feel like this about websites too.
When people enter www.yourdomain.com into Google, the first place they land on is your homepage. It's the gate to your entire website content.
Since users barely spend up to 15 seconds on a website, your homepage copy goes a long way to convince them to hang around or just bounce right out.
If your homepage copy doesn't suck them in, people will doubt the value of your website content and move on quickly.
Website visitors are in search of brands they can trust to solve their challenges. So, you need to catch their attention with irresistible homepage copy.
In this guide, you'll learn:
What homepage copy is and its importance
What makes a good homepage copy (five questions your homepage must answer)
How to write a homepage (+ the perfect homepage copy template)
If you're super-charged to write homepage copy that makes you proud, follow along!
What is homepage copy?
Homepage copy is the piece of writing that summarizes your entire website content to attract visitors, engage, and prompt them to take the next step.
The homepage is an important page that needs structured website copywriting. It is the front/ welcome page of your website—more like the reception in a hotel. So, make it accommodating.
Why is your homepage important?
Here are four reasons why good homepage copy is important:
1. It's the first impression: Your homepage allows people to form an impression about your business—whether good or bad. If you can impress them, you keep them longer on your site. And that's good for your conversions and bounce rate.
2. It removes the overwhelm: Not everyone who lands on your site has a particular page in mind—like the /blog, /about, or /services page. Some of them want to browse and the homepage simplifies their decisions by giving CTAs for different sections they want to check out first.
3. It improves the user experience: When they can easily navigate to where they want to go (from your homepage) without feeling stuck, they become happy with your site experience. And this gets you on Google's good side because it tells search bots you're doing something right.
4. It shows how organized you are: The state of your homepage tells a dream client how streamlined your processes will be if they're to work with you (at least, this is what I think when I land on awesome homepages).
If you're liking these benefits, you'll want to grab
The SEO Web Copy Playbook
write discoverable website copy that attracts sales!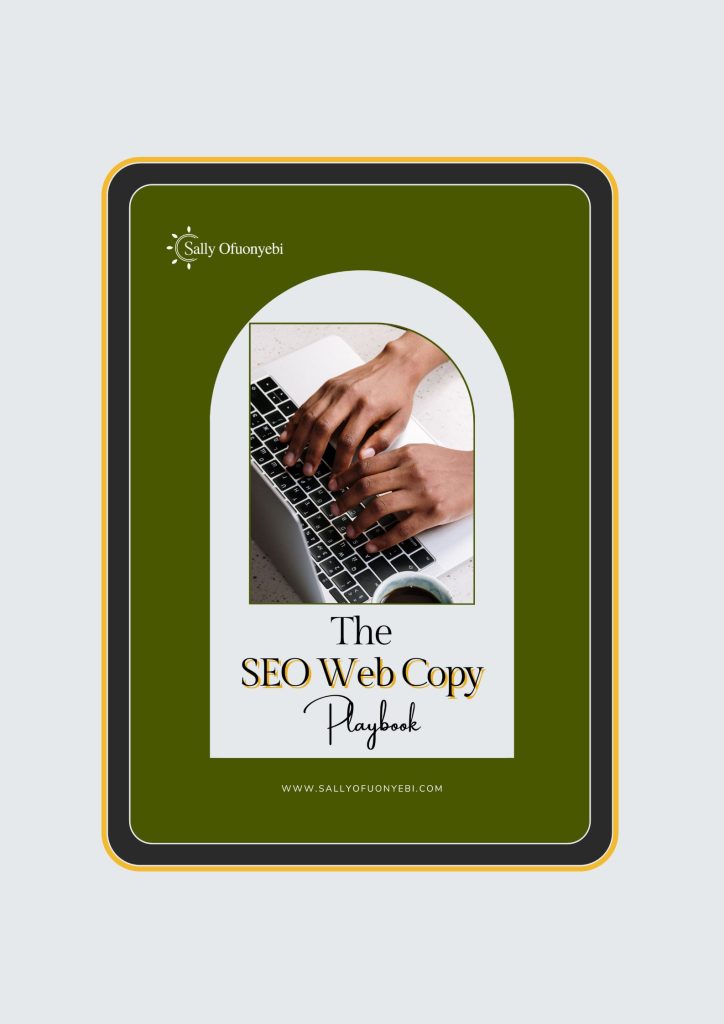 What makes good homepage copy?
All homepages are not created equal. What sets apart the best ones is the essential questions they never ignore.
Here are five vital questions your homepage copy must answer:
Who are you? This refers to your expertise or job description. Are you a business coach, course expert, or brand strategist?
Who do you serve? This refers to your ideal clients. Do you work with service-based businesses, coaches, agencies, or ecommerce sellers?
How do you serve them? This points to the offers you have in place to help them. Is it 1:1 mentoring, strategy sessions, services, or courses?
What makes you different? This is your unique value prop—how you're different or how you'll deliver your offer. Is it through step-by-step tutorial guides, intensive coaching sessions, or in-depth video courses? Or do you offer something no one else is offering?
Why should they trust you? This refers to social proof—press features, client testimonials, portfolio samples, and client count.
Now that you know what makes good homepage copy, we're going to dive into how to structure yours.
The homepage copy template: How to structure a homepage
Writing copy for your homepage from scratch can sound like fighting a titan. But, I want to make it easier for you.
(That's my job after all. Helping you build your dream brand with the right words…)
All that frustration—of where to start, what goes where, and what to write—is about to end now.
Here is the perfect homepage copy template you need for your website:
1. The hero section
Homepage copy example: by Kristin Rappaport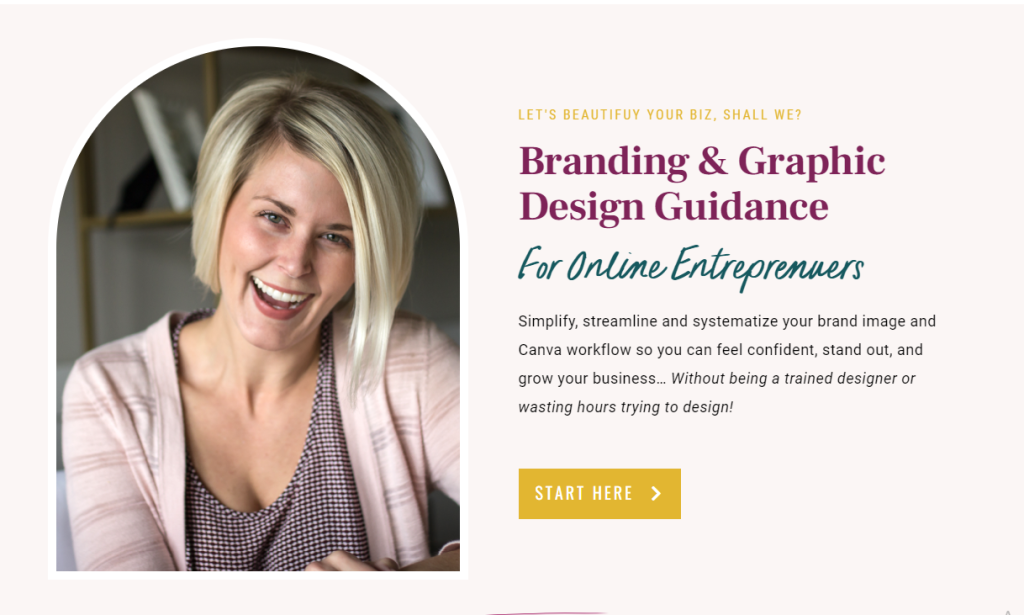 What this means: This is the first thing visitors see when they land on your homepage that immediately tells them what your website is all about.
Why it's important: This tells your website visitor whether they're in the right place, so they can continue their quest.
2. Social proof
Homepage copy examples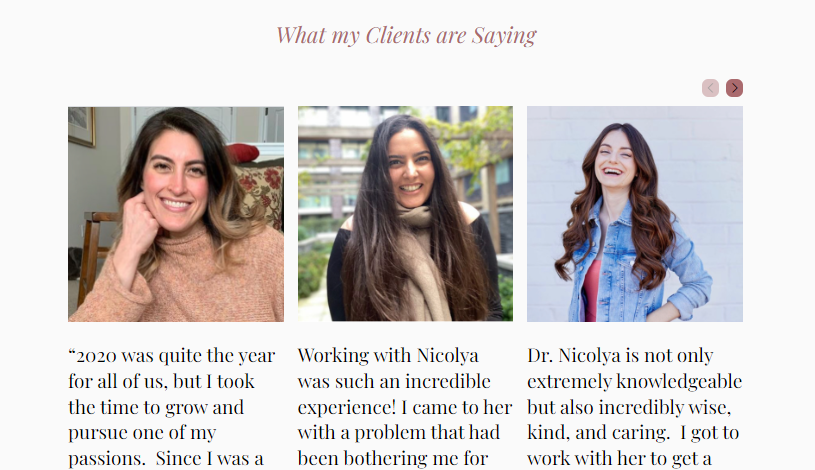 What this means: This is anything that proves your credibility and authority. Basically, it acts as a psychological trust factor that lets them stay and learn from you.
This can be in the form of client testimonials, press features, clients' logos, or community size. And can be immediately after the hero section (logos) or further down your homepage.
Why it's important: It convinces people that you're someone they can trust and listen to.
3. Value walkthrough
Homepage copy example: by Louise Henry.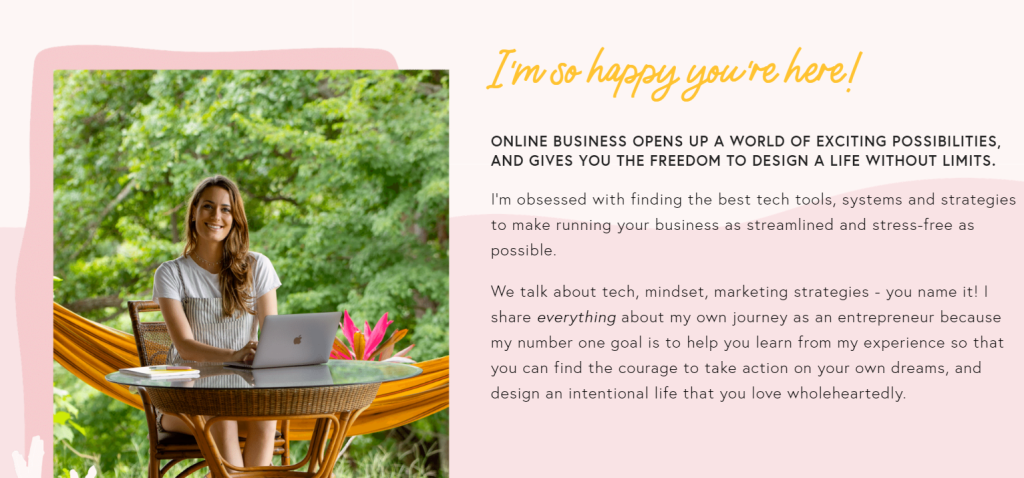 What this means: Well, your hero section value prop isn't enough to let them know how you transform their lives. This little section allows you to lay emphasis on why and how you help them achieve desired results.
Why it's important: This shows your audience that you can get them the results they want. It also reinforces the fact that they're in the right place.
4. Mini "About" Section
Homepage copy example: by Letica J Collins.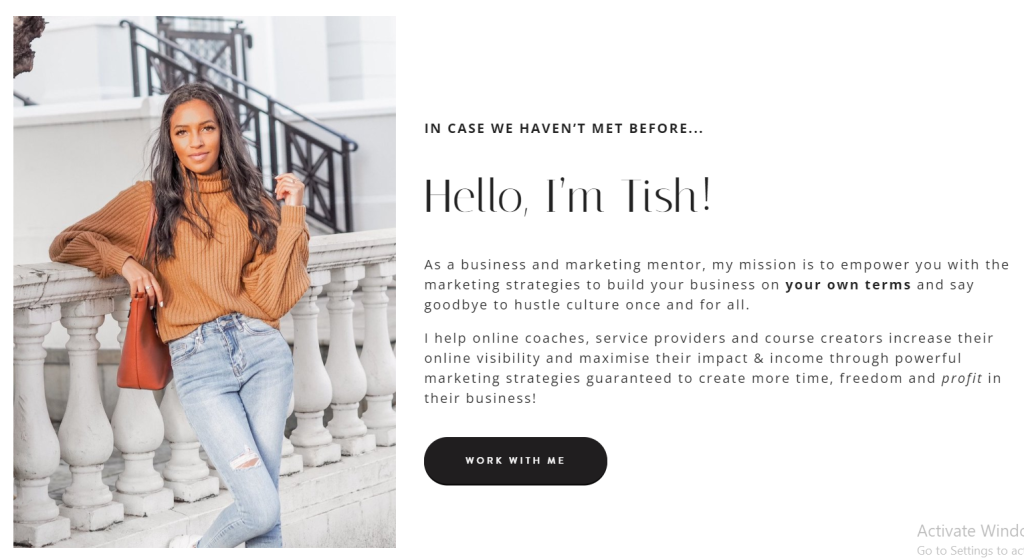 What this means: This is a little section dedicated to showing your audience the face behind the brand. It's where you introduce yourself and let them know you're all about their success.
Why it's important: This allows your readers to connect with who you are—as a person.
5. Offer featuring
Homepage copy example: by ME.

What this means: This is a section that highlights your main offerings.
Why it's important: This allows visitors to see at a glance what services you offer at a glance, so they can choose what's best for them.
6. Featured section
Homepage copy example: by Katie Grazer.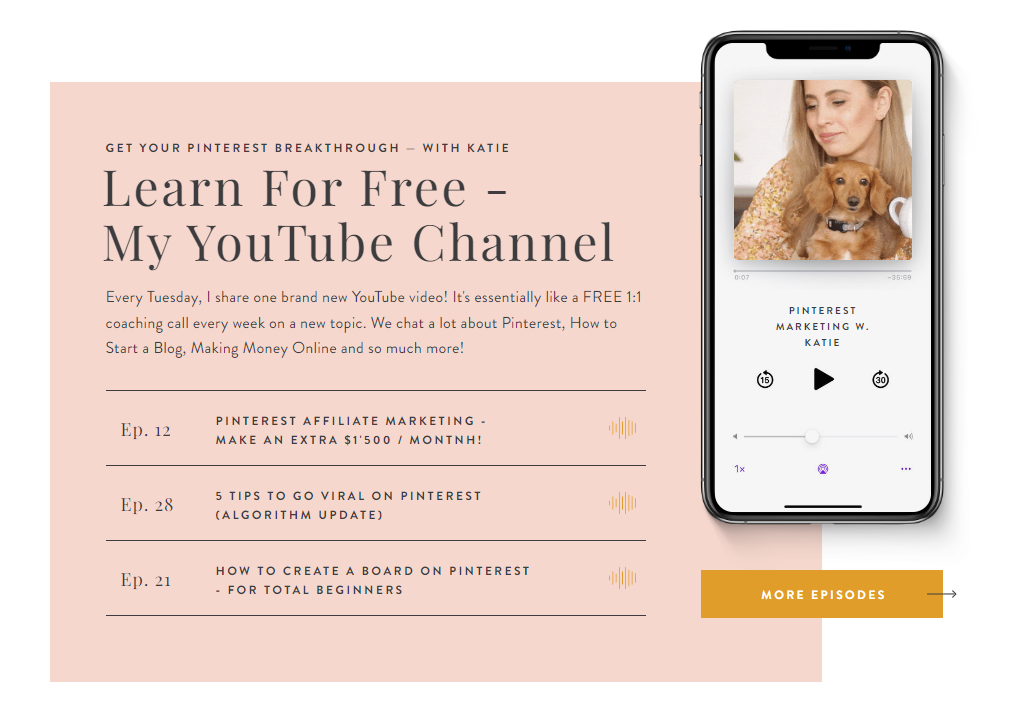 What this means: This is a section that summarizes other important pages you want them to check out apart from your services.
Why it's important: You need to understand that visitors are sometimes more interested in learning more, and not immediate purchase or hiring. This is why it's okay to lead them to other pages like your blog, most popular freebie, or resource section.
7. Lead gen opt-in
Homepage copy example: by Kate Wilkinson.

What this means: This refers to sign-up forms or embedded resources that take them to an opt-in page.
Why it's important: The homepage (and blog page) are usually the pages with the largest amount of traffic. You can leverage this by adding a list-building element that lets them become an exclusive member of your community.
8. Positioning wrap-up
Homepage copy example: by ME.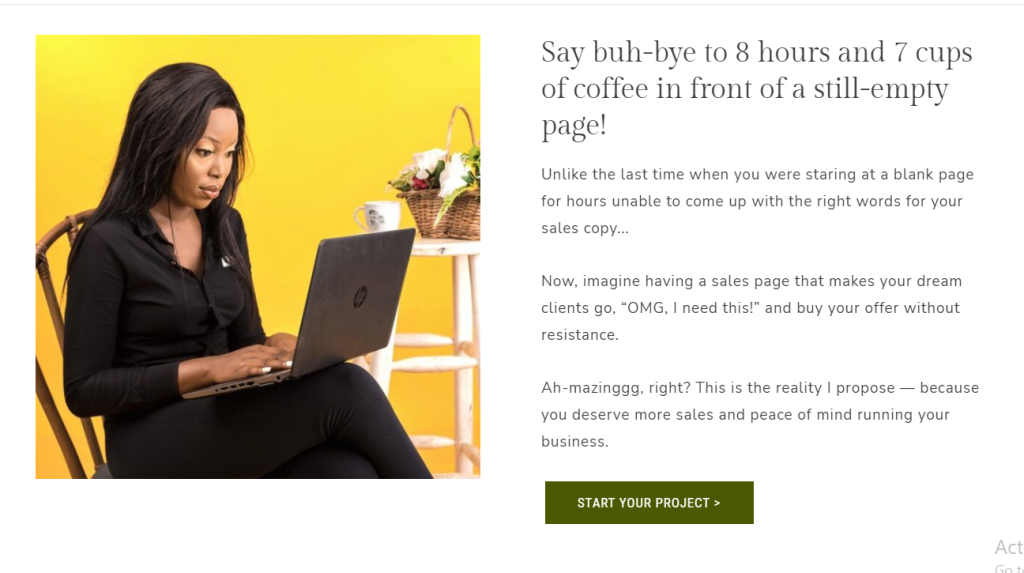 What this means: This is the final summary of how you can help them, and why they should take action "now" and not later.
Why it's important: This homepage copy pulls them in—just in case they are not convinced by the previous sections they skipped past.
9. Final CTA
Homepage copy example: by Claire Pelletreau.

What this means: A CTA (call-to-action) is a statement made to get people to take action immediately. You should add it to all your previous sections. However, there's a need for a final CTA section and my website design calls it the Footer CTA widget.
PS: If you're wondering what design I use, it's the Clover Theme from 17th Avenue designs and it's super customizable!
Why it's important: When they arrive at the bottom of your homepage, they won't be stranded. They'll know where to go.
How SEO works for your website homepage discoverability
Writing your website without search engine optimization (SEO) in mind isn't a complete package.
Contrary to what most creative entrepreneurs think, about SEO being some complex tech optimization technique, it is simply helping your ideal clients find you.
Okay, I'm a copywriter for coaches, course creators, and creatives—specifically, launch and website copywriter.
If you search the keyphrase, "copywriter for coaches and creatives," I rank number 1 with 2 pages including my homepage on Google's search result page.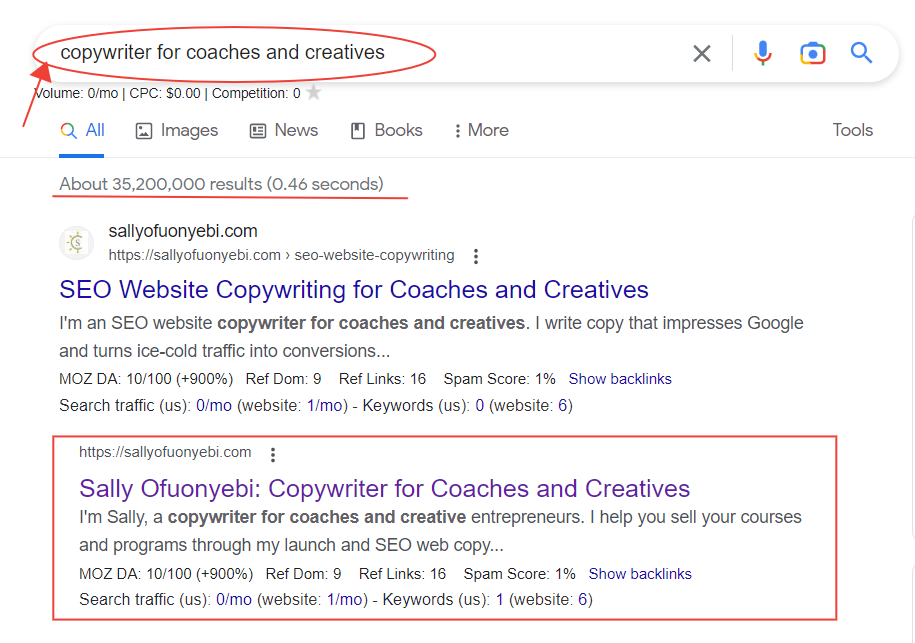 Not just that, but terms like website copywriting for coaches, launch copywriting for coaches, SEO copywriter for coaches, and many more relevant keywords.
What does this mean for you?
If you want to drive the right organic traffic to your website with website copy that is discoverable, download the SEO web copy playbook.
The wrap-up: How to write your homepage
You don't have to fret over your homepage copy. With this guide above, you have the perfect homepage formula you need to write brand-worthy copy.
For ease of guidance, here's an image you can swipe. It summarizes the homepage copy template that I've broken down above: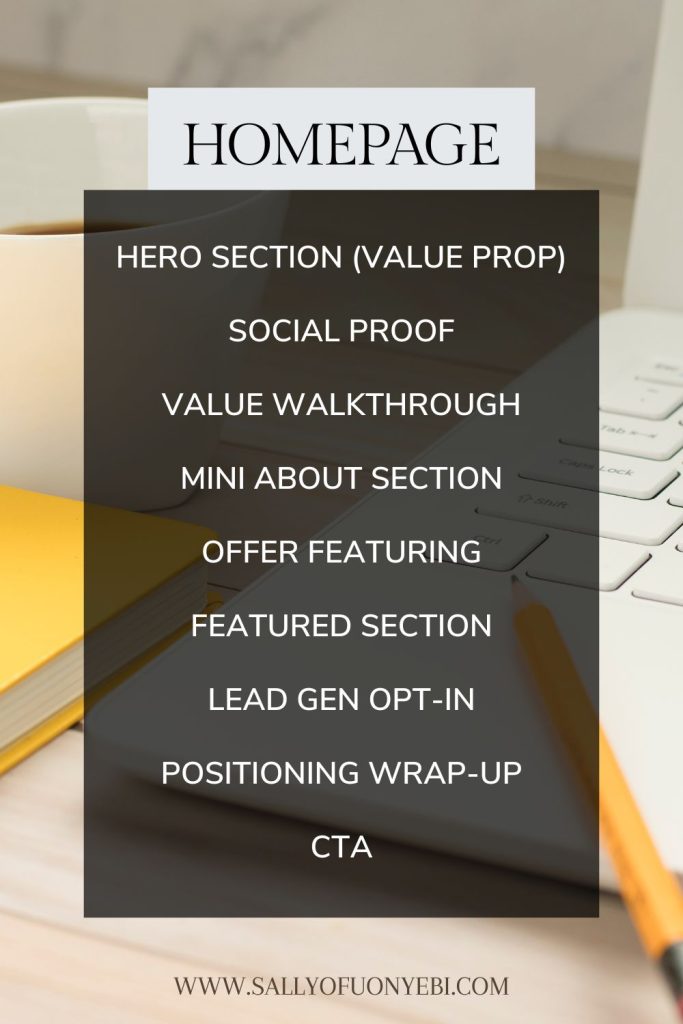 ---
If you want further help with writing the perfect website copy for your brand, you can:
Download The SEO Web Copy Playbook
Write SEO website copy that attracts the right eyeballs and sales!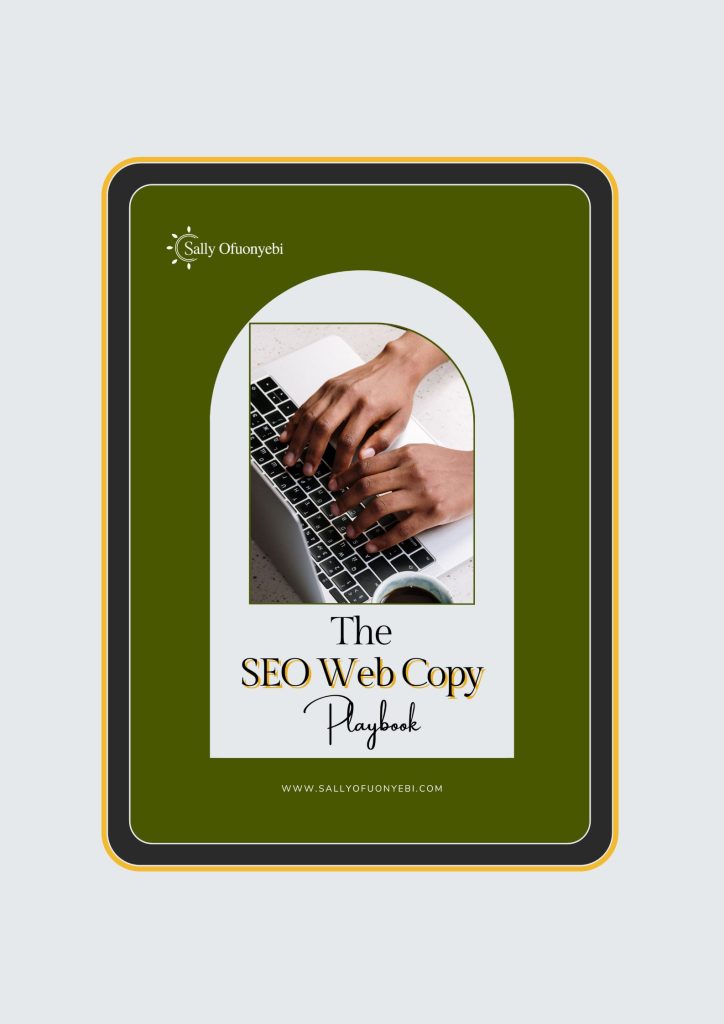 Share this post with your friends!