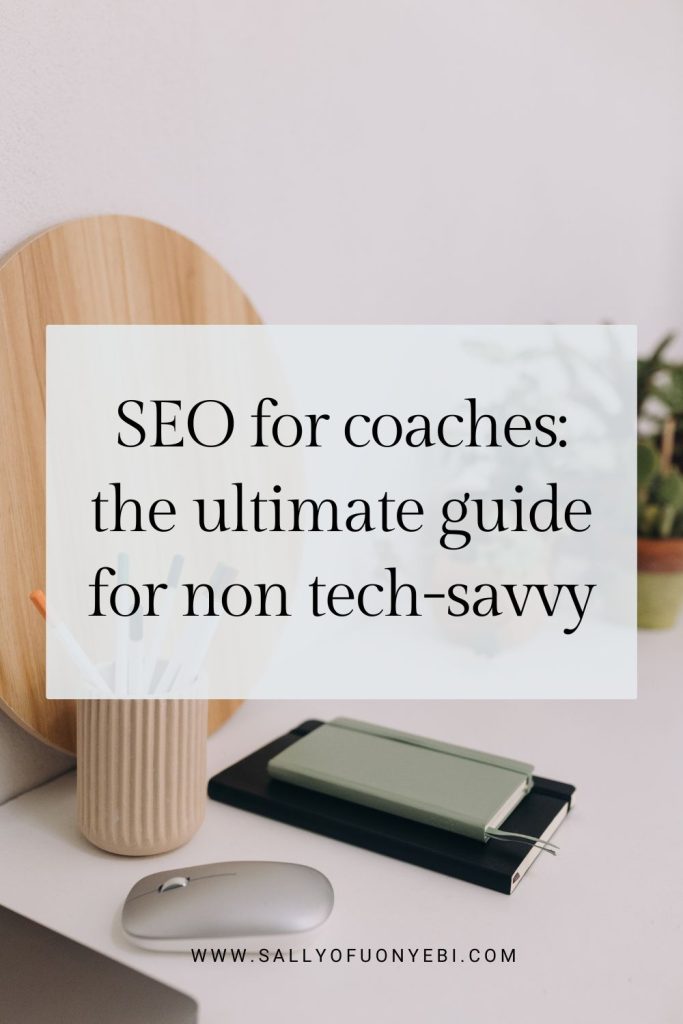 When I first started to learn about SEO, I'd binge different content, but get very confused about all how it works.
You see, it's better to up your SEO efforts from the get-go. But, it can be difficult when you don't know what it means or how to go about it.
So, this guide today is a comprehensive one to teach you everything you need to know about SEO in the simplest way.
Feeling SEO-ish already? Let's get started.
What is SEO for coaches?
SEO (also known as search engine optimization) is the process of creating content for your coaching business in a way that search bots and algorithms favor. It is how you tickle Google's (and other search engines) fancy with your content. It is how you tickle Google's fancy with your content.
So you create page and blog content so that they show up as answers to searchers' queries. For example, I wrote a post for MOZ on social media competitor analysis, it's now the featured snippet for that term.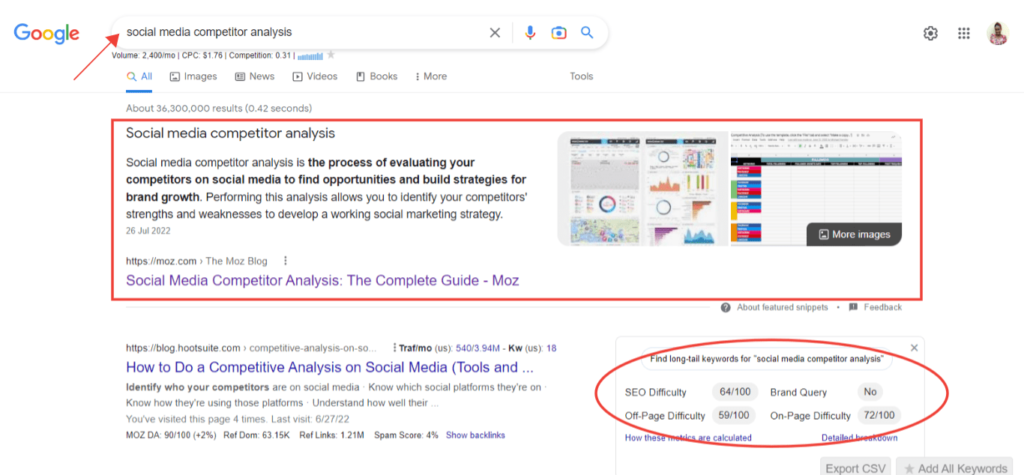 SEO is when you optimize a page, website, or piece of content to rank on the SERP (search engine result page).
Also, more people click your link and read a post, Google goes, "Oh, this site seems to share relevant content that people seem to like" — and ranks you even higher on the SERP.
Why does SEO matter for your coaching business?
As a creative entrepreneur, there are several reasons why SEO is beneficial for your business. Here are 5 of the:
SEO gets you:
1. Increased visibility & brand awareness
SEO puts your content on the SERPs and this blows your visibility.
For example, HubSpot is not the only CRM software. However, if you search for terms relating to customer relations and content strategy, it ranks!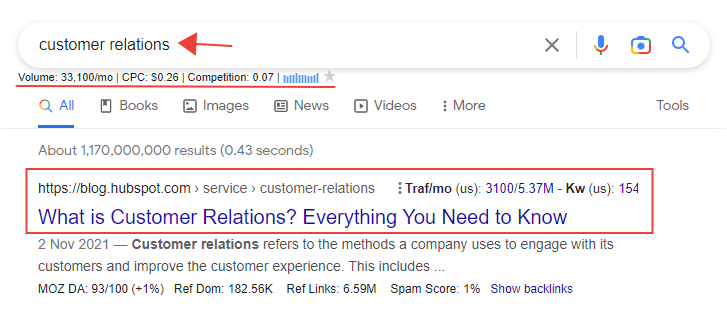 There are some of your niche or product keywords with very low keyword difficulty that your target customers will be searching for. If you address these using SEO-led content, you have a higher chance of getting in front of the. Thus, boosting your organic marketing and brand awareness.
2. Authority building
The higher your SEO power, the more people find you on search result pages, and the greater your brand authority.
SEO is a great way to establish authority because your content shows up as answers to your ideal clients' questions and they begin to see you as an expert. You become their go-to for your topic.
3. Organic traffic & leads
As you show often on the SERP, you're able to drive a higher number of organic traffic to your website pages, and potentially, increased leads too.
As seen in the screenshots above. The term "content strategy" gets monthly search traffic of 22,000+ and even advertisers pay a whopping $11.24 per click they get for that term.
Now, HubSpot provides the most Google-favored answer and after doing more in-depth research, I found that it gets almost 20% of the search traffic, that is 4,200 visits per month.

Since the average website conversion rate is between 2-5%, they could potentially add 84 people (at 2% conversion rate) to their funnel from that one blog post every month.
4. More sales and revenue
Getting leads for your coaching business is awesome, but you know what's awesome-r? Making sales.
By ranking on the SERPs for your target keywords, you get the right eyeballs. And when they land on your page to read the quality content and copy you've written, they buy.
5. Digital assets
I spoke with a blogger recently and she disclosed that she's got websites worth $75,000. So, by increasing your site's SEO, you can increase its value as a digital asset.
Websites that have good domain authority are great for PR and link building. And when they have good traffic volume, they could be worth a fortune if you decide to do website flipping.
6 Types of SEO for coaches
Look, SEO is not hard. The types of SEO I'm about to explain will prove it. Even if you're not techy, you can still up your website's SEO game.
SEO does require conscious and strategic efforts — and a lot of patience. But, it isn't hard.
Here are the six types of SEO to leverage for your business:
1. Technical SEO
This is important, seriously. Several new entrepreneurs are not usually aware of this part, so they create pretty websites that don't ever show up on the SERPs.
To do this, set up your website on Google Analytics and Search console. But it's a little different now because Google has retired universal analytics for GA4.
I know you're not a tech expert, so here are two easy-to-follow guides to put you through:
Doing this lets you submit your site so that Google bots can crawl and index it, so you can get found on search result pages.
2. UX SEO
Dear coach, your site should provide a seamless user experience.
Google cares about whether users are happy with your site and content. If the experience is not great, people will bounce. This signals to Google that your page is probably not worth ranking.
Use easy-to-navigate designs
Fix broken links
Create an organized site structure (and submit it to Google) using sitemaps
Speed up slow pages. You can do this by:

Compressing your images
Deleting heavy or unused media
Using the lazy load function
Using a reliable hosting service.
3. Page SEO
Have you ever heard about metadata?
This refers to the meta title (also known as SEO title or title tag) and meta description. Together, Google shows this information as excerpts for your post if it shows on the SERP.
Then, don't forget to:
Use custom links that include primary keywords instead of xyz.com/p-123
Add a category to organize your content for your readers and search bots too
Include feature images
Format your posts in a hierarchical order: H1, H2, H3, and H4.
4. Copy & Content SEO
Help your blog and page content rank. But, this can't happen until you've done keyword research for your content.
Whether you want to write your website copy or blog post, consider SEO before your final setup. I said "final setup" because starting with SEO might throw you off-trail if it isn't your thing. So, give yourself permission to be first creative. Then, use SEO to help your audience find your offers on the SERP.
Be sure to include your primary keyword in places like the:
Metadata
Headline
Introduction
Subheadings (where possible), and
Body.
And don't only focus on your primary keyword for your coaching business, use semantic keywords, related long-tail keywords and relevant points from the "people also ask" and "related search" sections.
5. Social Media SEO
On platforms like Instagram, LinkedIn, Twitter, and Pinterest, there is an SEO aspect attached to them.
I ranked as the only social media profile on page 1 for the keyword "launch copywriter" for more than 8 months.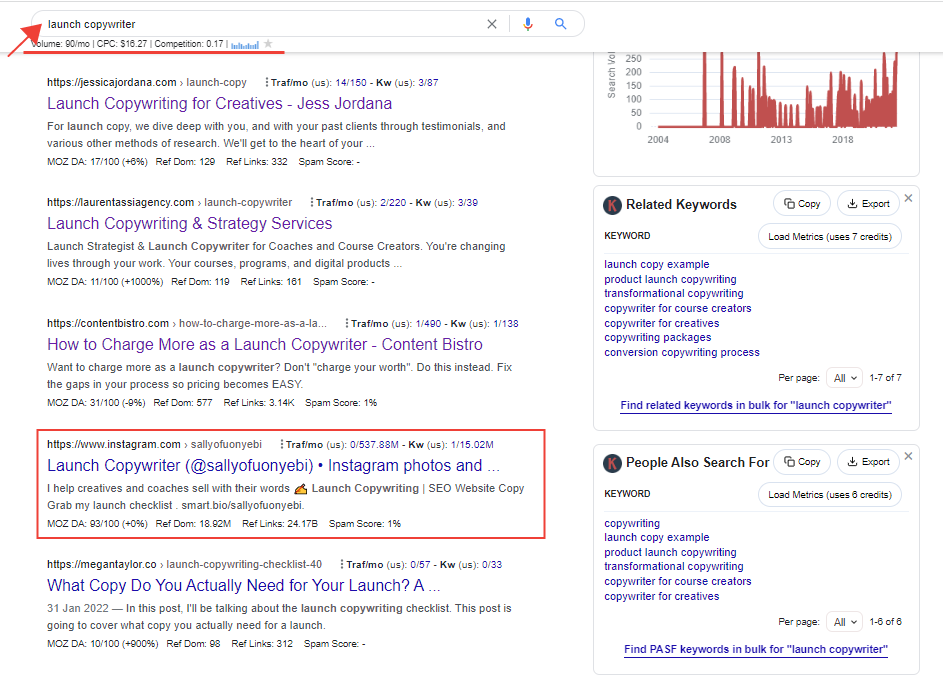 Also, if you've ever found a LinkedIn post, Pinterest board, or pin ranking on page one, that's proof that social media SEO works.
From profile setup to content on these platforms, it's important to use keyword-rich descriptions
These platforms let you use hashtags as a part of their SEO strategy
Including a key phrase in your pin description will let people searching the term discover you
Instagram allows you to add relevant topics to posts and alt texts to images.
6. PR SEO
This SEO type is about taking advantage of various media sites and channels to build your authority and awareness. You get links pointing back to your site from these platforms.
PR SEO could be through:
Guest posting
Content swapping
Media interviews
Podcast features, and
Blog mentions and shoutouts.
How long before you start seeing results for SEO?
According to a recent survey by Ahrefs, it takes between 3-6 months on average to start seeing results for your SEO efforts.
But this is only an average. It can take shorter or much longer depending on some of the factors that affect SEO and ranking.
For example, my MOZ post started ranking from day 3. That's because the platform has high domain authority already. So, when I wrote a comprehensive guide about the topic, search bots picked and ranked it above others (yes, it's the featured snippet).
However, if I wrote this same exact post on my current blog or a more social media-related blog with similar authority and traffic volume, it might not rank as quickly as it did.
Overall, SEO is a long game with long-term gains. Stay consistent and put out quality content.
Is SEO worth it?
Yes, it is! As you've seen in the guide above, SEO is all shades of good for your coaching business. You can use all or a mix of some of its types to position your brand for better visibility and authority.
---
Share this post with your friends!