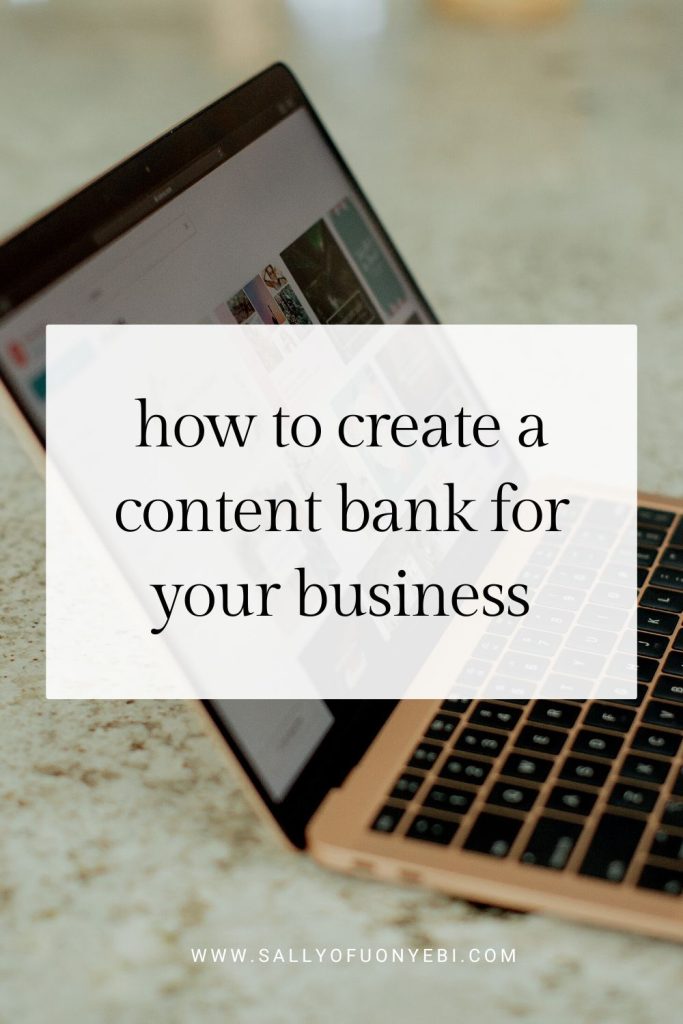 Searching for new content ideas every time is an exhaustive part of being a creative entrepreneur.
You just want to put good stuff out there — and especially, what your dream client is searching for. You want to share the kinds of content that solve their worries and position you as an expert whom they can trust. So, you always need juicy content ideas.
But, do we really need to reinvent the wheel of new ideas every time?
No. You don't — and shouldn't. That's why you need a content bank.
In this post, I'll walk you through how to create a content bank that saves you so much time and stress. Sooooo… let's get into it!
What is a content bank?
A content bank is a storage folder to document ideas that you can use for content creation. It's a space to compile your thoughts, topic ideas from your keyword research, and questions you find while scouring the web.
To put it simply, a content bank is an idea dump folder.
Now, while it's a dump folder for your ideas, you want to be able to access them quickly. This is why grouping into folders and categories will help with quick content development.
Here are some ideas for grouping and organization:
Content categories: What are your content themes? What do you talk about? For me, it's mostly launching, copywriting, and content marketing.
Post types: So, what type of content will it be? Would it be personal, educational, aspirational, or promotional?
Content formats: What forms will you share content as? A long or short video, blog post, email, or social caption?
Why you need a content bank
There are several reasons why you need to create a content bank.
So, apart from minimizing stress — I'm talking about the headaches from everyday brainstorming, a content bank also:
Enables you to work faster and smarter
Brings ease to your content creation workflow by reducing time on topic development
Lets you can plan and develop content months ahead into the future
Allows you to build editorials with aligned content that drives engagement
Improves your content strategy by aligning your content creation and repurposing processes
Lets you establish authority because you always have new, relevant content to share.
How to create a content bank for your business
Generating new ideas isn't the problem. But, when you need to come up with topics every time you want to share a blog post or say something on social media, then things become nerve-racking.
But it doesn't have to be if you can peek into your content bank like a magician and pull out something fast.
I'm going to be talking about two free tools — Trello and Google Spreadsheet — you can use and how to use them.
Creating a content bank using Trello
Decide your content categories
Jot down ideas based on market research
Brainstorm for fresh ideas
Do keyword research
Add questions you see on similar business profiles
Create editorials: Use a spreadsheet in tandem with Trello to track content production
Trello is a free content management software with a beautiful user interface that gives you access to elaborate customization. It's what I like to use for all things business planning.
1. Decide your content categories
Your content categories refer to your content themes. These are the core pillars of everything you talk about. As a launch and website copywriter, my content themes are about:
Launching
Copywriting
Website and SEO
Content marketing.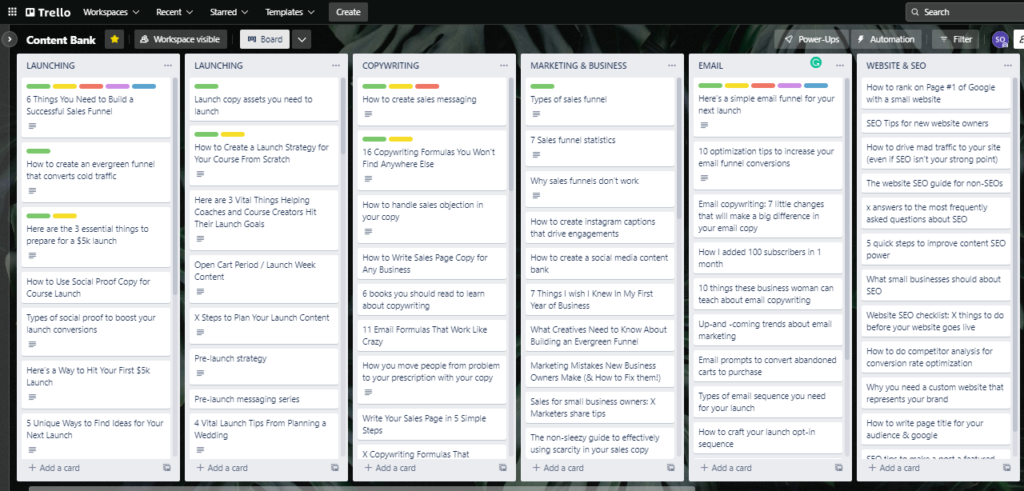 In the image above, you'll notice how I've grouped my content into categories. In Trello, they are lists, while each topic idea I've added to a list is a card.
So, first of all, create your lists and name them as your categories.
2. Jot down ideas based on market research
Next up, write down ideas you got while building your ideal client avatar. What are the pain points and challenges your dream clients are facing? What goals are they hoping to achieve? Write these points down as ideas.
For example, if you're a business coach for new entrepreneurs, their pain points might include:
Not getting visibility
Fear of failure
Not knowing how to hit their income goals
Clueless about how to find their dream clients
Take a look at the list above. Can you see the potential content ideas I'm seeing? I mean, ideas like:
My fast method to grow your visibility as a new business owner
How to succeed in your very first year of business
X 5 places to find clients if you're a new entrepreneur
I could continue the list, but let's stop here. Create more ideas like this and pop them all into your Trello board.
3. Brainstorm for fresh ideas
This is what I like to call the freestyle mode. Share your random thoughts and experience as content idea cards.
Find ideas when brainstorming using the four Ws framework:
What you know: This refers to what you've learned and the experiences you've had
What you use: This points to the tools and resources you use to improve your business and life
What you're good at: This refers to the hobbies and skills you have that make your business progressive
What you offer: This refers to the services, courses, or programs you sell to ideal clients.
Find content ideas from a combination of two or more Ws here and add them to your content bank.
Looking for ideas on what to post? Swipe these 44 brilliant content ideas.
4. Do keyword research
I know when a lot of people hear keyword research, they go into panic mode. Don't. I was first like that too, especially when I entered into SEO. But, I promise — it's more fun than you think.
It's you looking for questions your dream clients are asking so you can create meaningful content that answers these questions.
Pinterest: Go to the search bar and guess a relevant term. Pinterest will show more suggestions for what people are typing. Add those ideas to your content bank.
YouTube: Type a keyword in the search bar and read the comment section of videos that pop up.
Facebook groups: Go to the FB groups your ideal clients hang out and type in terms relevant to your niche. You'll see a list of posts and comments. Add any questions or points (that could use further clarification) they raise.
Reddit: Go to a relevant subreddit and type in a keyword. Go through posts and threads for questions people are asking
Search for what's trending in your niche: An easy way to find trending topics you can talk about is through Pinterest Trends and Google Trends.
5. Add questions you see on similar business profiles
You share an ideal client pool with many businesses online. This means that your dream client can ask questions on the post of a similar business. You can swipe these questions and add them to your content bank so that you can provide answers to them.
Also, if you read a blog and see a question (related to your business, of course) you know more about in the comments, add that to your content bank too.
6. Create editorials: Use a spreadsheet in tandem with Trello to track content production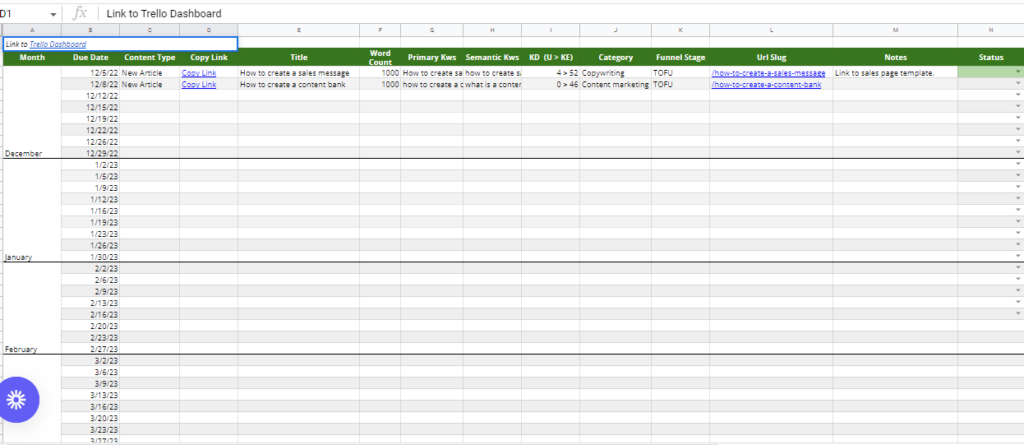 Creating a content editorial with your content bank lets you plan your posts in advance. You know what to work on and when to share it with your audience.
On your spreadsheet, you can add points like:
Month
Due date
Content type
Copy/content link (in a Google Docs file)
Post title
Word count
Category
Primary keyword
URL
Notes
Status
It's a lot juggling sales calls, showing up, email list building, and client work. Who would want to add stressful content creation to their plate in addition to all this?
With a content bank, you'll be able to create content with less stress and within a short time. You have a clear picture of what themes to focus on, and how to create content that satisfies their intent at every stage of the buying journey.
Use this guide above to create a content bank for your business so that you never run out of ideas — ever again.
Which of these points excites you about creating a content bank?
Never worry about what to post again!
Swipe this list of 44 unique, re-usable content ideas for social media and emails.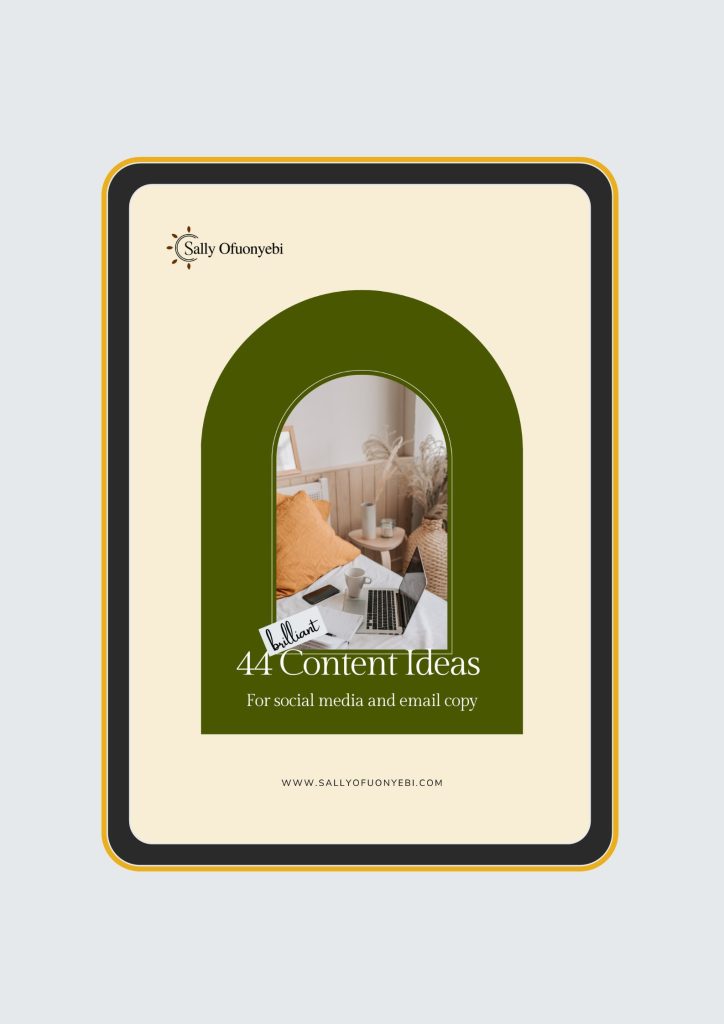 Share this post with your friends!