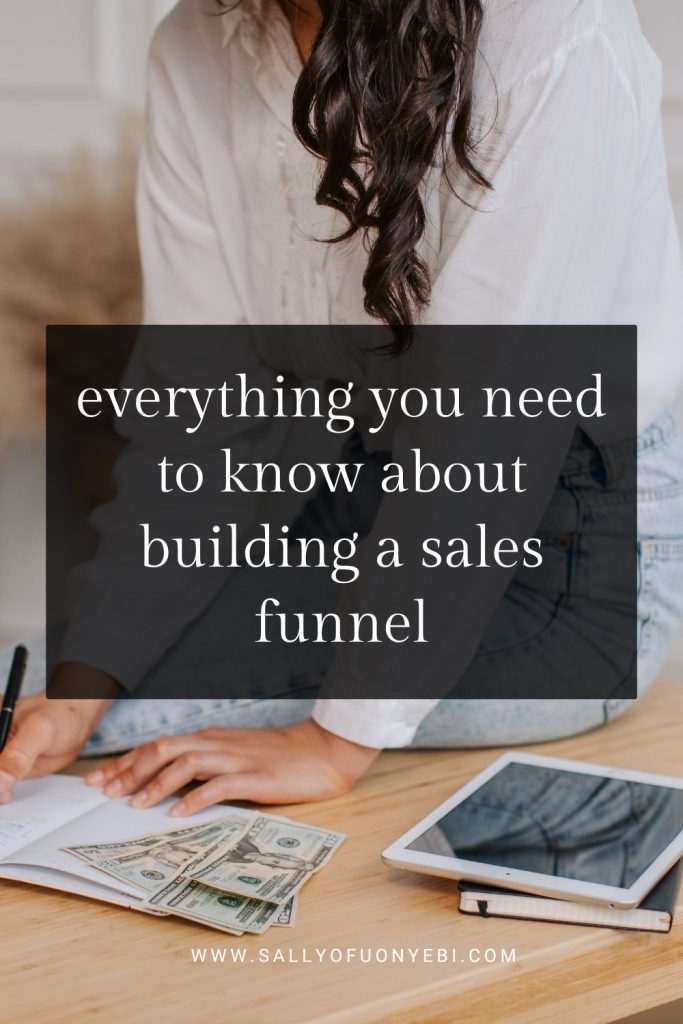 Several marketing gurus talk about a sales funnel as though it was Burj Khalifa (the world's tallest building. LOL), which makes the concept of sales funnels even more confusing.
But it's not.
It could be like checking out an Instagram page >> looking at highlights >> booking a strategy session >> and paying for a high-ticket coaching program.
Or, like looking around an online shop >> signing up to get the latest coupons, discounts, and recommendations >> receiving your first email with a 30% discount offer on your first purchase >> before making a big purchase.
Anything can be a sales funnel for your coaching or creative business.
To say it simply: A sales funnel is a strategic way to take people from knowing about your brand till they become customers of your brand.
With that in mind, grab your scuba gear, and let's dive into "what a sales funnel is" together.
What is a sales funnel?
A sales funnel is a system of collecting and filtering leads to get sales. It's a process that potential customers go through in their journey, from being aware of your business to becoming customers.
Each stage of your sales funnel should be designed to bring an ideal client a step further toward your high-ticket offer.
It's more like getting potential customers to have a taste of your work for free or at a low fee. Then, they become interested enough to want your bigger offers.
It's about making them see the value you bring to their businesses and lives.
Russell Brunson (the co-founder of ClickFunnels) says," Every single funnel is a value ladder."
This is because you're stacking up value and getting potential customers to see that you know what you're doing and trust that you can help them till they are ready to buy.
In his analysis of a value ladder, he shared how he got a postcard in the mail for free teeth cleaning service but spent over $8000 at the dentist's clinic when he went for a free session.
Types of sales funnels for coaches and course creators
Every business — coaching, service-based entrepreneurs, and e-commerce brands — needs a sales funnel. And there are two types, and you'll need them for different times.
1. Launch funnel
A launch funnel is a great strategy to convert prospects to paying customers within the period you're launching an offer — course, coaching program, or product. Building a funnel is a great launch strategy to maximize conversions and sales.
It helps you get results for your marketing effort because you're not doing anything in vain. You don't market, get on calls, or run ads in vain. Instead of doing things randomly, hoping to make a sale, you take them down your sales funnel.
For instance, if you're a coach who's about to launch a new coaching program, your sales funnel might look like:
Generating hype — socials, blogs, features >> Asking them to signup for a free masterclass >> Collecting them in an email segment >> Nurturing them >> Telling them to buy.
Or Building hype >> Asking them to grab an ebook >> Collecting them in an email segment > Inviting them to a coffee chat >> Selling to them.
2. Evergreen sales funnel
An evergreen funnel is a great strategy to convert prospects to paying customers with minimal or no effort from you. It sells your stuff itself.
This means you build an automated system that collects, nurtures, and sells your courses and programs to your ideal clients all year round.
Instead of having a 7-10 day open-cart window when launching, your cart window is always open for sale.
Even better, the sense of urgency remains. Each person who enters your evergreen funnel gets a custom deadline that lets them decide whether to take advantage of your offers.
Stages of a sales funnel
As a coach or creative wanting to build a sales funnel for your business, know these three stages of every sales funnel and what they mean.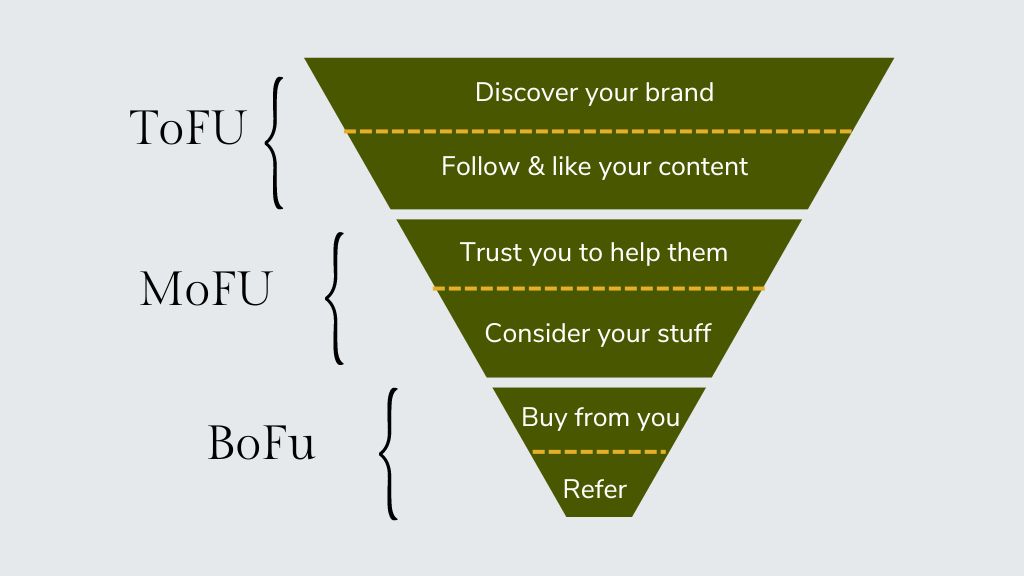 Top of the funnel (ToFU)
The top of the funnel is the first stage of your sales funnel – where a visitor begins their journey in your funnel.
And if you're running a campaign, this stage is vital to make or break it. You can use a free ebook, blog post, masterclass, social content, or ad to kickstart your funnel.
ToFU is where you get your customers to become aware and show interest in your offer to take the next step in their purchase process. This stage aims to reach as many ideal clients as possible and help them follow your brand.
Middle of the funnel (MoFU)
At this funnel stage, your leads trust your insights and content.
They'll be consuming more content for clarity and decisiveness as they'd be considering whether to buy your course or service.
This stage determines whether they'd cross the bridge from being prospects to actual customers. The goal of this stage is to help them reach a decision that they want your offer.
Bottom of the funnel (BoFU)
The bottom of the funnel is the last point in your sales funnel that new customers pass through before they become customers.
This is where your leads are ready to pay for your offers and become customers of your brand. And if they're happy after their purchases, they promote your brand — becoming referrals and advocates of your brand.
How to create a sales funnel for your coaching business
Set your goals for the funnel
Research your ideal clients
You don't "always" have to promote your coaching program or course before you make sales. You don't have to sell your mini-class at 9 am on Friday and a masterclass at 11:30 am on Saturday — when you should be spending time with family and friends.
What you need is a sales funnel. But, how do you build a sales funnel that actually sells?
Here are the 6 things you need to build a successful sales funnel — whether it's for a course, program, or service.
1. Set your goals for the funnel
You need to decide your goals because these will affect every other thing. Whether that's research, brand message, and marketing strategy.
Write down your goals and make them SMART, mkay?
That is, Specific—Measurable—Achievable—Realistic—Time-bound.
If this is something you don't know how to get started with, you'll find my FREE Ready-to-Launch worksheet useful. I have a whole section there that focuses on how you can set your money and metric goals.
2. Research your ideal clients
You can't promote your offers to every Tom, Dick, and Harry and expect them to buy.
It's important to know who your ideal client is. I'm not talking about just demographics, you need to know every little detail about their psychographics.
So, who is your perfect-fit client?
What are their dreams and goals?
What challenges are stopping them from achieving these goals?
How will your solution — program, course, or other digital product — help them achieve these goals?
3. Create an irresistible lead magnet
Now that you know your ideal client, create a freebie related to your main offer to bring them into your email sales funnel.
But, thousands of people have services and products similar to yours, sometimes with similar freebies too. This obvious fact, that there are countless (and some not-so-valuable) options, is why your ideal clients will lurk around for a while.
They want to see if you can really help them. So, how do you show them that your offers are more than worth their investments?
Your freebie should be related to your offer
It should be relevant to your ideal client's needs
It should help them achieve a quick win (more than upselling them on your paid offer).
Think about it as creating free evergreen content that'll give your audience a taste of what your offers are like. This could be a checklist, guide, worksheet, swipe file, or template.
4. Design systems that make sales easy
After creating your lead magnet, start building systems to funnel traffic and nurture your leads.
Create landing pages, sales pages, opt-in forms, and email sequences. Write copy that speaks to them so you can convert more.
Automate your email sequence such that once someone signs up for your freebie, they go through a dedicated period of receiving nurture and promotion emails for your paid offers.
5. Build a valuable paid offer
A sales funnel should make "sales." This is why you need to create paid offers that your freebie is supposed to promote low-key.
Create a product that solves real problems their facing. I mean, solutions that will help them achieve their dreams. Your offer should be relevant, clear, and brand-aligned.
But, creating a valuable offer also goes beyond the product itself and this brings me to my last point.
6. Write conversion-driven copy
How good are your landing page copy, sales page copy, and email sequences? How optimized are they for conversions and sales?
How you write about your offer will either increase or decrease its perceived value. Don't tank your sales, sell your offer with connection-focused stories that sell. Let them feel your offer and the transformation it promises.
Wrap-up: Sales funnel guide for creatives
Sales funnels don't have to be twisted or complex, they just have to be planned.
Take the time to figure out your goals for every funnel you intend to build — whether that's a launch or evergreen funnel — and plan how you'd move your ideal clients from the top of the funnel (where they're just getting to know you) to the bottom (where they become clients).
---
If you want to build results-driven strategy and messaging for your sales funnel – without the headaches and confusion, I can help with that:
Get instant access to my Launch Worksheet!
This worksheet helps you build a working launch strategy that prioritizes your goals so you can launch profitably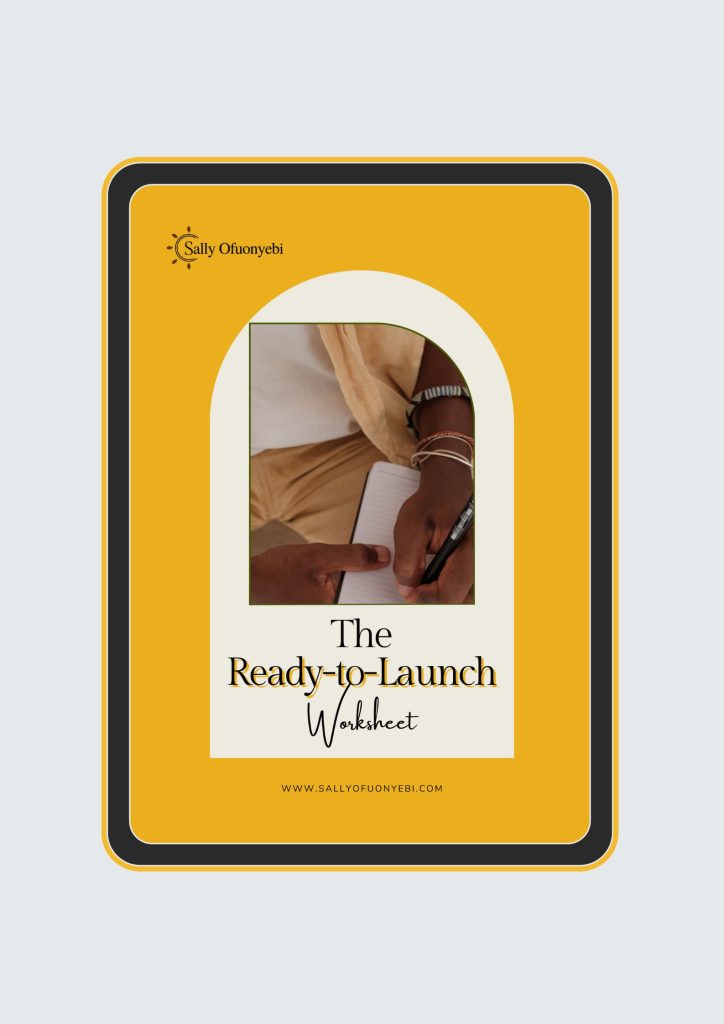 Share this post with your friends!