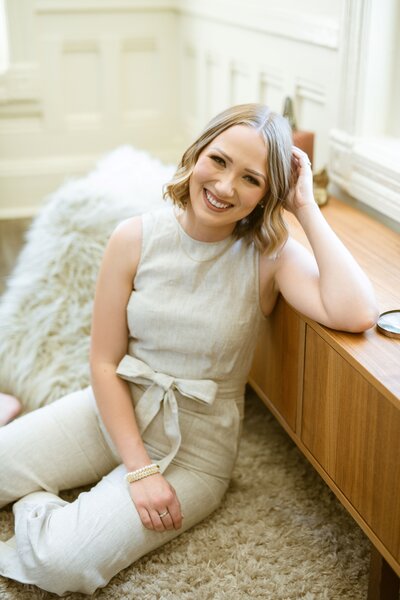 ---
It's not every time you get an inquiry from a stranger who found you on Google, and it feels like you've known them forever. But this was the case with Melissa.
From the moment I went through her inquiry, it was clear that she'd be easy to work with. I love people who aren't afraid to have open, honest conversations, and Melissa perfectly fits the bill. It was just an inquiry form, but she was detailed to a T. She pointed out where she was in her business, what she needed help with, and how she felt I'd be able to help her.
Want a walkthrough of Melissa's website project? Well, grab a cup of coffee (or your favorite beverage), and let's get right into it!
---
Meet Melissa,
Executive Function and ADHD Coach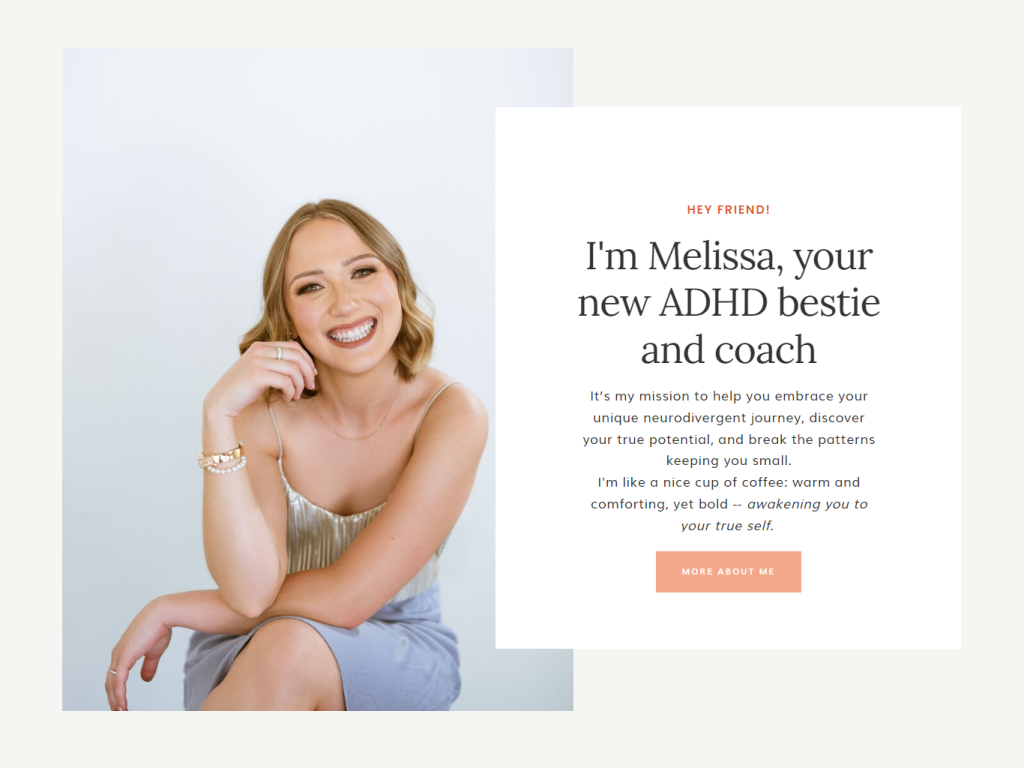 After the pandemic hit, and Melissa had to shoulder the responsibilities of four different health workers in her department, it spurred her on a journey of ADHD acceptance and self-love. Now, she helps burned-out workers and ADHD/AutiHD-diagnosed adults keep their focus and fulfill their ambitions.
The need
As a new coach who wants to put her brand in the spotlight, Melissa understands what "a solid brand message" can do.
She wanted someone who could take the message right out of her mouth and run with it—to create the perfect website copy for MelissaJoy Coaching.
But, she didn't have the time to wait through my website copywriting procedure. So, I came up with a quick yet comprehensive solution.
The solution
Due to the urgency of Melissa's request, I offered her a VIP week experience.
The deliverable was connection-focused SEO copy for her website. The project was intriguing from the research phase to the past client interviews until the final draft.
Melissa is like a nice cup of coffee: warm and comfortable yet bold. I loved listening to her transformation story and the sweetest words her clients shared about her. The interview was eye-opening to find the right words that her target clients could relate to.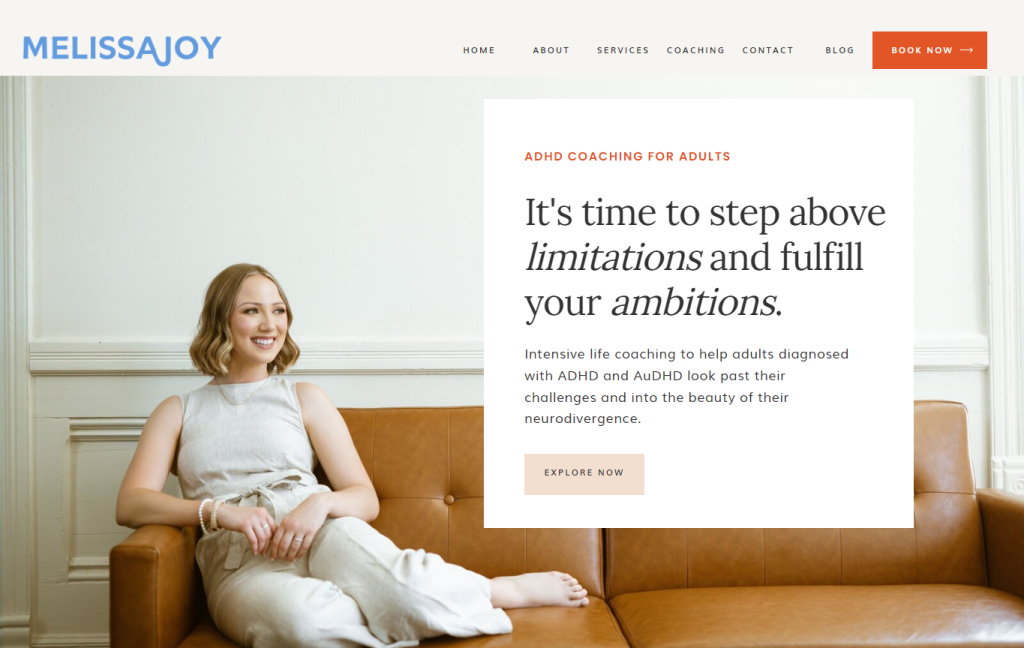 This project allowed me to dive deep into my life journey, and although I'm yet to be officially diagnosed, I know without a shadow of (a) doubt that I have ADHD. This made it easy for me to understand her IC's pain points because I feel them—to a large extent.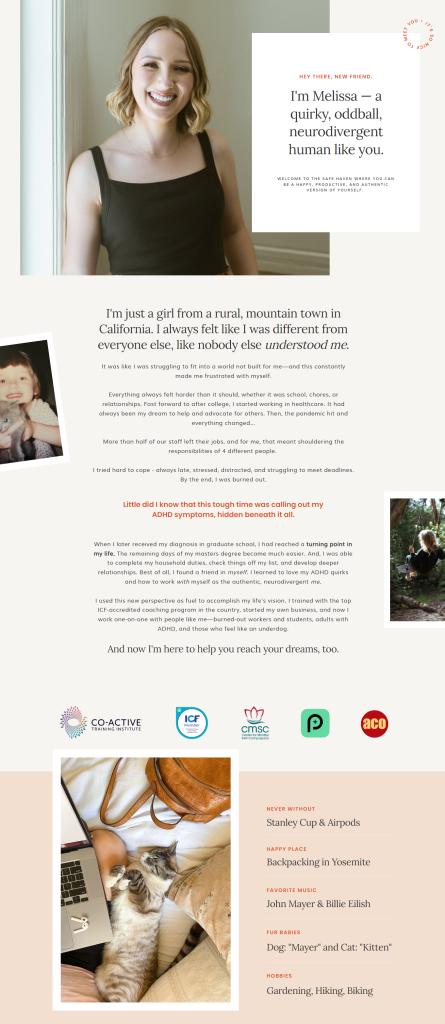 Melissa's personality is soothing and compassionate, and I had to make her copy reflect these qualities. The website copy addresses her IC's pain points in the most empathetic way.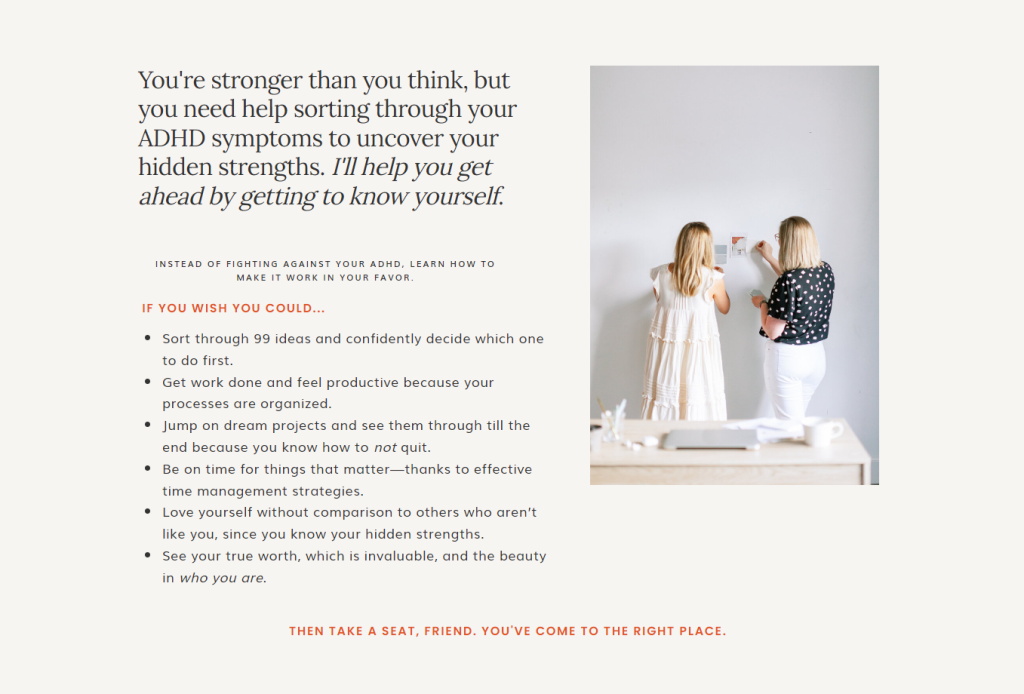 Here's something I believe: Pain-point marketing isn't negative. It's relatable, enlightening, and empowering when done the right way.
Your target audience will fall in love with your offers quicker if they can see their dream selves in them.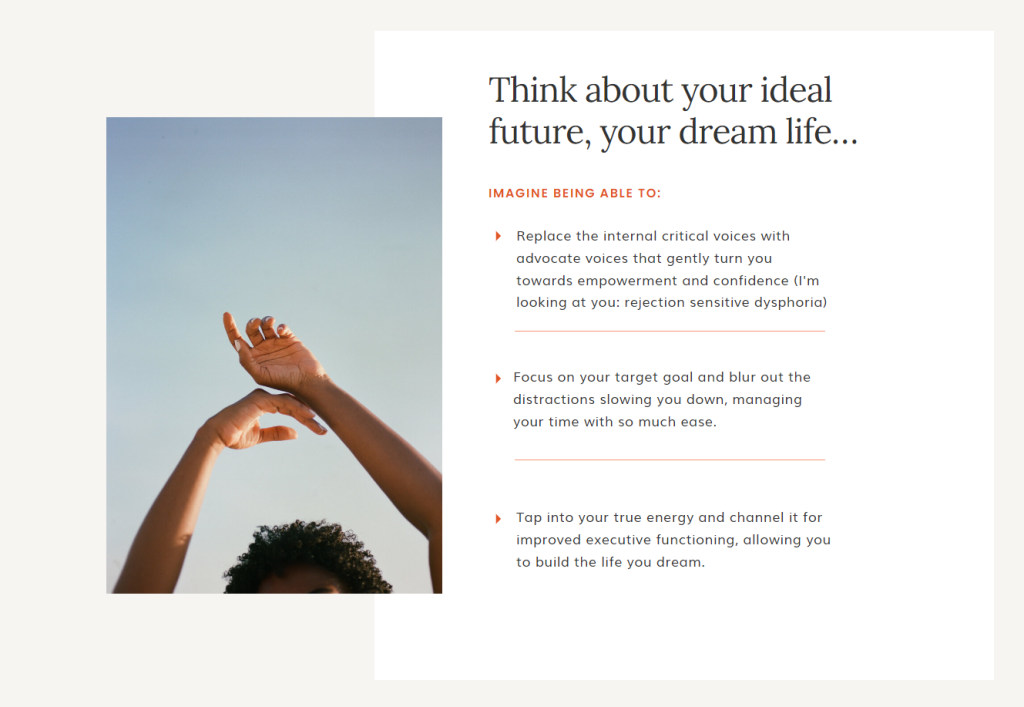 This is why I took the liberty to help Melissa's audience future-pace. Her desire is to help them live their dreams, feel empowered, fulfill their ambitions, and be happy. They won't see these from just the offer's features or price points.
Another interesting thing is the little "my different hat" section below: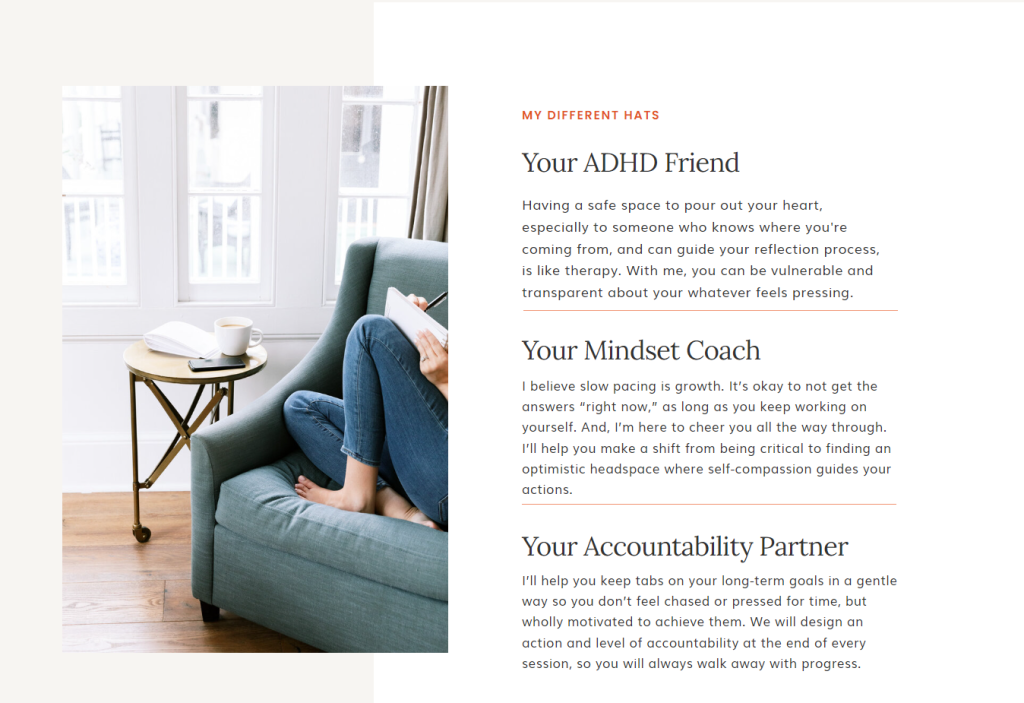 You know the "why you should choose me" section you see on several websites out there? Well, this is more like it, but sophisticated. *winks*
Melissa wants her people to feel safe and confident that she can help them, and that's exactly what this section aims to achieve.
For an SEO boost, I researched and collected the hottest questions about ADHD and turned them into this FAQ section below.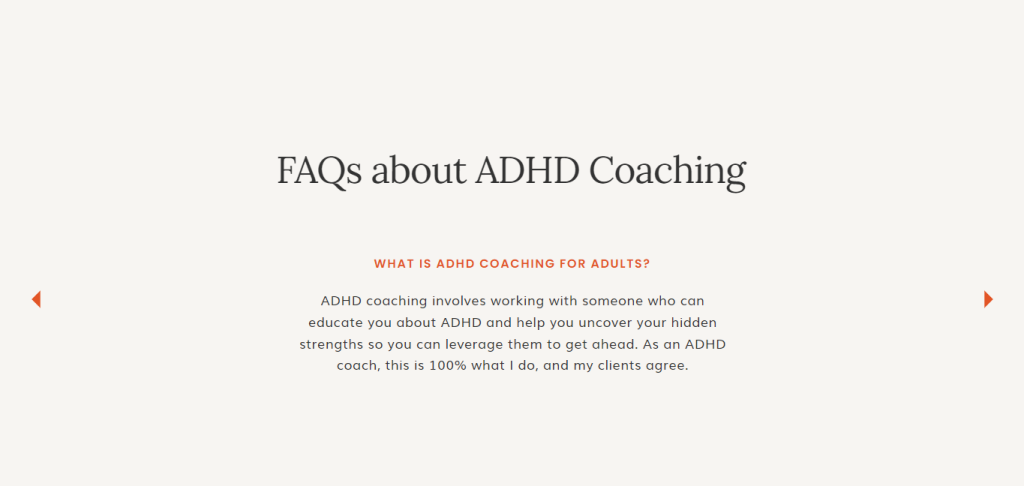 The review
"I had the pleasure of working with Sally, and I couldn't be happier with the experience. Her friendly and personable approach, combined with her openness to feedback, made the collaboration effortless.
I knew I would like Sally's work because I liked the copy on her website. When we did meet for the first call, her friendly personality further cemented my decision to work with her! She puts me at ease. Sally truly made me feel like a valued client throughout the entire process." – MELISSA JOY ADAMS
---
I enjoyed every bit of the time I spent crafting Melissa's copy. And the website design? OMG, I loveeeeet! The Tonic template she used is *hands down* a great match for the copy! Great copy stands out when the design is stunning, and Melissa understood this. Check out the live website.
Will you be next?
Want website copy that puts you in the spotlight?
Oh hey, starting a business takes a hell of courage (and scrolling all the way down here takes a lot of interest). So, if you're ready to turn your ideas into irresistible offers using sales-worthy copy, you're in the right place.
---