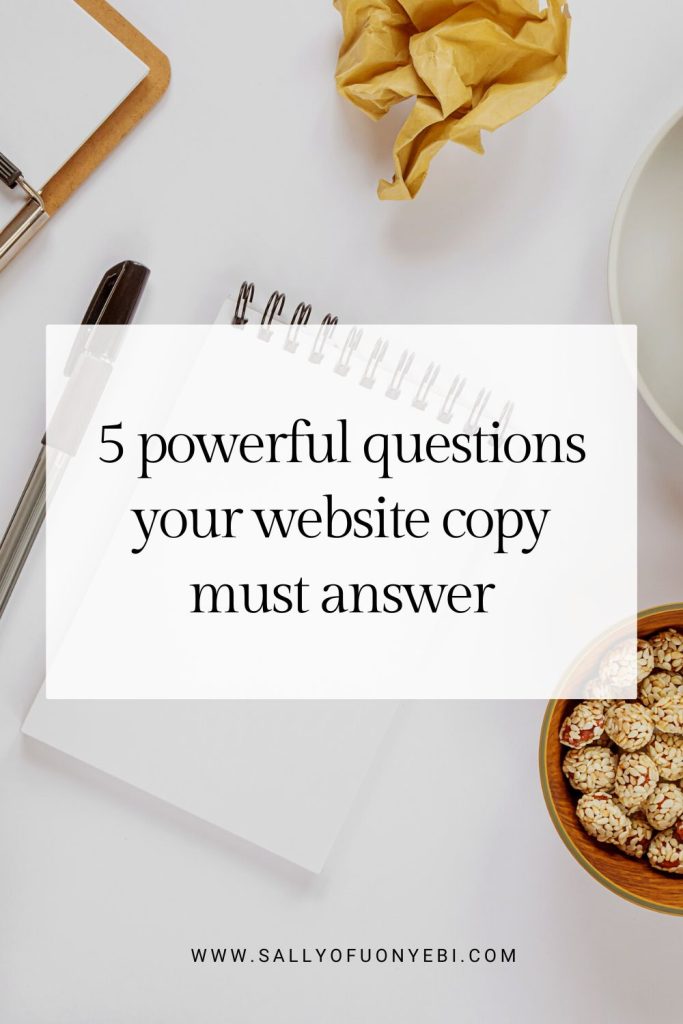 The difference between websites that pull in ideal clients and those that fill up space is the questions they answer.
You want to write website copy that gets seen and turns ice-cold traffic into hot leads. Amiright? 
You want people to walk right into your site, hang around for a while, and sign up to your list or apply to work with you. That's what the right website copy can do.
But, what key things are you supposed to include to achieve this reality?
As a copywriter who has written and analyzed web copy for creatives, here are the five questions your website copy must answer. 
Let's get into it.
1. Who are you?
The first thing you want to help your website guest do is: determine whether they are in the right place. This is by telling them who you are and how you can help them.
When people scroll through sites, there are two things on their minds:
Who's this person?
What can she do for me?
It's your job to state your expertise or job description and what you do to make lives better.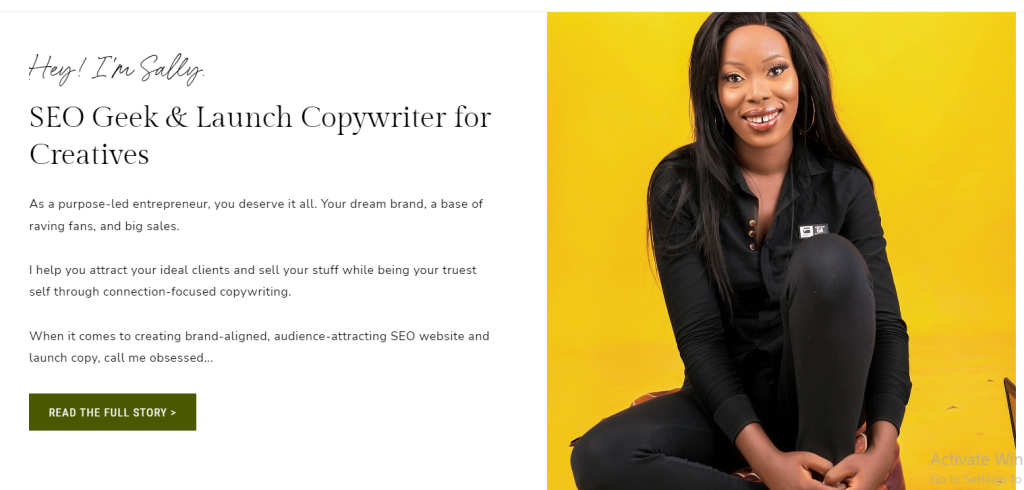 Are you a business coach, course expert, or brand strategist? Do you help entrepreneurs make $10k per month? How did you get to this level—what's your story?
You can use pages like your homepage and About page to explain who you are and what you do.
2. Who do you serve?
If there's anything better than writing website words, it's writing laser-focused copy. You need to call out your ideal clients.
There are about 7.9 billion people in this world, if you address everyone, you will lose them all.
You can't sell to everybody. It's unrealistic to address different groups of audiences without diluting the power of your copy.
Your job as a business owner who wants to create and capture demand is to carve out a small group of people for yourself.
So, who do you want to serve?

Do you work with service-based businesses? Are you looking to help coaches? Is it 7-figure agencies you want to work with? Is your ideal client an e-commerce owner?
Sprinkle this throughout your copy, so your ideal client knows it's them you're talking to. This is how they connect with your copy because you address them.
3. How do you serve them?
This refers to the offers you created to help your ideal clients. To better put it, how can they work with you, if they decide to?
You're a business coach helping service-based entrepreneurs hit consistent $5k months. How?
You're a copy expert helping coaches create lead-pulling website copy. How?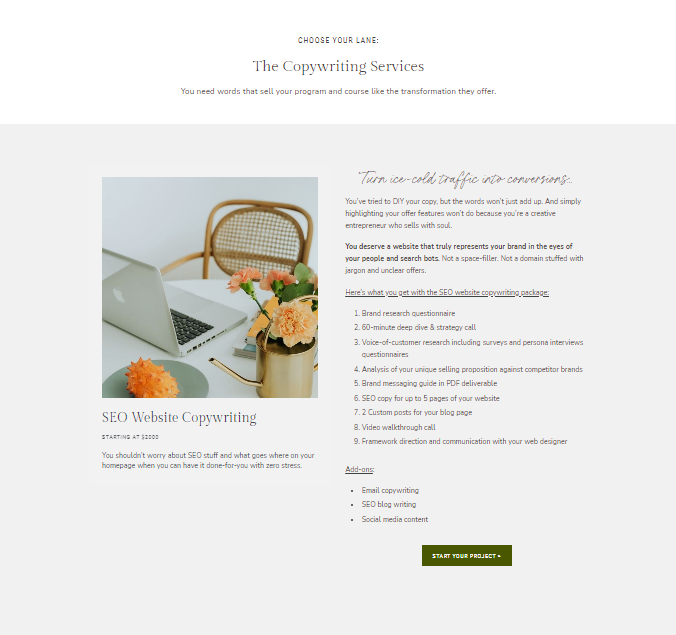 This points to the solutions—private mentoring, courses, products, or services—you support your clients with.
4. What makes you unique?
 There are over 300 million businesses in the world. This means, there are many people doing the same thing as you.
Are you a business coach? There are many business coaches offering one-on-one private mentoring and group coaching programs just like you.
So, what makes you different or better? This is your unique value prop.
Do you offer your solution through step-by-step tutorial guides that teach them the how-to, instead of theories? Or do you offer something no one else is offering?
5. Why should they trust you?
People don't want to lose their hard-earned money. This is why they're always looking for validation and recommendations.
So, what social proof do you have to prove the credibility of your solution?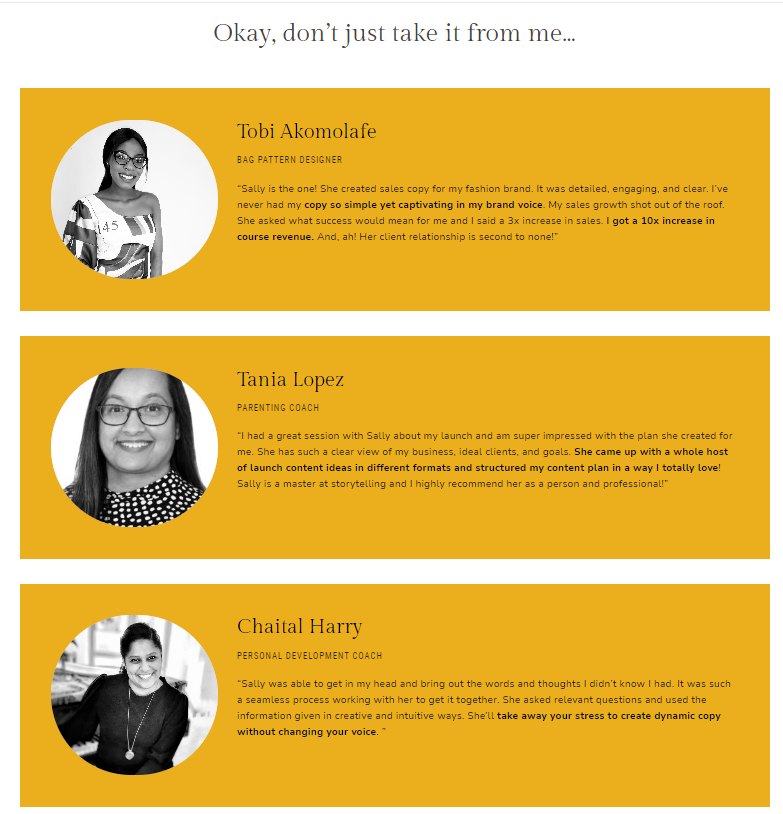 Were you featured on authority media platforms? Do you have client testimonials or results to show? Do you have a project portfolio they can comb through?
The wrap-up: 5 Questions every website must answer
You know what key ingredients your website message should revolve around. The best websites answer these 5 questions in their copy.
Go ahead and write your entire website copy with only two (in-depth) resources.
The SEO Web Copy Playbook to write discoverable, lead-generating copy for your website.
The SEO Web Copy Playbook
The step-by-step guide to researching and writing SEO website copy that attracts your dream clients!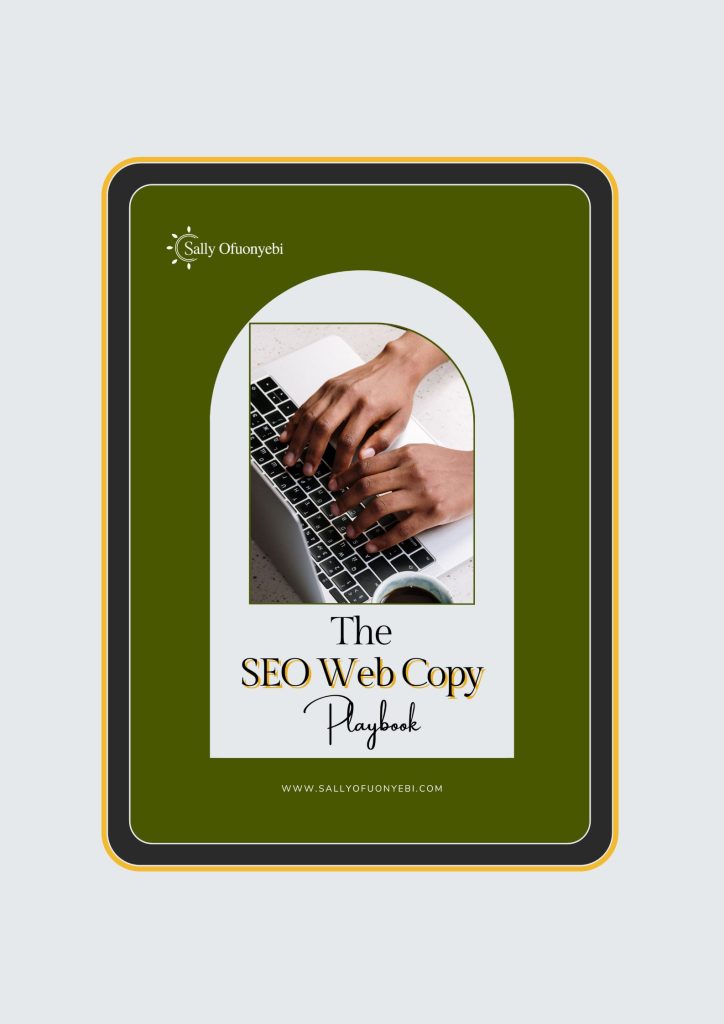 ---
Share this post with your friends!