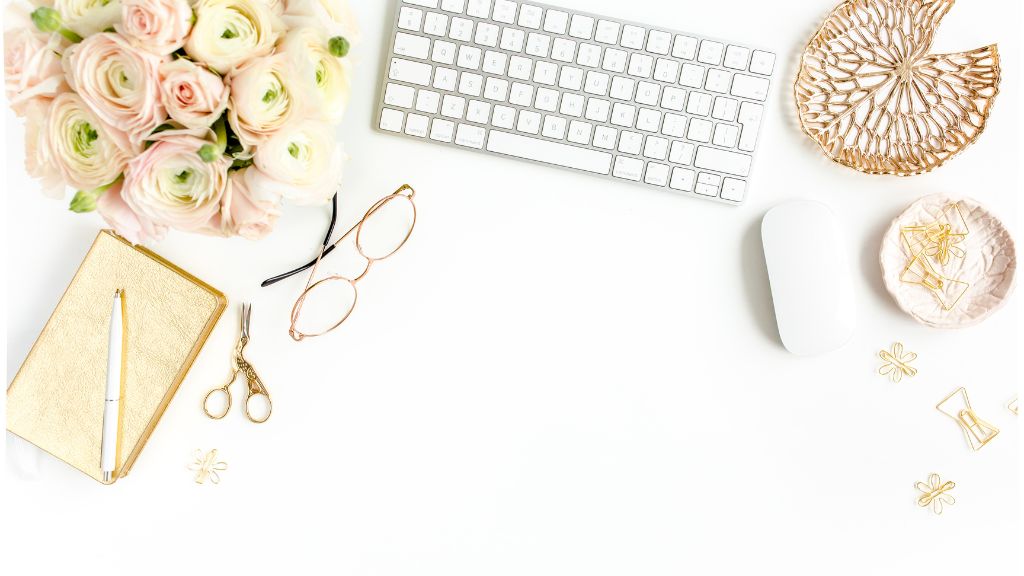 Service offered:
Launch Copywriting
The Background
Tobistylx is a bag fashion brand by Tobi Akomolafe where she sells ready-made bags, bag patterns, and courses to craft beautiful bags from scratch. (I got some of Tobi's bags for myself. So, believe me when I say they are premium products!)
P.S. This woman, who's doing incredible things, is my forever bestie!
Meet Tobi,
the bag pattern designer
Tobi leads a Facebook group of about 9,000 bag designers and has taught over 5,000 students through free training and paid masterclasses.
She's helped people build successful bag-making businesses—putting a stop to poverty and helping them impact the world with their crafts.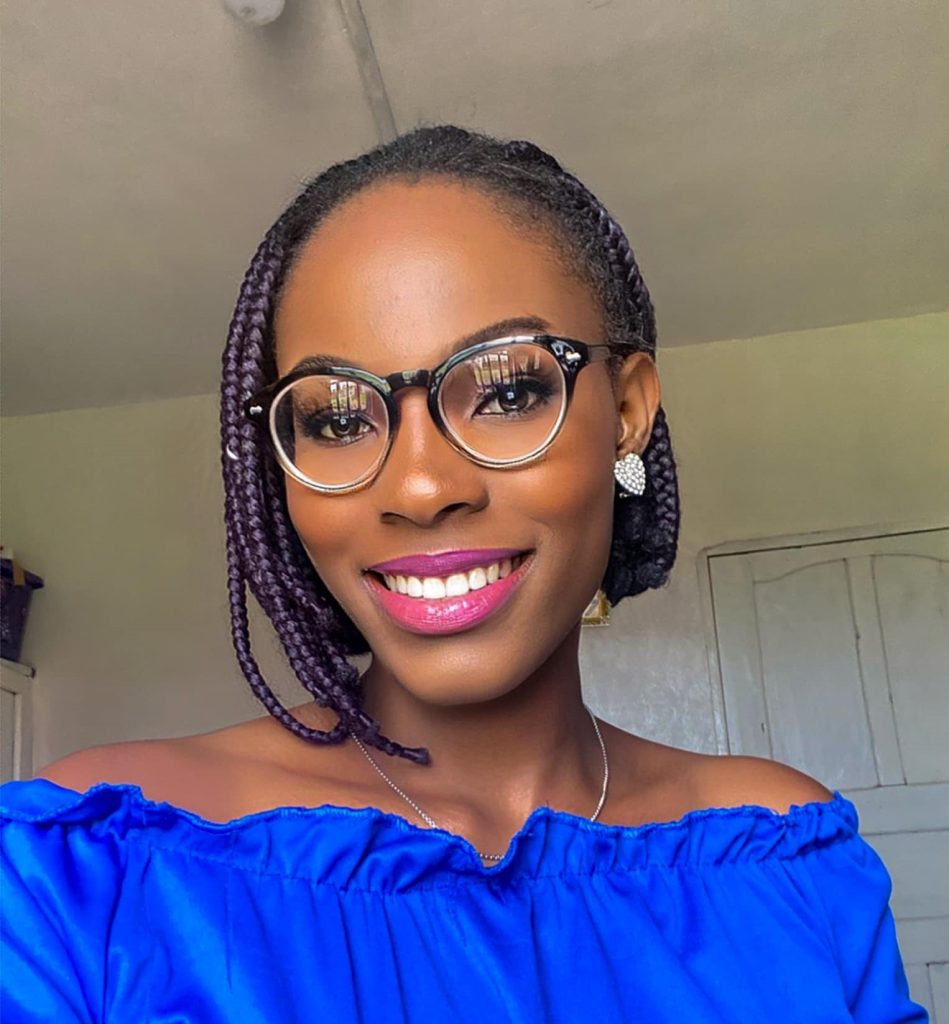 The Need
Tobi was just about to launch when she reached out to me. The timing was quite close, but it was worth it.
She had no idea how to plan her launch and messaging and feared that people wouldn't buy her new masterclass at its price, which is seven times costlier than the mini-course she offered. But it's never about the price. It's more about how you make them feel about your offer.
She wanted to launch in a private Facebook and Telegram group. No email list, just social media.
She knew the guessing game won't pay off, so she sought out conversion-focused copywriting that will make them buy from me.
The Solution
We had a deep dive call that included the offer scrutiny and clarity exercise to understand her course's features, benefits, and transformational promise.
I asked her what launch success would mean for her and she told me: getting three times increase in course revenue.
I went ahead to pull relevant information from the voice-of-customer (VoC) research I conducted. Then, I infused these findings into Tobi's DM scripts, follow-up messages, and sales page.
It was such a fun and quick process getting her launch copy ready.
Here are the deliverables she got:
Tease piece (a free class) landing page—to invite them into a private Telegram group
Tease piece sequence for members on Telegram
Pre-launch editorials (calendar planning and social media posts)
Sales and DM scripts
Open-cart messaging ideas
Sales page copy for her masterclass
Sales page breakdown
The headline and lead-in
I started with a clear, compelling headline that appealed to the audience of Tobistylx.
What is the offer? An advanced masterclass
Who is it for? People willing to make money through bag-making
What is the USP? Becoming a certified professional in only 5 weeks.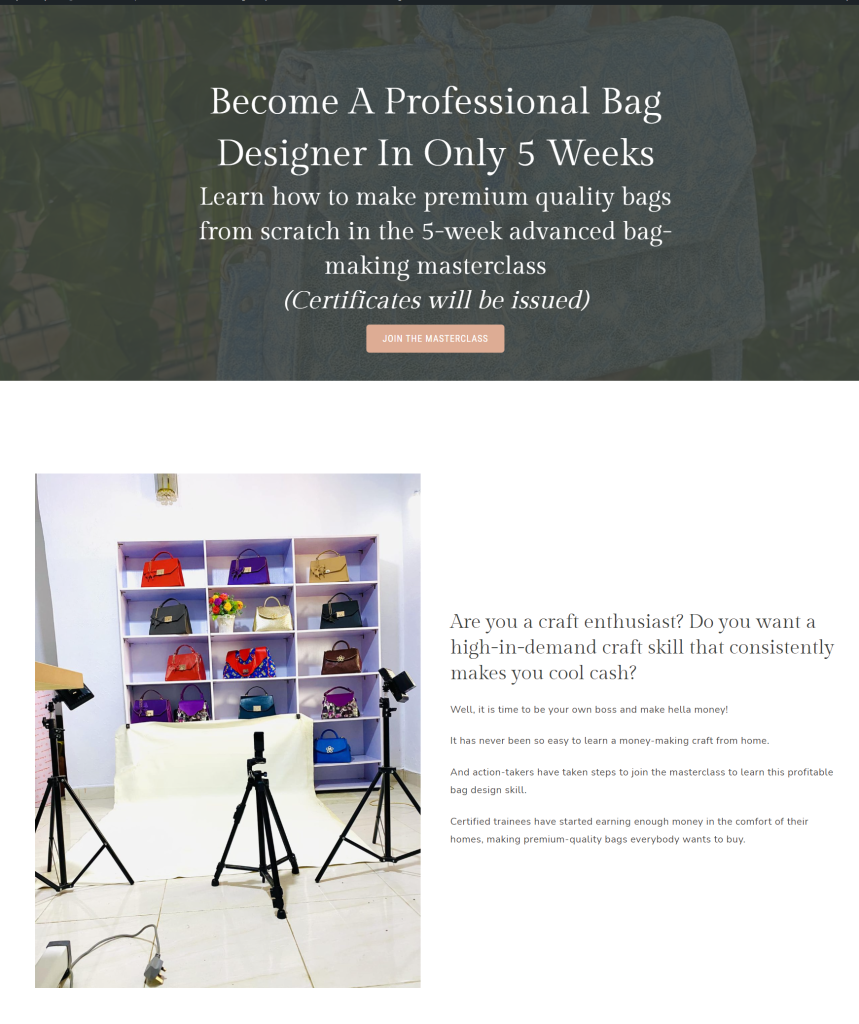 Problem identification and course introduction
I made it clear to Tobi's ideal clients that she understands where they are and that many of her students have been in the same exact position.
Also, This section shows them a sneak peek into what they'll get in her masterclass.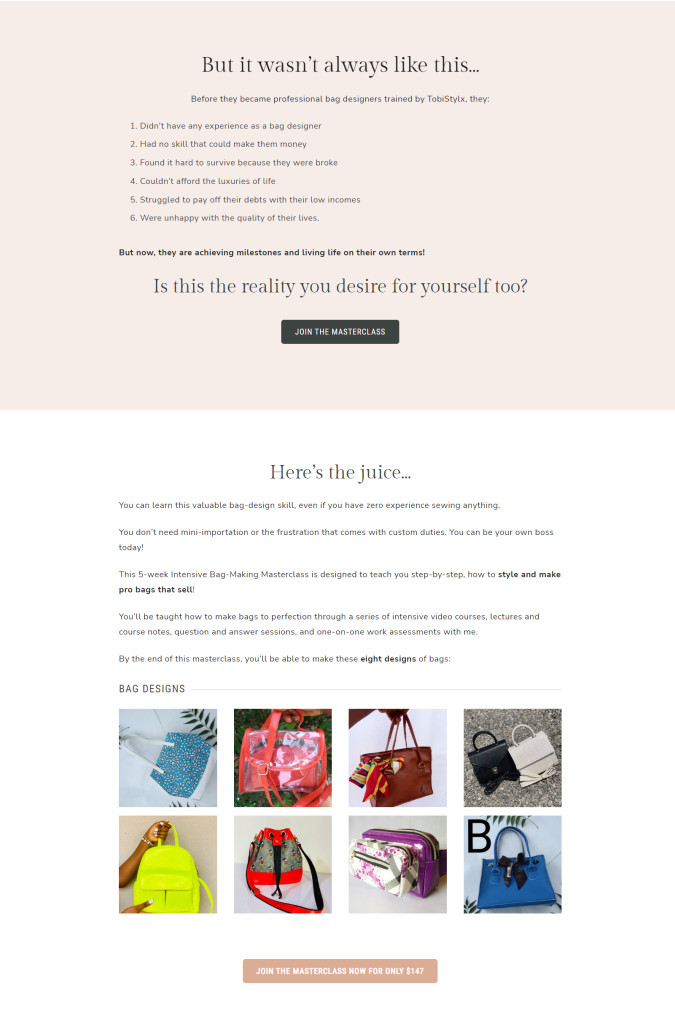 The juicy bonuses and value stacking
I always do thorough calculations and research when it comes to stacking monetary value because it's important to be reasonable about the cost of what they're getting while being persuasive.
And you'll agree with me that it's exciting seeing all the value you are getting at a lower cost. That's why I always stack the monetary value of offers.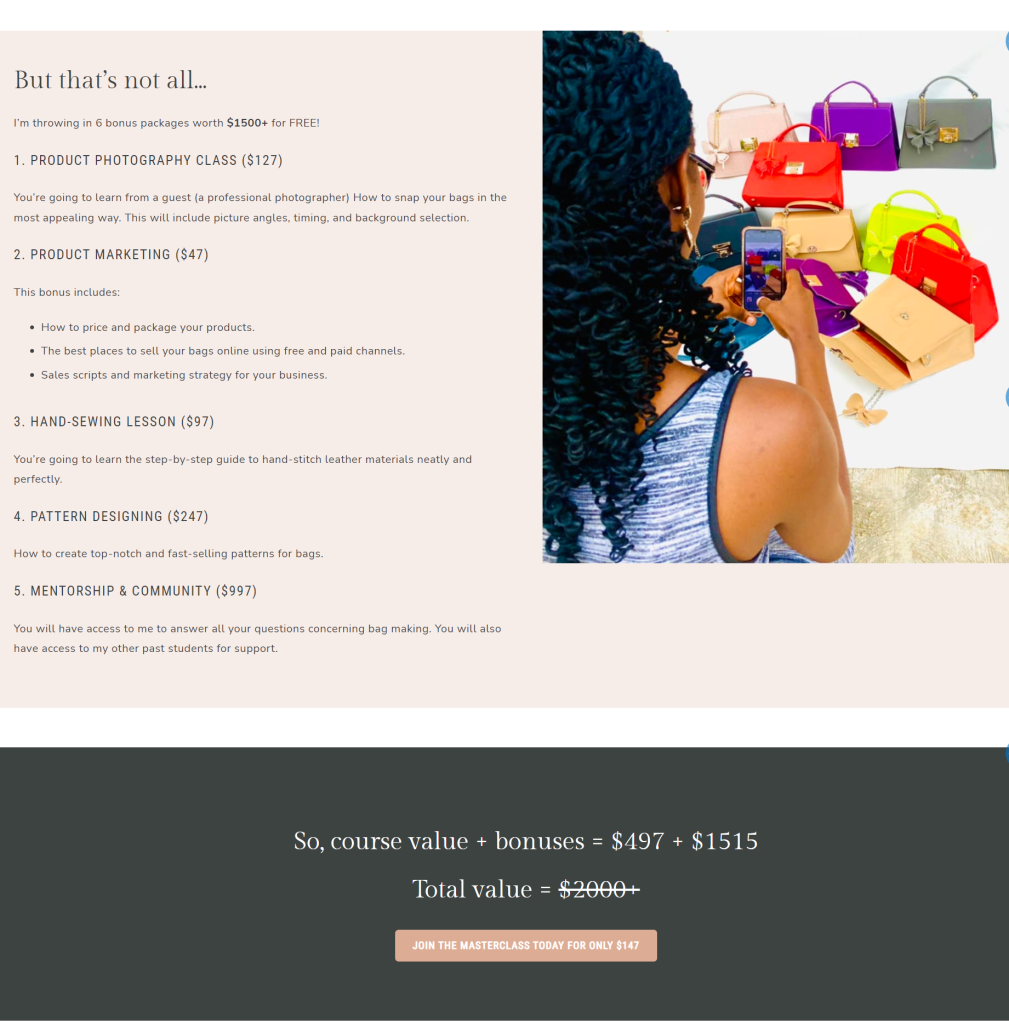 Course validation and positioning
Here, I left no stones unturned. Tobi runs a successful bag-making business and had taught over 4000 students at the time.
(Her most recent win: She's built a worldwide community of almost 9000 professional bag makers))
Also, the testimonials of students who took her course is a solid proof of how valuable her course is. People believe the recommendations of others when it comes to making a purchase decision.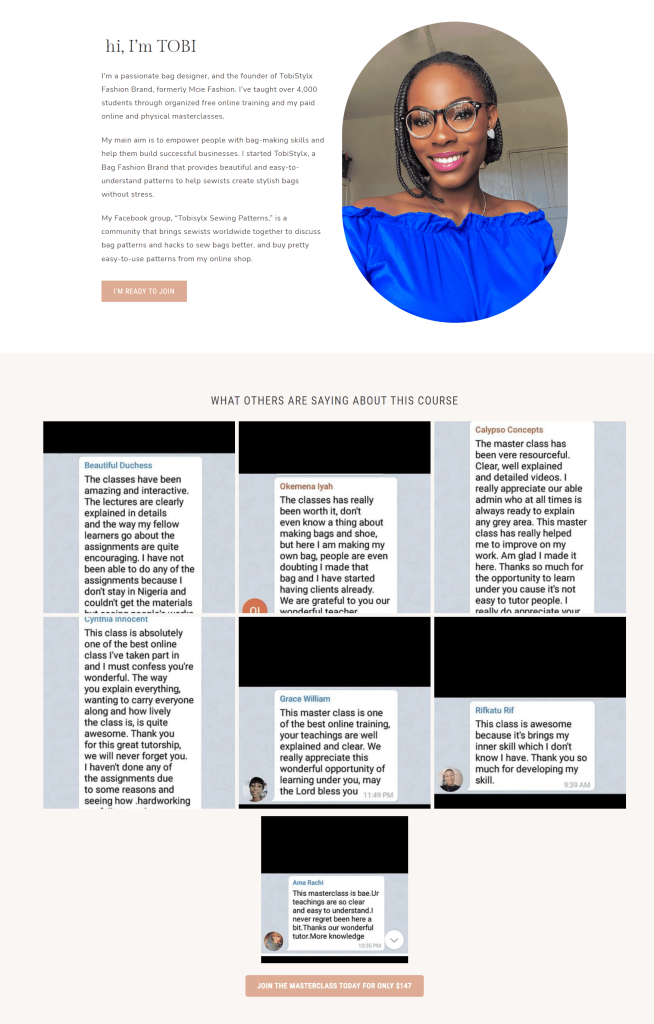 FAQs and final call
This FAQ section was created to counter any further sales objections or concerns they might have about Tobi's course.
Pro tip: It's great to add an FAQ section to your sales page (for when your ideal client has doubts). Sometimes when your ideal client is about to subscribe to your offer, certain unresolved questions make them hold back.
And as a copywriter, I know I should never (in a gazillion years) end a sales page without a final call to buy.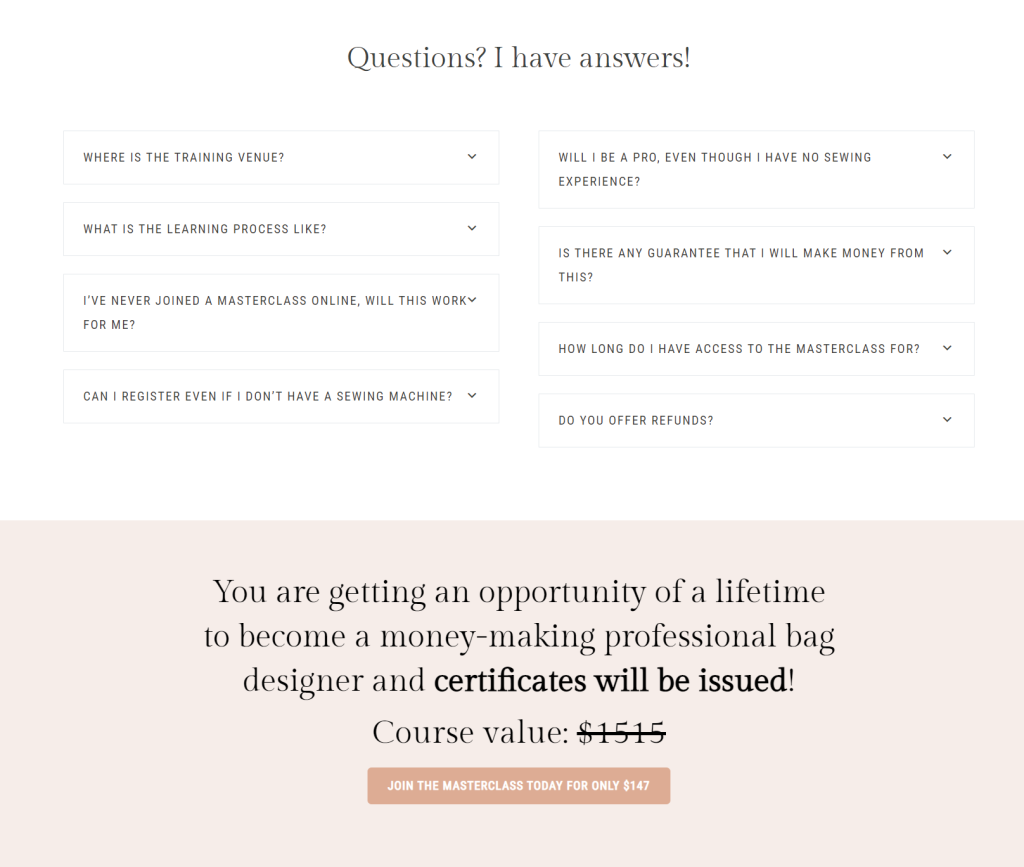 P.S.S. This landing page is no longer available as Tobi has retired the course and created a new one that's more suited to her audience.
The Review
"Sally is the one! She created sales copy for my fashion brand. It was detailed, engaging, and clear. I've never had my copy so simple yet captivating in my brand voice.
My sales growth shot out of the roof. She asked what success would mean for me and I said a 3x increase in sales. I got a 10x increase in course revenue. And, ah! Her client relationship is second to none!"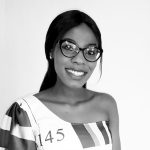 tobi akomolafe
BAG PATTERN DESIGNER
I love Tobi's energy, enthusiasm, and dedication to work! She brought her A-game to this launch and it's part of why everything worked out.
Working with her was a remarkable and interesting process—and I'd do it again. Anyday.
Like what you see?
Let's launch your offer profitably