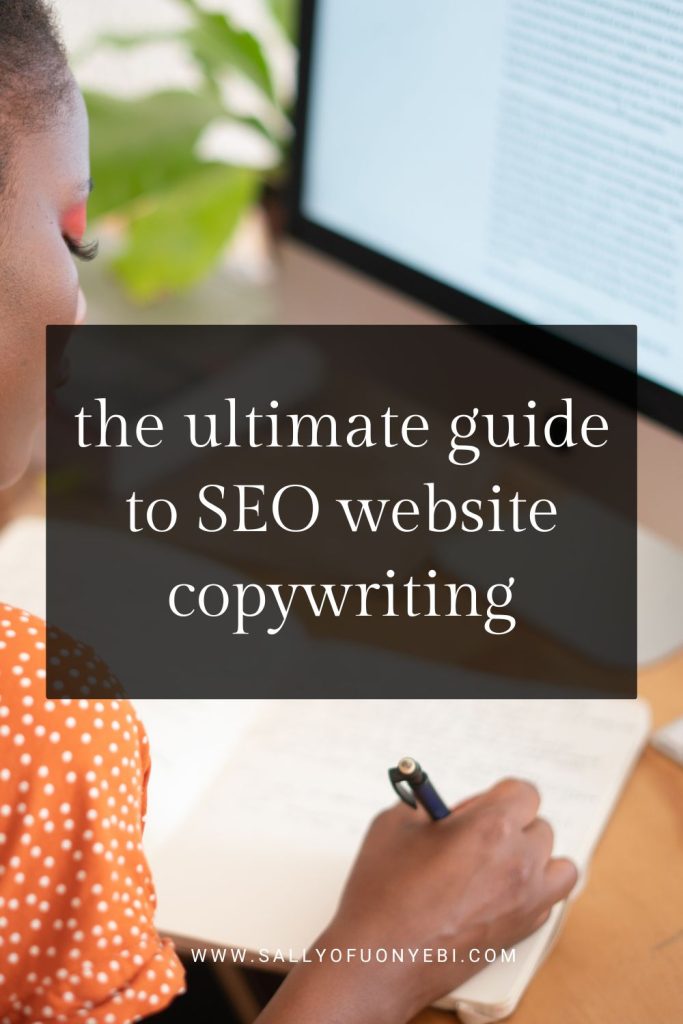 If a visitor wants to come and pay you a visit at home, What will you do? How will you write your address? What would you say when they knock?
This is what it's like with SEO website copywriting.
Your website is your home online — and there's a need to make it discoverable and conducive for your ideal clients.
There is your audience. There is you. And there is your message plastered in all its glory on your website.
Do you want to invite them to stay, hang around, and get to know you (and the value you bring to the table)?
Website copywriting isn't just writing. Website copywriting in its truest sense is: Research + writing + marketing + SEO + a lot of your personality.
You don't want to say a lot of yada yada that'll make them bounce off your website, right?
In this post, you will learn everything about SEO website copywriting and how to do it right even if you're a coach or course creator (who isn't a copywriter, obvi 🤪).
What is SEO website copywriting?
This is the process of writing brand-aligned messaging on your website using SEO best practices to make it discoverable.
If you go to Google's search bar and type in what you do, you'll see millions of results — businesses and blogs (that aren't yours) talking about what you do. Now, what does this mean for you?
It's time to get in front of your audience when they search for the problems you solve. Those programs and courses you created to solve their problems should get in front of their eyes. This is why you need SEO website copy.
Related: SEO for Coaches: The Ultimate Guide
Who is an SEO website copywriter?
An SEO website copywriter is a professional who writes conversion-focused web copy with SEO in mind. As an SEO copywriter, I read and research search trends and algorithms so that I can create discoverable, ranking pages (for myself and my clients) such as: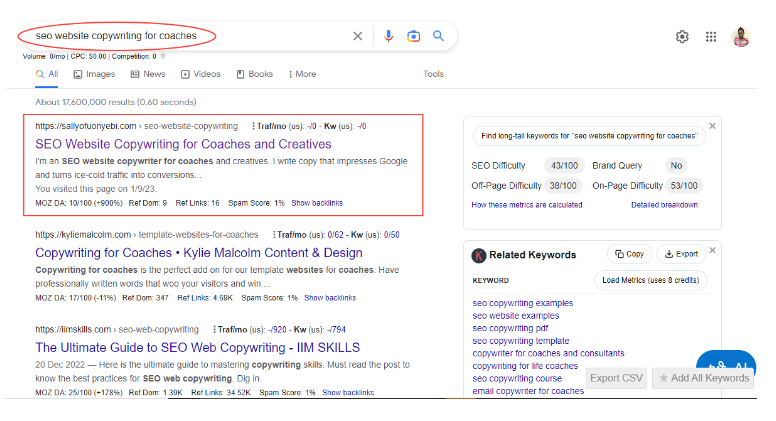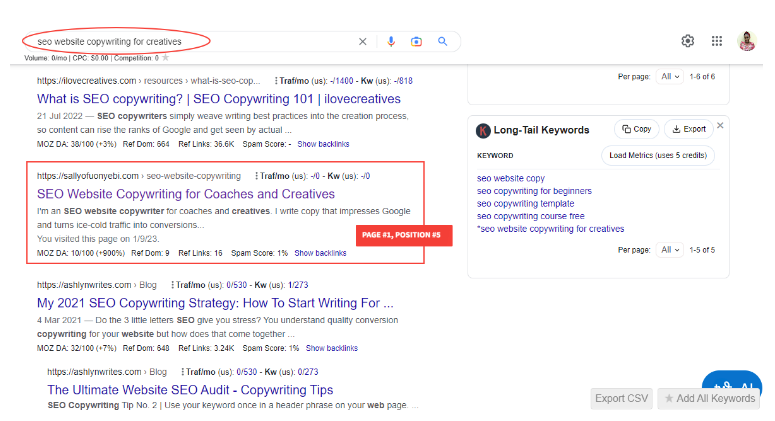 Questions to ask yourself before hiring a launch copywriter
Before you hire an SEO website copywriter for your business, answer these four questions:
Do you have a clear brand mission and vision?
Who is your ideal client?
What are your goals for the website?
Does the copywriter's values align with mine?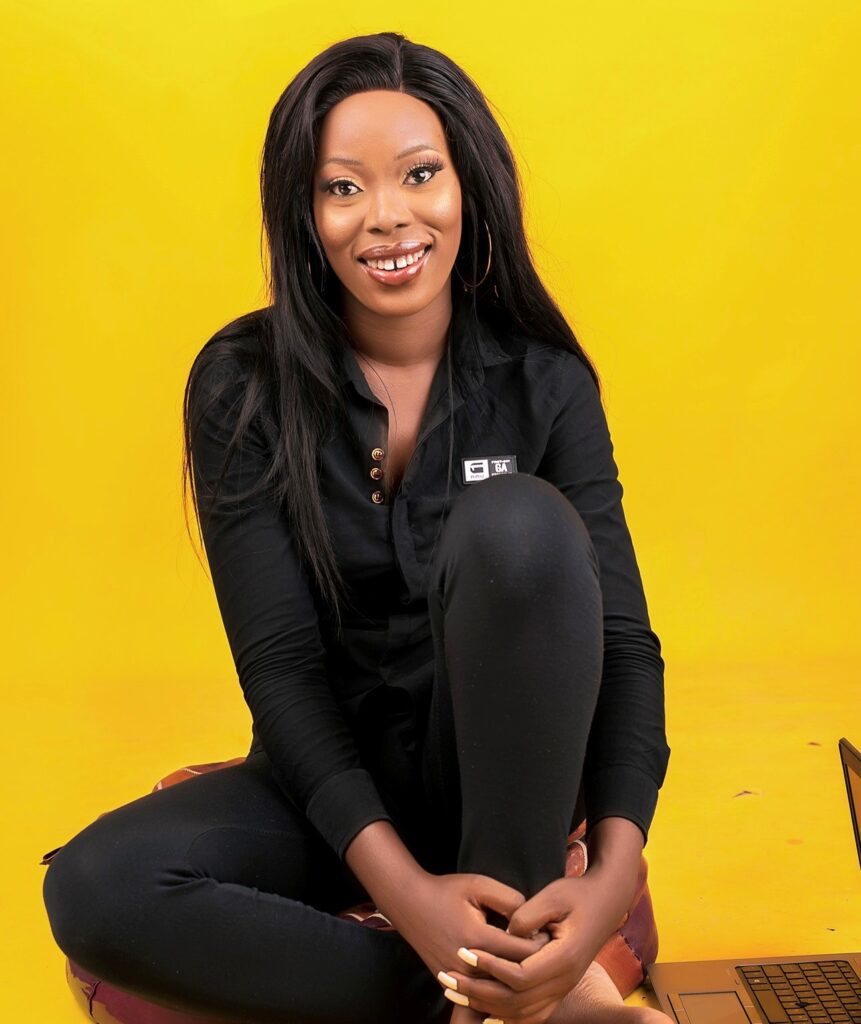 I'm an SEO website copywriter for coaches and course creators
Let's work together to create a website that gets the right eyeballs and sells your offer.
If you'll rather DIY it, here is a step-by-step guide to writing SEO website copy that ranks! – by yourself.
How to write SEO website copy for your creative business
As a coach or course creator looking to write website copy that is discoverable, relatable, and conversion-driven, here are five things to do:
1. Write down your goals
It's always more results-guaranteed to start with the end in mind. The end? That refers to the goals you want to achieve.
Knowing your business goals will guide your website copywriting process.
It works this way:
First, you analyze your business goals — including your brand mission and vision, and financial goal. Then, ask yourself: "How can my website help me achieve my goals?"
In the end, you'll be able to align your message and goals.
2. Research your market and keywords
Find out who your audience is. Who are your ideal clients? This is not just a question about their gender or interests. It's knowing everything about your dream clients. That's why you need to create a customer avatar.
Then, you want to identify and research the keywords you want to rank for. Generally, aim for:
Keywords with low difficulty (0-20)
Keywords with high traffic volume (but low to medium difficulty)
Long-tail keywords
Questions displayed in Google's People Also Asked section
Keywords in Related Searches
Zero-volume keywords that have low difficulty.
3. Start with your idea
It's time to enter into a deep brainstorming sesh.
What makes this process quite interesting is that there's no restriction — no SEO guidelines, no grammar police moment, no copywriting formula, and definitely no cranky keyword optimization.
This is just you pouring out everything you think your business is all about. This draft is the raw, unfiltered truest form of your brand message.
Start by answering questions like:
Who do you help and why?
What problems/desires will you help your ideal clients solve/achieve?
What offers do you have in place? Describe them — including features and benefits
What makes your solution different or better than other related solutions?
4. Include the voice-of-customer (VoC) data
This is a badass strategy to uplevel the copy power of your website. Use VoC data.
This can be testimonials from past clients, problems you identified during your persona interviews, questions and complaints your ideal clients are posting on social media.
The key to leveraging VoC data is using your ideal clients' words in your copy. This lets them see themselves in your message.
5. Use a proven, repeatable copywriting pattern
Writing SEO website copy, especially for a non-copywriter, could be a little tricky and overwhelming when you're trying to hit all the points of persuasion.
Instead of guessing what goes next on your pages, you can use proven copywriting formulas to guide you.
6. Pro Tip: Crosscheck with my SEO Web Copy Playbook
In this SEO web copy playbook below, you'll find my best strategies for writing discoverable and conversion-driven website copy for your creative business.
The SEO Web Copy Playbook
The step-by-step guide to researching and writing SEO website copy that attracts dream clients!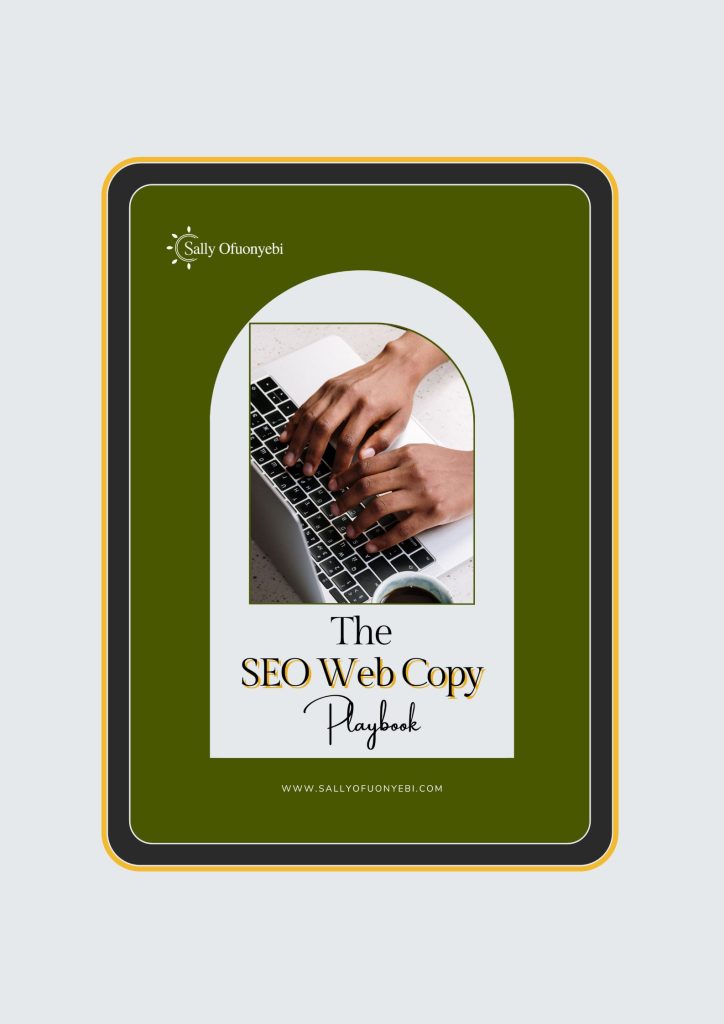 SEO website copywriting tools for creatives
Here are some of my best tools for writing SEO website copy for coaches and course creators
Keywords everywhere: This is a chrome extension you can use for free to find long-tail keywords and other relevant info about a keyword. If you want to better maximize this tool, it costs $10 for a credit you won't exhaust anytime soon.
Ubersuggest: This is my go-to SEO tool — not just because it's more affordable than most, but also because the SEO & marketing guru (Neil Patel) poured his best into this tool.
Semrush – keyword magic tool: This is a free feature of Semrush for your keyword research purposes.
Google Search: What other resource can you use to create website copy that ranks on search results than Google itself? Take note of the autosuggest feature, and the People Also Ask and Related Searches section.
Google Docs: This is where I write all things copywriting. You can write an entire website here — from the homepage to the contact page including framework directions for your designer.
Grammarly: This is my go-to editing app. But, be careful not to let it taint the real meaning of your messaging — it's only an AI tool. You know what's best for your people.
Hemingway App: This is my second favorite editing tool. It focuses on helping you simplify your message.
Headline Analyzers: These tools will help you analyze how good your headlines are. But, don't take all suggestions to heart. Remember, you know what's best.
RankMath: This is a search engine optimization plugin for your site. It scores the SEO power of each web page you write.
Yoast SEO: This is another plugin that functions like RankMath.
Wrap-up: How to write SEO website copy for your creative business
The concept of SEO isn't hard. It isn't robotic or "lacking soul." It's just about making your brand message discoverable. With the tips above, you can go ahead to craft website copy that connects with ideal clients and ranks on search result pages.
---
Download The SEO Web Copy Playbook
Write SEO website copy that attracts the right eyeballs and sales!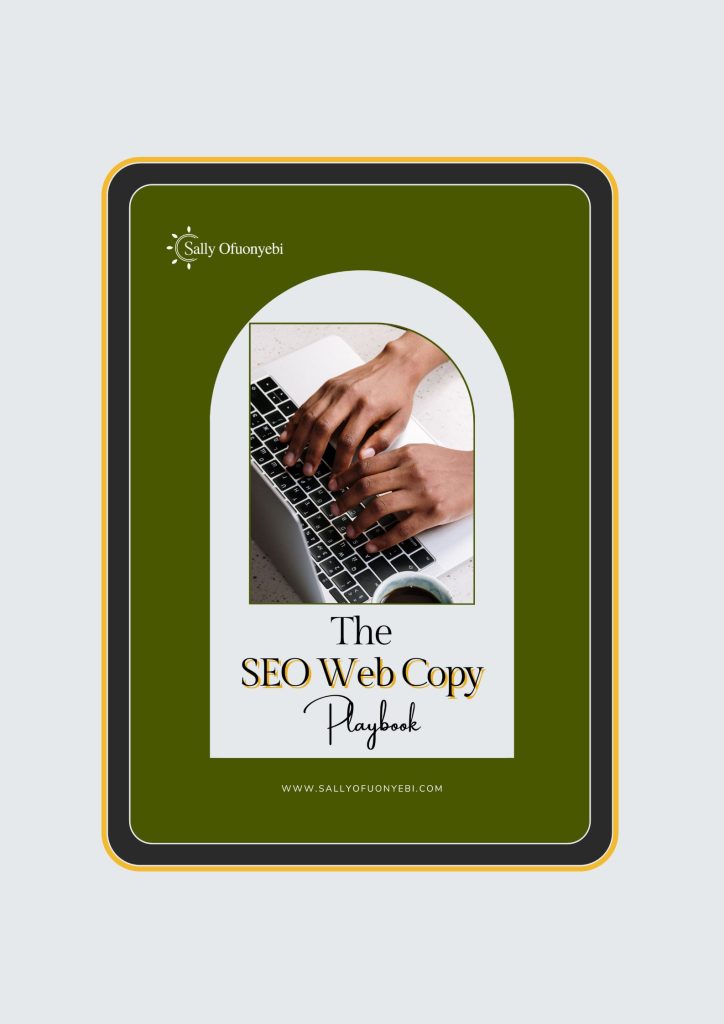 Share this post with your friends!