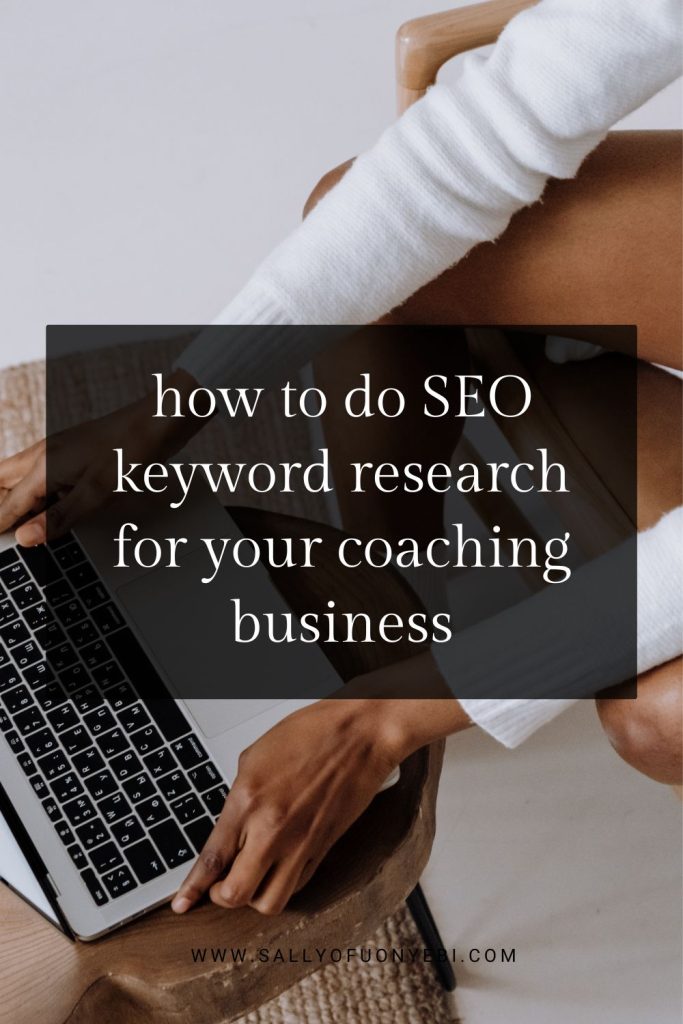 There's no point in writing and editing copy your ideal client never sees.
That is ending today, because you're about to learn how to do SEO keyword research.
So you can outrank millions of people and get in front of your dream clients first. That's what SEO is after-all—helping your ideal clients find the valuable content you've created.
Ready? Let's dive in!
First, let's define what keywords are…
What are keywords?
Keywords are terms people enter in Google's search bar when looking for a particular thing online.
For example, if you're looking for an SEO website copywriter for coaches (which I am btw), and type that in Google, it becomes a search query which is also called a keyword.
4 Types of search intent when choosing keywords
When users search keywords in Google, it's majorly because they have one (or more) of four intents.
Before we get into what these search intents are, let's take a quick definition.
Search intent is the main goal a user has when searching a keyword. It is also known as user intent.
There are four major types of search intent: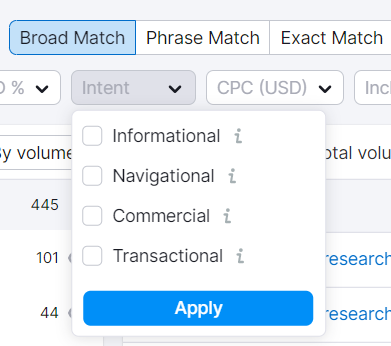 Informational: The searcher wants information about the query. (E.g why is SEO important, what is business coaching)
Navigational: The searcher wants to find a specific web page (e.g Mailerlite pricing page, Semrush keyword magic tool)
Commercial: The searcher is in the research phase, and ready to make a purchase decision (e.g. best keyword research tool, Ubersuggest vs. Semrush)
Transactional: The searcher is ready to complete to make a purchase. (buy hp laptop, Namecheap coupon codes)
Why keyword research is important for coaches
One of Google's goals is to deliver the most relevant and reliable data. Doing keyword research before creating your copy and content helps you ensure you're giving relevant, intent-based answers to your searchers. 
It allows you to create content that is discoverable and relevant to what they're looking for. When this happens, they stay on your page longer because it's like the content is made just for them.
In the eyes of Google, you gain credibility and relevance. So, it ranks you higher on search result pages so that more searchers can find the helpful content you've created.
Factors to consider when choosing keywords for your coaching business
Before we dive deep into how to do keyword research for your content, I want you to consider 4 things when choosing a keyword.
Search intent (I): Why are they searching for the keyword they are searching for? Is it because they want to learn or make a purchase?
Keyword difficulty (KD): How difficult is the keyword you want to rank for? On a scale of 0 to 100, go for keywords within 0-25 KD.
Search volume (SV): How many monthly searches does your target keyword get? This should be taken lightly though. According to reports, some websites get up to 5000 visits per month for a zero-volume keyword.
Keyword ROI/CPC: How profitable is the keyword? The higher the cost per click (CPC) on the keyword, the higher the ROI. It means businesses spend more to rank for the keyword, therefore, it's valuable. So, take advantage of these keywords.
Now that you know the things to consider when choosing a keyword, let's highlight the tools you need to start the research process.
Best free keyword research tools for coaches
If you need the best free tools to do keyword research for your coaching business, I've got you! Here are four tools that'll make your life easier (I use them every time).
Keywords Everywhere Chrome Extension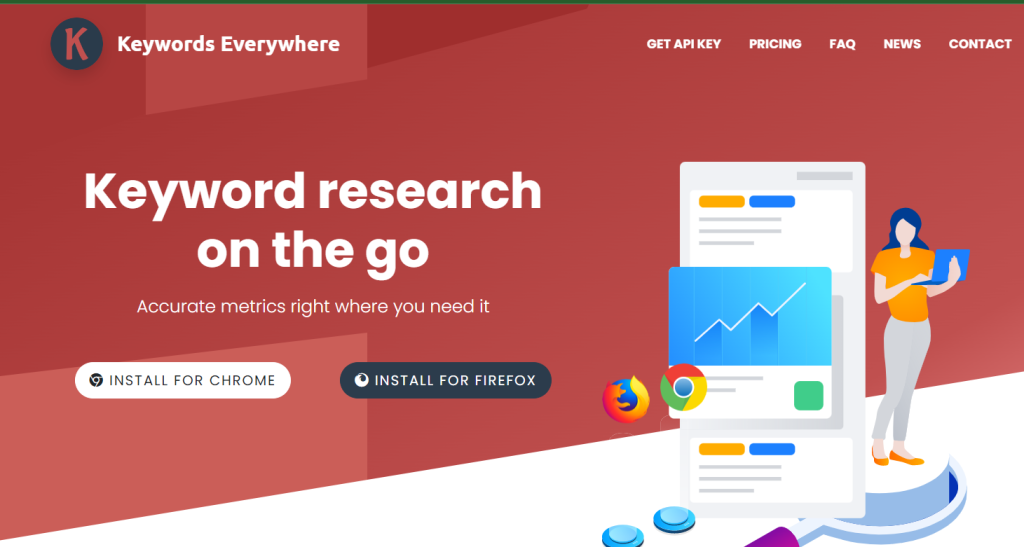 Keywords Everywhere is hands-down my favorite SEO research tool because it's cheap, effective, and freakin' easy to use. You can use this tool 100% free or pay $10 for 100,000 credits to access in-depth data.
Now, this takes forever to consume. I know because I've been using mine for more than a year now and still have over 80,000 credits left. It shares information such as the search volume, CPC, competition, SEO difficulty, On-page and off-page difficulty, search trends, and long-tail keywords.
Answer The Public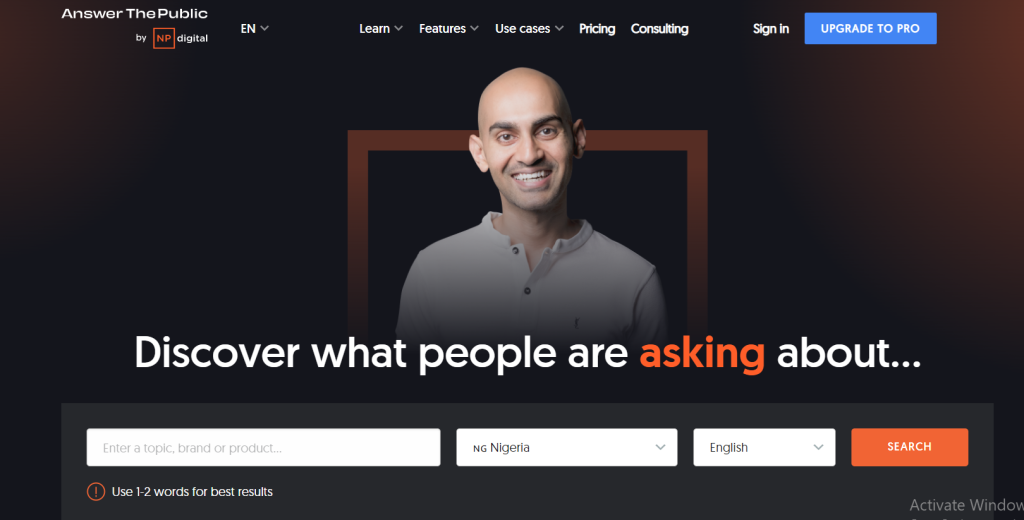 Answer The Public is a search listening tool that collects questions people are asking about a topic. This SEO keyword tool turns these questions into a spiral of insights.
This tool gives detailed insights into the search volume, search difficulty, CPC, paid difficulty, and long-tail keywords relevant to a specific query.
Keyword Magic Tool by Semrush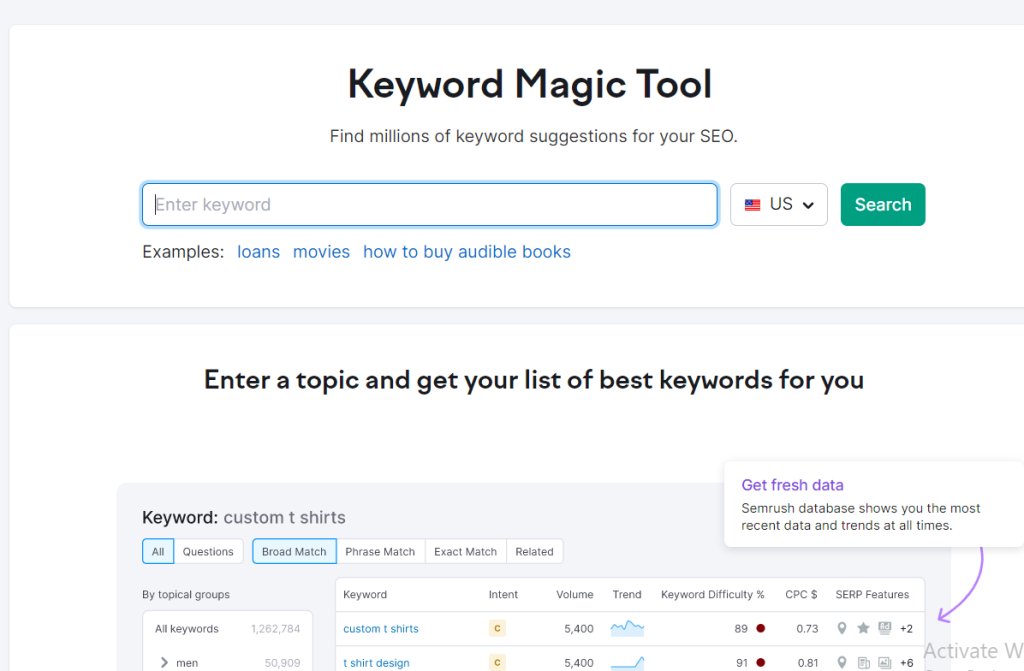 Keyword Magic Tool by Semrush is another free keyword research tool. While Semrush is a paid tool, it offers free, but limited features so you can improve your website SEO.
This tool shows you the intent and search data of keywords. You can also set the volume and keyword difficulty range. More so, you can build your personal keyword collection by adding target queries to a list.
Google search
Google is the easiest tool you can ever use to make keyword research. It's both your search and research friend.
All you need to do if you're looking for queries and keywords your ideal client is searching for is to:
Take advantage of features and sections like:
Autosuggest
People Also Ask
Related Searches.
These sections show you the exact terms and questions your people are typing in Google.
How to do SEO keyword research step-by-step
Doing SEO keyword research for your coaching business can be easy and I will show you how to do it in four steps.
1. Start with your goal
For every blog post you put out, you should have a goal.
It shouldn't be standalone, rather, it should be a piece in your topic cluster or a page to build your email list, backlinks, or any other goal relevant to your business.
You can make this easier for you by creating a spreadsheet. Outline your topic, its category, funnel stage, and goal.
2. Search the keyword you want to rank for
Choose your tool and do your research. For instance, let's choose "sales funnel" as the keyword you want to write about. I have a blog post on sales funnels by the way.
Let me go with Semrush Keyword Magic Tool.
Here's what I get when I search this term and filter keyword difficulty by Easy.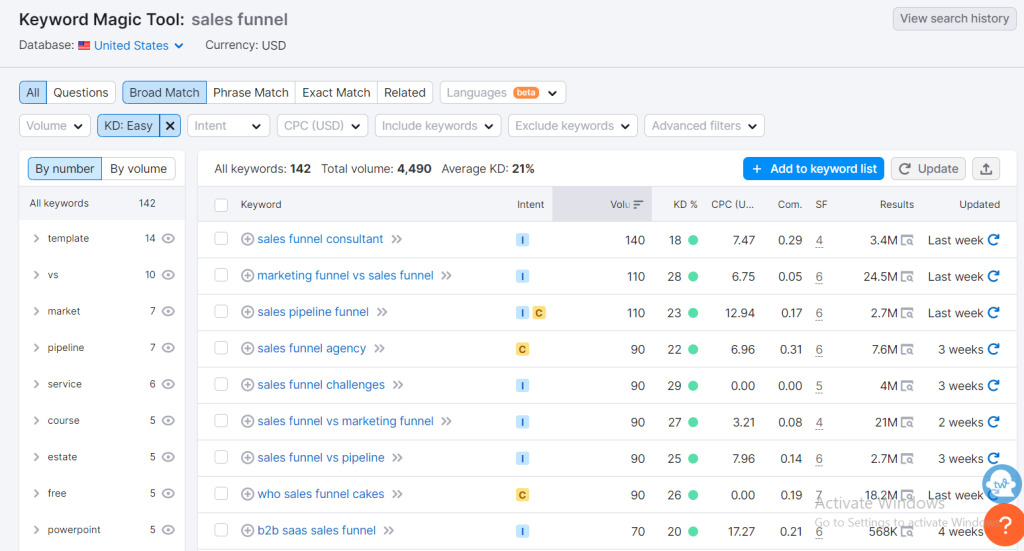 You can make more specific searches, just filter by the options at the top.
3. Add the keyword and semantic keyword to a tracking spreadsheet
Gather these insights into a spreadsheet. Make a list of your target keyword, and other semantic and long-tail keywords to include.
Also, take note of the People Also Ask and Related Searches sections.
You should know what keyword you're optimizing a web page or blog post for so that you can track rankings. Knowing your keywords will guide your writing, tracking, and content refresh processes. Don't continue to optimize a post without keywords.
4. Create an SEO outline and write your draft
Based on your findings, create an SEO outline. This is going to be the layout (or skeleton) for your entire draft. It's necessary to guide your content so you don't write off course. 
Ensure that you add key information like the intent, title tag, meta description, word count, URL, and keywords. 
An SEO outline is vital to guide every step of your writing workflow from ideation to final draft polishing. 
The wrap-up: SEO keyword research for coaches
Keyword research isn't tough. While it might not be your forte, the guide above will make things easier for you. 
There's no point creating content no one reads. That's why I created a more detailed guide on how to write blog posts and website copy your ideal clients will find. If you want to know how to do this step-by-step—from keyword research to creating discoverable content, download the SEO Web Copy Playbook.
The SEO Web Copy Playbook
The step-by-step guide to researching and writing SEO website copy that attracts your dream clients!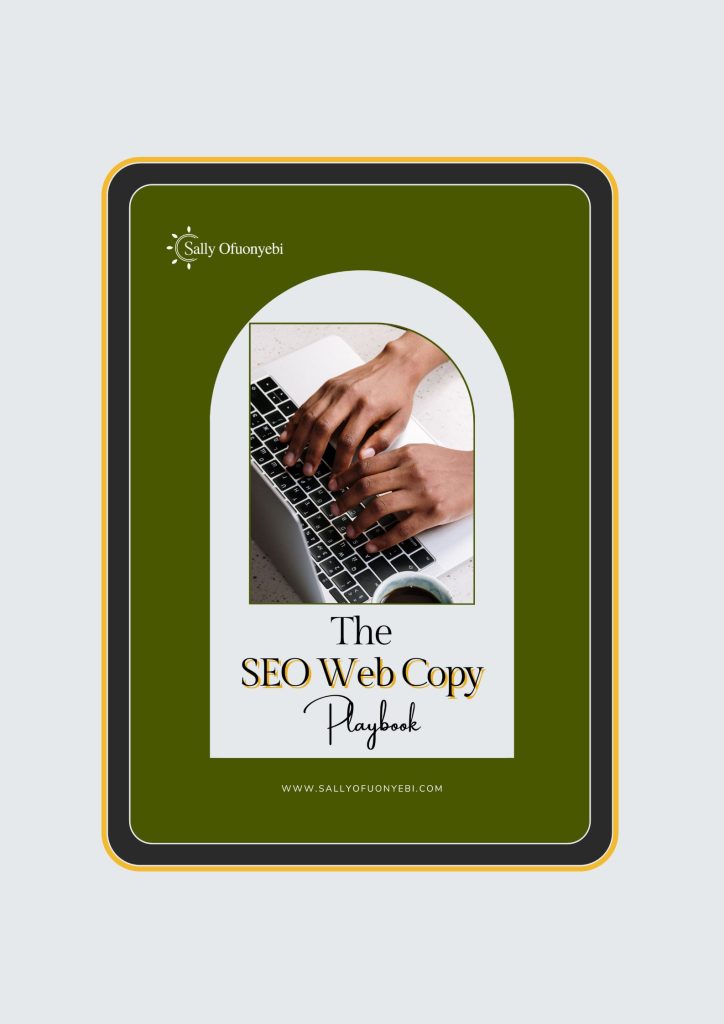 Share this post with your friends!