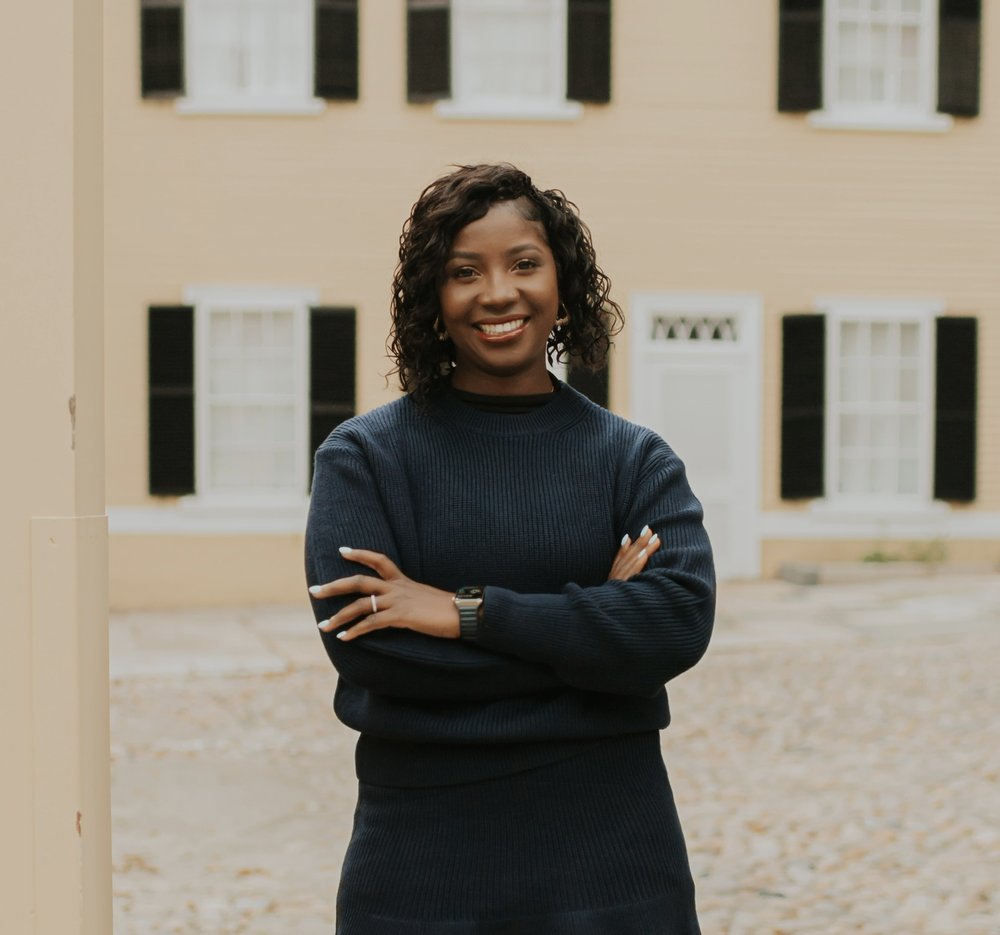 ---
I'm sure that at some point, you've heard how important it is to "build genuine connections with people." This project was the result of such a connection.
Margaret and I were Instagram buddies for about a year before we worked together.
You know how you just see someone online and instantly like their vibe? That's exactly how I felt when I connected with Margaret. She's calm, cool, and fun to chat with. In summary, she's a whole vibe, and I want more clients like her.
Today, I'm going to give you a juicy breakdown of how her website project went. Without further ado, let's get into it.
---
Meet Margaret,
A Life Coach and Therapist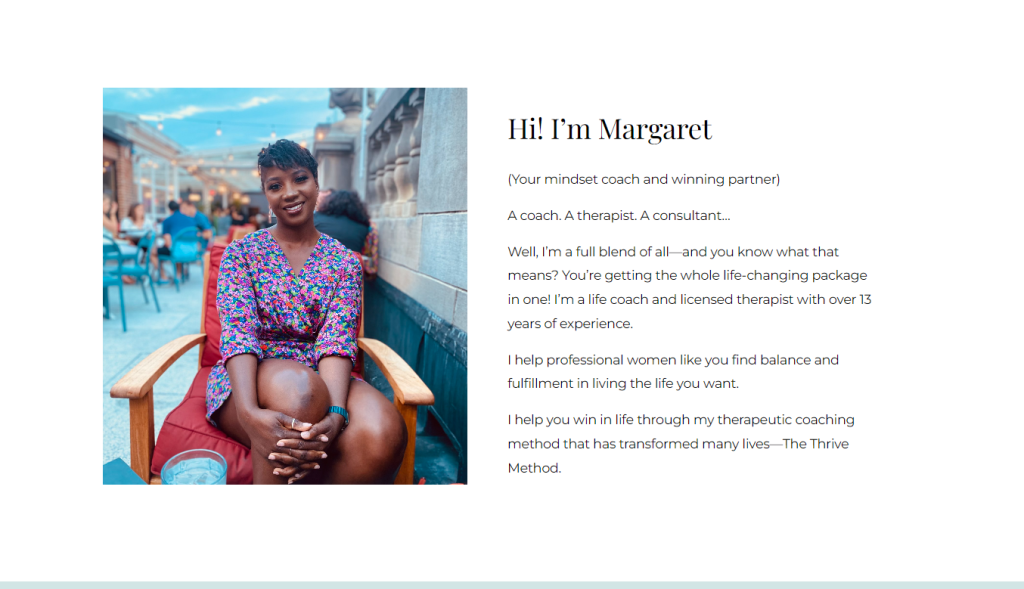 Margaret is a Licensed Therapist who has helped more than 1800 people cope with anxiety, trauma, and other limitations that keep them small.  She's been doing this for 13 freakin' years. So, when I tell you this mama is qualified, I mean it 100%.
She wanted to make the shift from being a Therapist to a mindset coach to help more people in a larger capacity. And this isn't just because she's got dope-ass qualifications, but also because she once felt trapped. Now, she wants to help ambitious women break through the limitations that keep them small.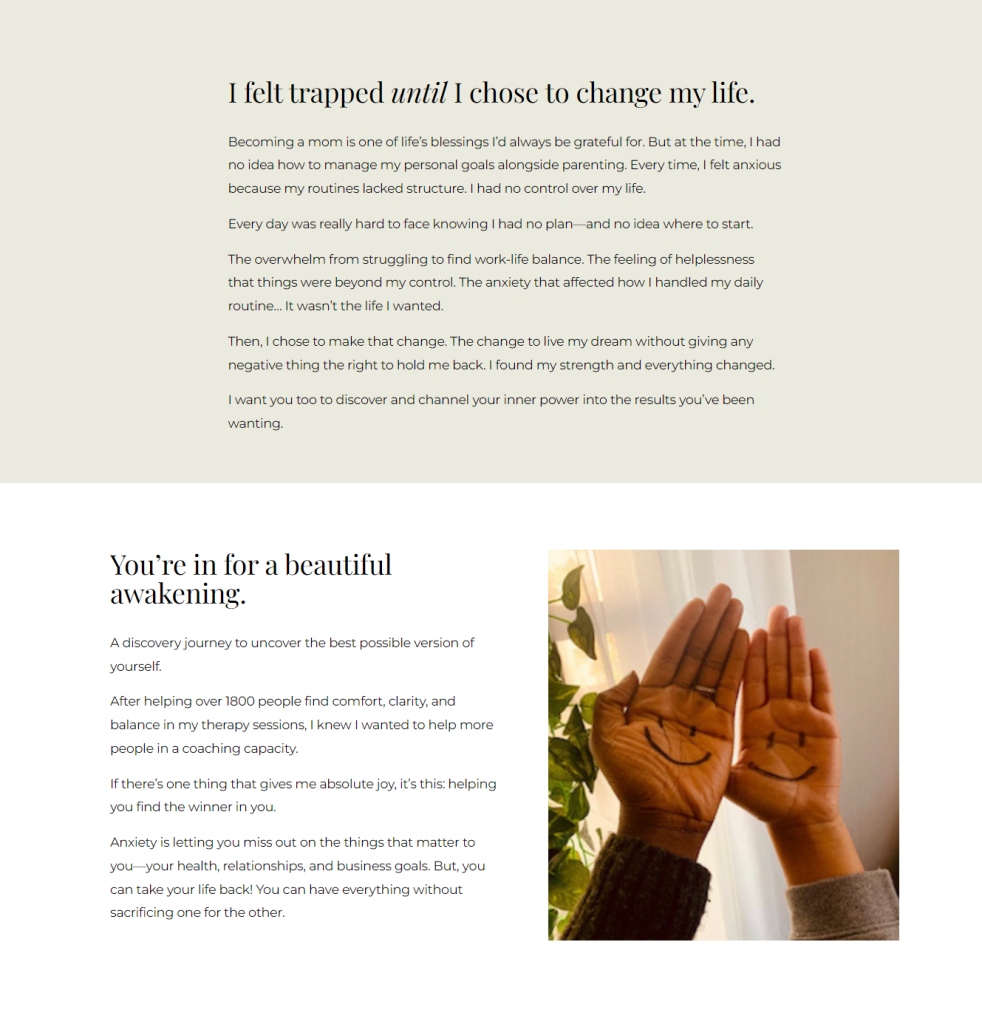 The need
As a newbie coach looking to position herself strongly in the online space, Margaret knew she needed brand messaging that would put MM Coaching and Consulting in the spotlight. Also, she has a coaching program that she'd like to launch and wanted the support of a copy expert she could trust.
Being Margaret's friend and occasional gist buddy for over a year made me her go-to copywriter. She reached out to me to create brand-worthy messaging that reflects her mission and connects with her ideal client.
We worked together on her entire copy—website, messaging assets, and launch copy. I even had to split her project case study into two parts. This is the first, and her launch copywriting project is the second.
The solution
The process of crafting Margaret's website copy was entirely fun. I truly enjoy hosting and digging through ideal/past client interviews (and it's a must-do part of my website copy package because I believe that's where the juice is at!).
For her deliverables, I created:
Website copy for MM Coaching and Consultant
An in-depth brand messaging guide that covered everything about her brand and ideal clients
Two custom blog posts for the MMCC website
Now, let's talk about her website copy: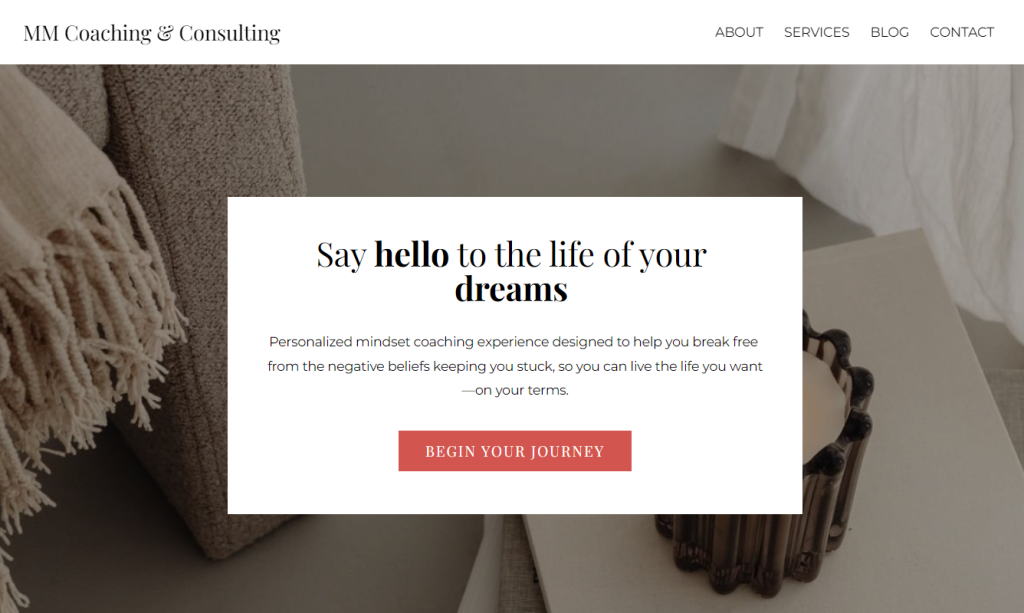 It's important to win your ideal clients over from the very first statement. This is exactly what I did with Margaret's hero section. Her target clients have dreams and plans they've left pending forever because certain limitations are in their way. And this is exactly what that section pointed out in an empathetic tone.
Showing Margaret's ideal clients that with her intensive one-on-one coaching program, they'd be able to awaken their truest potential and THRIVE.
Also, I sprinkled a number of quotes throughout her website, because why not? It's about mindset work, and so motivational quotes here and there add appeal to the site.
Margaret's About page is warm and empowering.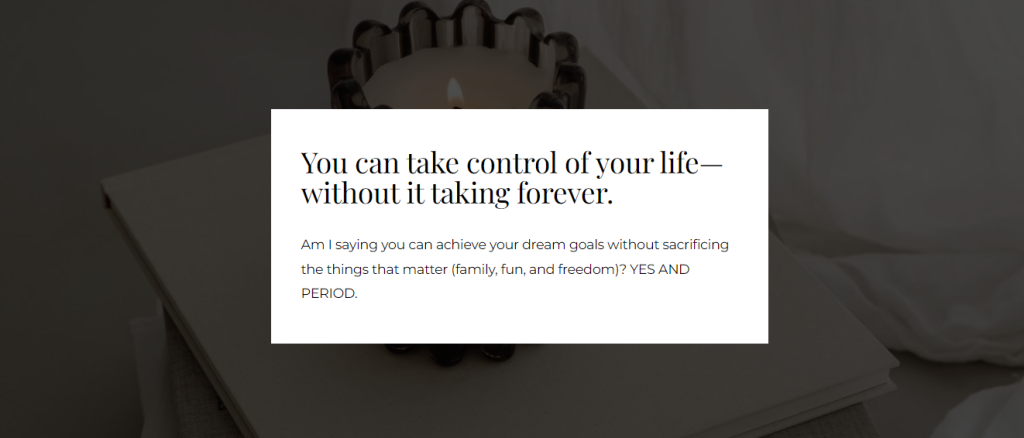 The page showcased her brand mission, which is "to help you awaken your potential so you can live a fulfilling life." I also talked about her training, certifications, and experience in a way that positions her as the best-fit mindset coach for them.
Margaret's ideal clients are ambitious women who want more from their businesses, jobs, and lives. Women who are tired of the status quo. Women who want to start making their dreams come true.
Her copy focuses on helping them visualize what life would be like if their dreams weren't just wishes.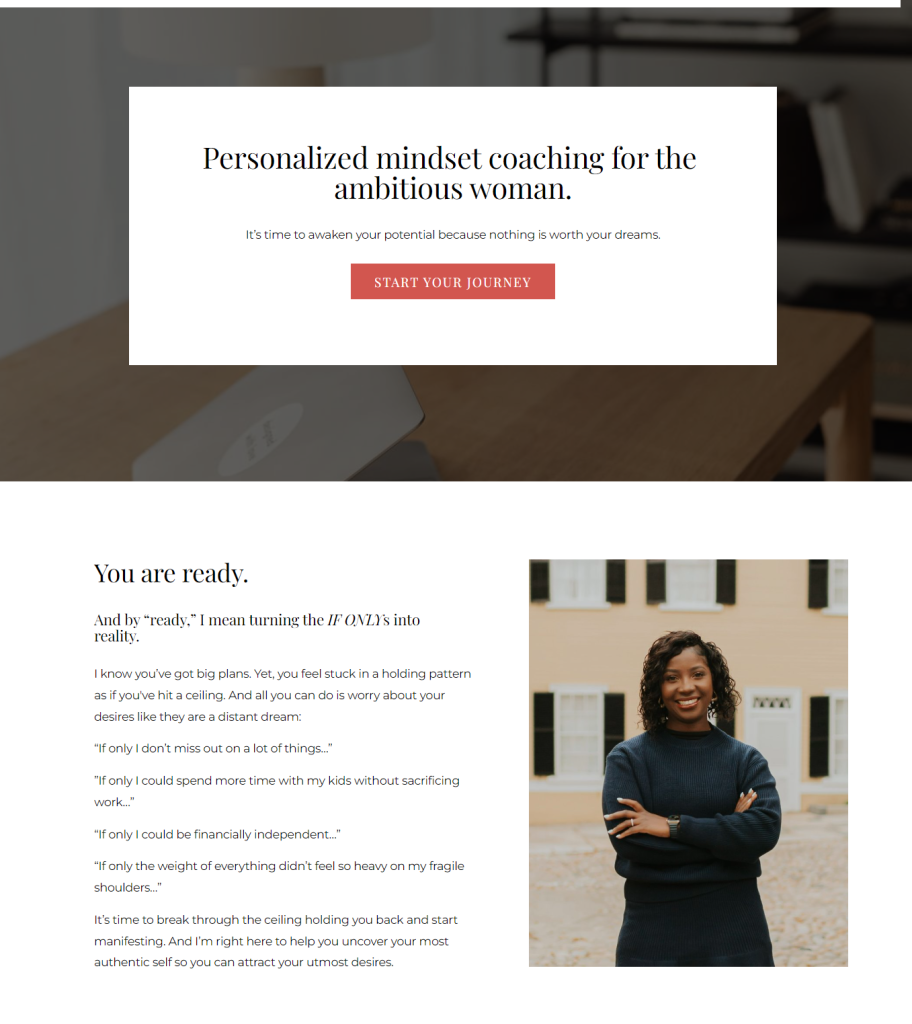 This section paints a clear view of their reality and the future that's possible after journeying through her intensive one-on-one private coaching.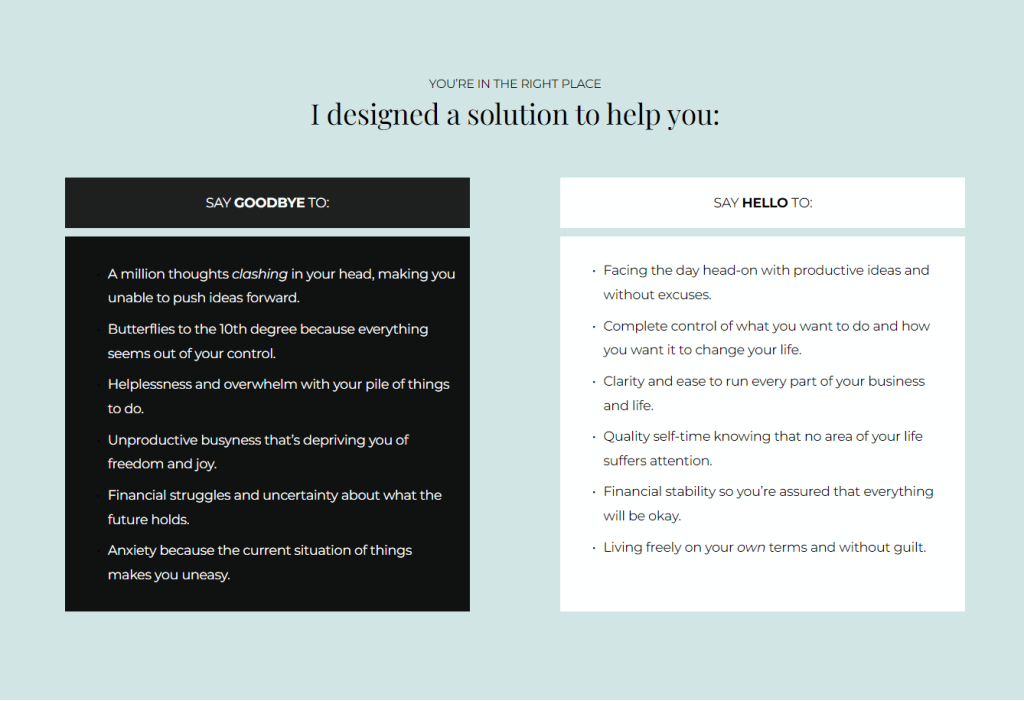 For the program breakdown, I didn't stop at the features. I highlighted the transformational benefits of each feature. Throughout the website, I made sure Margaret's message oozed empathy, empowerment, and fulfillment.
The review
"When Sally gave me the breakdown of everything she was going to do, I knew then that I'd love to work with her.
I didn't know what direction I wanted to take my website. For a variety of reasons, I was also reluctant to work with anyone online. But, Sally works specifically with coaches, and after talking to her, she showed me exactly how she'd assist me. I love her patience, timeliness, professionalism, and attention to detail. She's professional and thorough with her explanations.
My website came out excellent! Sally has been a blessing, so I'll absolutely keep working with her!"- MARGARET MCCOMISKEY
---
Working on Margaret's MM Coaching and Consulting website project was a thrilling experience for me. She built her website on Squarespace, and I love how the design brings her website copy to life. I'm truly grateful she chose to work with me. Check out the live website.
Will you be next?
Want website copy that puts you in the spotlight?
Oh hey, starting a business takes a hell of courage (and scrolling all the way down here takes a lot of interest). So, if you're ready to turn your ideas into irresistible offers using sales-worthy copy, you're in the right place.
---
---