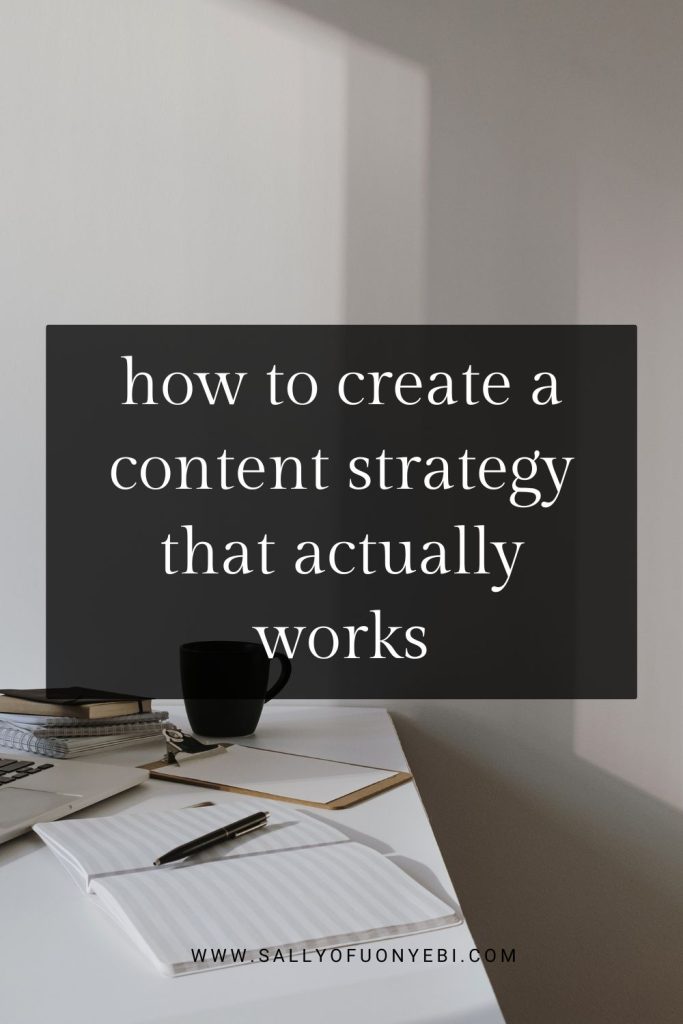 When you're a coach or service-based entrepreneur, one of your biggest challenges is to create content that sets you apart and attracts your perfect-fit clients.
But, how do you start?
You need a content strategy.
Now, the thought of building a content strategy might sound like a daunting task.
It's not. ~Take a deep breath~
In this post, I'll walk you through the five essential steps to creating a winning content strategy.
What is a content strategy?
A content strategy is the roadmap or plan for achieving brand goals using content.
It is the entire process of planning, creating, marketing, and reviewing content to make sure they're working to achieve your business goals.
Now, let's talk about how you can create a content strategy for your coaching business.
How to develop a content strategy for your coaching business
Lately, the concept of content strategy has become complicated in the eyes of the public, leaving coaches and other service-based businesses wondering,
"What should I include in my content strategy?"
"How can I build an effective content strategy for my business?"
If this is you, get ready to discover exactly what you need to do to build a content strategy that works.
1. First, set your goals
You need to figure out your goals.
If you don't know why you're doing something, what's the point of doing it anyway? Instead of randomly creating content, having set goals allows you to create content that connects.
"What are your goals?"
"How can you use content to achieve these?"
"What type of content will be perfect to achieve these?"
Once you have a clear picture of your goals, you can begin to develop a strategy that aligns with them.
2. Perform market and keyword research
It's vital to perform market and keyword research to know the type of content your audience wants.
This involves identifying the:
needs and desires of your ideal clients
topics and keywords that are most relevant to them.
Related: what is an ideal client avatar
Also, you need to analyze your competition's content to see what's working for them and find gaps you can take advantage of.
3. Choose your content themes and channels
It's time to determine which themes and channels you want to focus on.
Your content themes are the overarching summary for a set of topics. For example, as a launch copywriter, one of my themes is "launching."
"Launching" houses other sub-topics such as launch strategy, launch copywriting, launch worksheet, launch mistakes, and launch debriefs.
Also, your preferred channels should align with your ideal client's preferences, so consider where they spend their time online. Are they active on Instagram? Do they prefer email newsletters or podcasts? Or maybe they frequent certain community groups or forums.
4. Create a content calendar
You need to start planning and creating content. This means you need to create a content calendar that keeps you on track with your publishing schedule. When you plan your content, it would be easier to create a sales funnel for your business.
A content calendar allows you to organize topics, prioritize important dates, and stay consistent with your publishing schedule.
So, make a calendar that helps your content process. If you need ideas for what to post, here's a list of 44 brilliant content ideas.
Never worry about what to post again!
Swipe this list of 44 unique, reusable content ideas for social media and emails.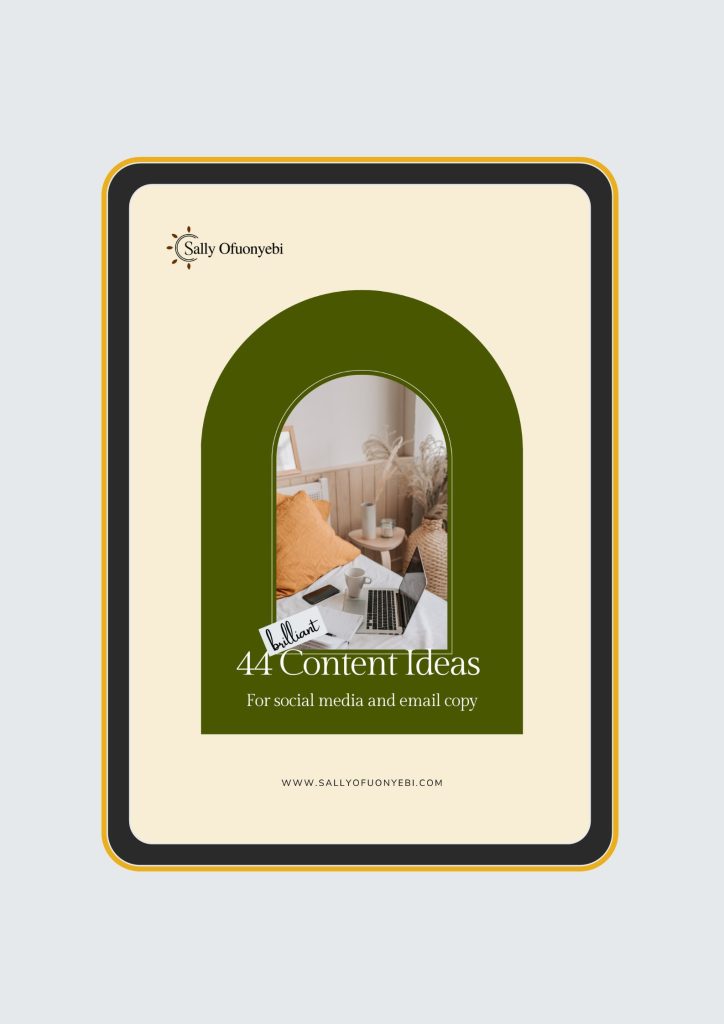 5. Measure and adjust your strategy
Posting content matters when you know it's resonating with your audience and meeting your business goals.
So, it's necessary to track key performance indicators (KPIs) such as website traffic, audience growth, social media engagement, email open rates, and conversion rates.
Analyzing these metrics allows you to identify the best-performing pieces of content and those that need more work.
You can adjust your content strategy to focus on creating pieces like the best-performing ones.
Sidenote: People don't talk much about the analytics part of content strategy. But, it's as important as the entire plan. You need to know what's working.
Measuring and adjusting your strategy is not a one-time task you cross off your to-do list. It should be an integral part of your content strategy to ensure continuous growth.
The wrap-up: Content strategy for coaches
Creating a content strategy may seem like such a complex process. But, it isn't if you know what to do.
Get started today with 44 unique content ideas to grow your visibility and engagement.
---
Never worry about what to post again!
Swipe this list of 44 unique, reusable content ideas for social media and emails.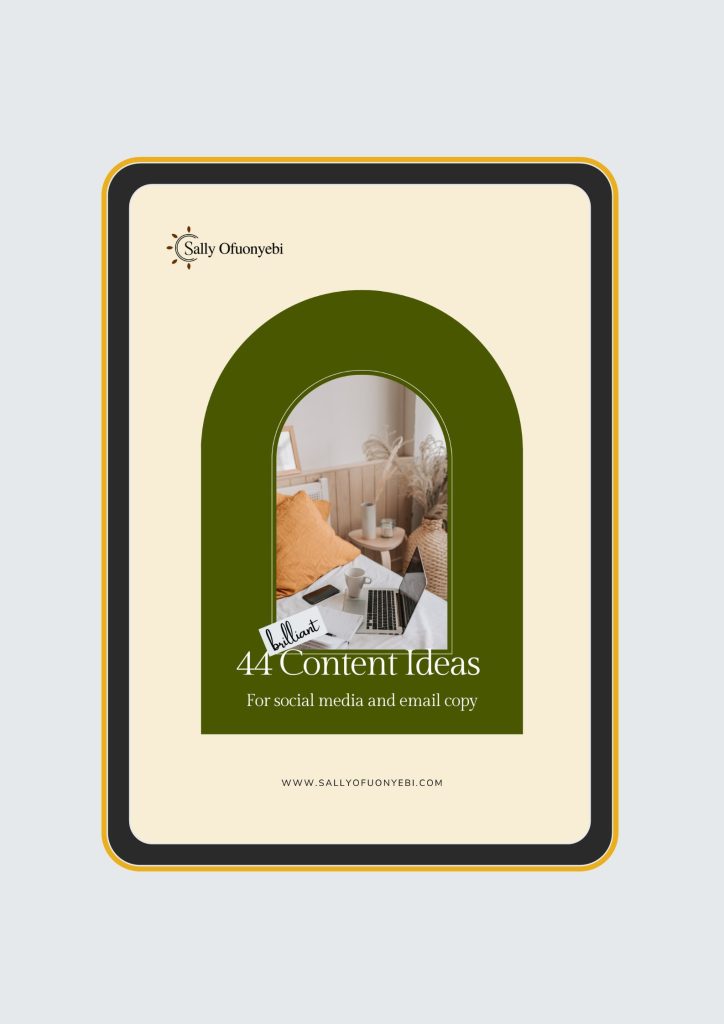 Share this post with your friends!