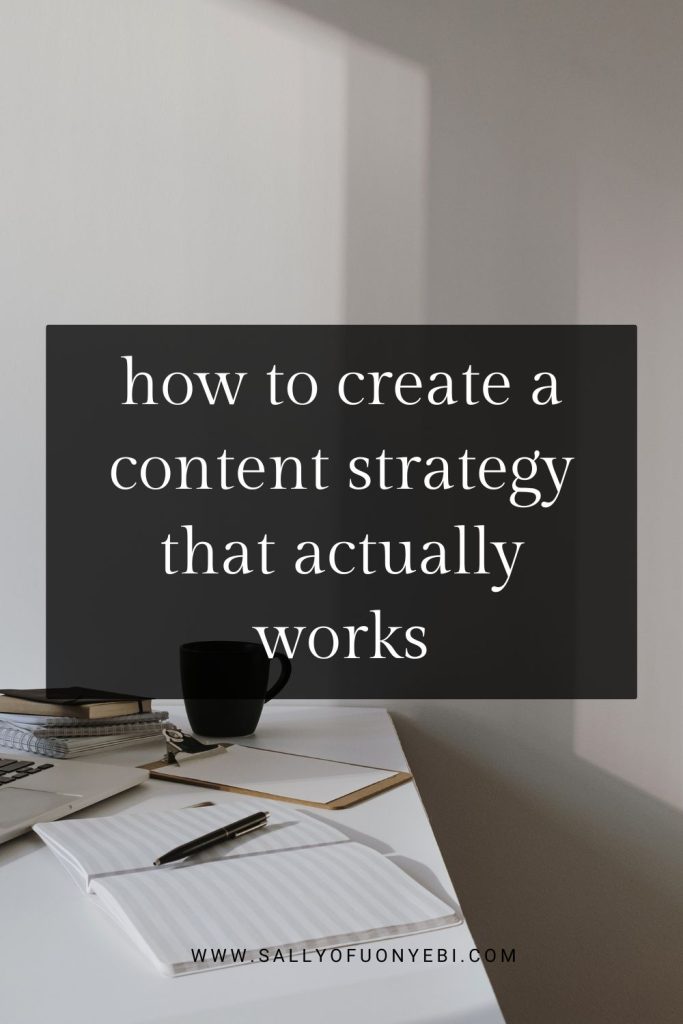 Creating effective content for coaches requires a strategy.
As a coach, you need to create content that sets you apart from others in the industry. With content, you can quickly position yourself as an expert and attract your perfect-fit clients.
If the thought of building a coaching content strategy sounds like a daunting task, I want you to take a deep breath. In this guide, you'll learn step-by-step how to build a content strategy that makes coaching easy for you.
What is a content strategy?
A content strategy is a structured roadmap or plan that highlights how you'll create, promote, and manage content to achieve your brand goals. By developing a content strategy, you can establish a clear pathway, stay consistent, and engage meaningfully with your ideal clients.
Think of a content strategy as a compass to guide everything you do in relation to your messaging. It allows you to create relevant blog posts, social media content, and emails that align with your audience.
Content ideas for coaches: 5 Types of posts to create
Now that you know what a content strategy means, let's talk about the types of content you need to include. Every coach needs to share these types of content with their audience to gain trust, engagement, and conversions.
Educational content
Educational content refers to informational posts that teach you the what and how. This type of content aims to educate and provide value to your audience. Using them in your content strategy helps you position your brand as an expert in your industry.
Some educational content ideas for coaches include:
How-to tutorial videos
Quick tips
Interesting stats
Myth debunking
Step-by-step guide.
Personal content
Personal content refers to posts that revolve around your thoughts, experiences, feelings, and points of view. This type of content allows your audience to know you on a deeper level. Because of these posts, they feel connected to your vulnerability, personality, and journey.
Some personal content ideas for coaches include:
Throwback Thursday
Currently reading/listening/watching
Lesson learned
Spoken reflections and quote tweets
A day in the life
Activation content
Activation content can also be called sales posts. They capture interest, communicate the value of your products or services, and drive sales. When sharing activation social media content, ensure that it's clear and provides a strong call-to-action for your audience.
Here are some activation content ideas for your coaching business:
Product spotlight
How it works: offer walkthrough
Behind the scenes
Case study
Client success story
Engagement content
If you need prompts to spark conversations and create a deep sense of community among your followers, share engagement content. Ensure that your posts fit your messaging style to make them brand-aligned and even more engaging.
Some engagement content ideas for coaches include:
Personal story
Interactive quiz
A game—This or That, 3 truths and a lie.
Interactive polls
Ask me anything (AMA)
Business Stories
Including business stories in your content strategy humanizes your brand. Your audience gets to know more about your brand story, values, mission, unique value proposition (UVP), and offers. Sharing business stories helps you build trust with your audience, and gives them a better understanding of your business.
Some business story ideas for coaches include:
Founder's or brand story
Meet the team
Customer spotlight
Brand culture
Product showcase
Evolution over time
How to create a content strategy for your coaching business
Set goals for your content
Perform niche-specific research
Choose your content pillars
Create a content calendar and bank
Measure and adjust your strategy
---
Lately, the concept of content strategy has become more complicated than ever, and this is making you wonder, "What goes into building a content strategy for coaches?" If this is you, here are the five core steps to building a winning content plan.
1. Set goals for your content
I like to tell my coaching clients to always start with the end in mind. Now, I'm telling you too.
Before you get into content planning, define your objectives. If you don't know why you're doing something, what's the point of doing it anyway? Instead of randomly creating content, having set goals allows you to create content that connects.
Ask yourself these questions:
What do I aim to achieve by creating content? Brand awareness? More inquiries? Email sign-ups? Note that sometimes, your objectives change with the seasons.
How can you use content to achieve these? Creating gated content? Sharing opinionated posts? Inviting expert thoughts into your posts?
What type of content will be perfect to achieve these? I advise you to use all five of the above.
Once you have a clear picture of your content goals, you can begin to develop a strategy that aligns with them.
2. Perform niche-specific research
When creating a content strategy, it's necessary to understand your ideal client. Who are they? What are their challenges and pain points? What are their desires? Where are they spending their time?
Conduct thorough research to create a detailed ideal client persona that represents your target buyers. Then, perform market and keyword research to know the questions they are asking, and what content resonates with them. This knowledge will help you tailor your content to their needs, making it more engaging and valuable.
3. Choose your content pillars
It's time to choose what content themes/pillars you want to focus on. Content pillars are the overarching topics for a set of content.
For example, as a copywriter for coaches, I have a theme such as launching. Now, launching has other sub-topics such as launch strategy, launch copywriting, launch mistakes, launch debriefs, and more.
Content pillar for coaches
As a coach, you should create content pillars for your business so you can create content that aligns with your business and audience. These pillars will be the foundation of your content plan, whether you're developing blog, podcast, social media, or video content.
Examples of content pillars for coaches:
Business coach
Building sold-out offers
Writing sales messaging
Lead generation
Brand positioning
Closing sales calls
health coach
Meditation and mindfulness
Physical exercise
Nutrition and healthy eating
Weight control
Cooking and food recipes
Finance coach
Personal finance
Wealth building and investment
Taxation
Financial planning
Debt Management
---
4. Create a content calendar and bank
It's time to start planning and creating content. For this, you need two things…
Firstly, create a content bank that allows you to document and compile your ideas for future use. Secondly, you need to create a content calendar. A content calendar allows you to organize topics, prioritize important dates, and stay consistent with your publishing schedule.
Brainstorm ideas and schedule them on your calendar. Decide the channels you want to distribute your content on. However, ensure that they align with your ideal client's preferences. Are they more active on Instagram than on other social channels? Do they prefer podcasts? Do they read emails?
5. Measure and adjust your strategy
People don't talk much about the analytics part of content strategy. But, it's as important as the entire plan. You need to know what's working. Consistency with your posting schedule matters when you know your content is resonating and converting.
So, it's necessary to track key performance indicators (KPIs) such as link clicks, engagement rate, website traffic, audience growth, and email open rate. Analyzing these metrics allows you to identify your best-performing pieces of content and find opportunities for growth.
The wrap-up: Content strategy for coaches
Building a content strategy may seem complex and overwhelming at first. But with these steps highlighted above, you're well on your way to creating a winning content strategy. Keep in mind that being patient and consistent is necessary for growth.
Ready to create a content strategy that grows the heck out of your business? Go get started with this guide.
---
Share this post with your friends!