Have you ever had to promote every offer you have, only to end up stressed AF with low sales?
I can totally relate.
I remember something that happened a time I was traveling to my parent's place after an exhaustive apartment setup.
(Yup, I relocated to a big city but that's a story for another day).
The roadside hawkers weren't sure whether we, the travelers, would want plantain chips, walnuts, boiled eggs, or roasted maize. So, they marketed all one after the other.
A woman waved her products at a traveler and shouted, "Do you want plantain chips? It's nice oh, you'd like it."
He replied, "No, thanks."
Dashing off to bring out some roasted corn, she came again, "What about this, sir?"
You could be in that stage where selling your offer feels like roadside hawking — stressful and overwhelming.
Seriously, it's exhausting selling like this — without a system — in real life and the online space. And the good news is: You don't.
You don't "always" have to promote your offers one by one before you make sales. You don't have to sell your mini-class at 9 am on Friday and a masterclass at 11:30 am on Saturday — when you should be spending time with family and friends.
What you need is a sales funnel. But, how can you be sure to create a sales funnel that'll make you money?
Creating a sales funnel allows you to sell your offers to people without losing your shit. – Sally Ofuonyebi
Here are the 6 things you need to build a successful sales funnel — whether it's for a course, program, or service.
1. Goal Setting
You need to decide your goals because these will affect every other thing. Whether that's research, brand message, and marketing strategy.
Write down your goals and make them SMART, mkay?
That is, Specific—Measurable—Achievable—Realistic—Time-bound.
If this is something you don't know how to get started with, you'll find my launch worksheet useful. I have a whole section there that focuses on how you can set your money and metric goals.
Grab the launch worksheet here >>>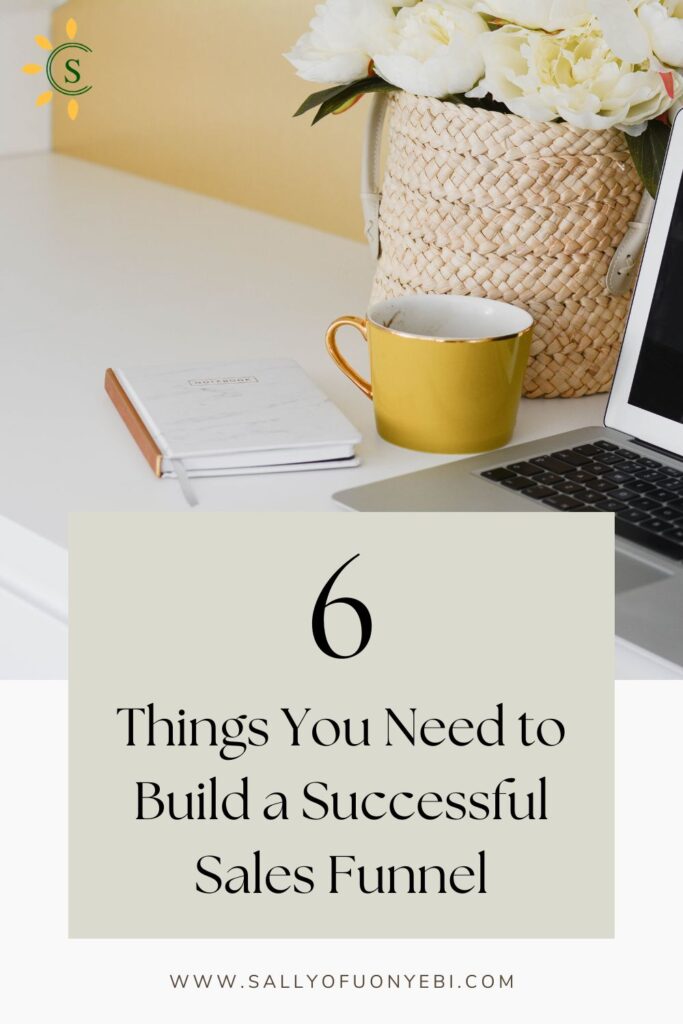 2️. Audience Research
You can't promote your offers to every Tom, Dick, and Harry and expect them to buy.
It's important to know who your ideal client is. I'm not talking about just demographics, you need to know every little detail about their psychographics.
So, who is your perfect-fit client? What are their dreams and goals? What challenges are stopping them from achieving these goals? How will your solution — program, course, or other digital product — help them achieve these goals?
3️. Lead Magnet
Thousands of people are in the same industry doing something similar to you. This obvious fact that there are countless (and some not-so-valuable) options is why your ideal clients will lurk around for a while.
They want to see if you can really help them. So, how do you show them that your offers are more than worth their investments?
Create valuable lead magnets.
Think about it as creating free evergreen content that'll give your audience a taste of what your offers are like. This could be a checklist, guide, worksheet, swipe file, or template.
4. Systems
At this point in your biz, start building systems to funnel traffic and engage your audience.
You've created a lead magnet, awesome! Set up email marketing apps and content scheduling tools that'll let you nurture your leads from time to time.
Create opt-in forms, pop-up menus, and sales pages.
If you need help writing a sales page that sells, here's the copy template that made my client a 10X increase in course revenue. It's totally free!
5️. Irresistible Offer
A sales funnel should make "sales." This is why you need to create paid offers they can't resist.
Create a product that solves the real problems their facing. I mean, solutions that will help them achieve their dreams.
Your offer should be relevant, helpful, timely, clear, and brand-aligned.
But, creating an irresistible offer also goes beyond the product itself and this brings me to my last point.
6️. Messaging
How good is your launch copy? How you write about your offer will increase its perceived value.
Poor messaging is one of the costliest launching mistakes that kill sales.
I'm not out to scare you. I'm here to tell you to share connection-focused stories. Make your ideal clients feel that you understand them.
Through the words you share, let them feel your offer and the transformation it promises.
Create landing pages, emails, and social captions that speak to their core.
And that's a wrap!
Enough of the stress and poor sales, all you have to do is build a successful sales funnel for your business. And with all these six tips, you're ready to kickstart your sales funnel process.
If you want to build a working strategy for your sales funnel without the headaches and confusion, I can help with that.
Get instant access to my Launch Worksheet!
Ready to plan and prioritize your best launch yet? This 10-page worksheet is what you need to build a working launch strategy from scratch.