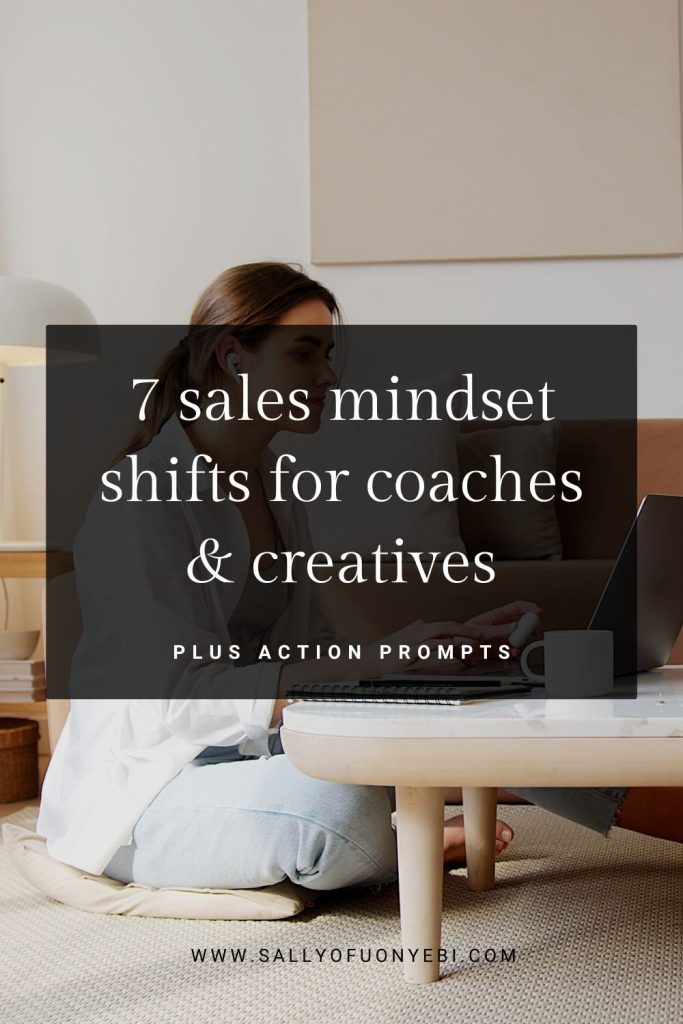 If you'd talk about your offer and everything else, but slow your roll when it's time to announce the price…
…you're scared of selling.
"Why though?" "Why are you afraid to sell?"
I know. It's because you think selling is difficult, hard, and sometimes sleazy and manipulative.
Our mind has been conditioned long enough to believe selling is a bad thing. That business people are the bad guys. That it's not a good thing to ask people for their money.
But today, I'm going to recondition your mind with 7 sales mindset shifts to improve your selling prowess and bank account!
Let's get into it yuh!
First, let's talk about what a mindset shift actually means.
What is a mindset shift?
A mindset shift is the process of changing from one perspective of thoughts to another one. It's when you move your mind from a belief to a new belief.
For example, you used to believe that working hard is what makes you money. Now, you believe that money is an energy you can attract without HARDship. That's a mindset shift.
Ever been to an amusement park?
You know that part of a Ferris wheel that holds the passenger carriers together (it's called the rim, but I won't bother you with some good ol' Physics), well… your mindset is like that.
Your mindset is what keeps the other parts of your business—sales, productivity, positioning, and relationships—together. And if it's not the number 1 player in how you market your business, you're getting it wrong.
The majority of things in business are not easy to control—your time, audience, income, or growth. But, you can control your mind.
And, your mind controls all these things.
So, no matter how bangin' you think your launch strategy is, you won't get your desired results with the wrong mindset.
The 7 Sales mindset shift for coaches and creatives
I know you want more sales for your brand. I want the same for you too. And without further ado, here are the seven mindset shifts to make sales in your business.
1. Lead with pure value
REAL TALK: The online space is crowded, but that's not even the problem because there's space for everyone—really.
The problem is that these businesses have become a mess of stereotypes (that everyone's grandma and their dogs can easily predict without checking on Google).
These businesses share the same regurgitated content that adds no value to their audience and (worse still), leaves them confused.
You, on the other hand, need to stand out from this crowd by sharing value non-stop. It's like giving your dream client a peek at what it's like to be in your world.
Your sales mindset shift prompt: I will give great value before asking.
When you give so much value upfront, they'll love your insights, trust your hot takes, and become excited about your offers.
The more excitement people show for your stuff, the greater the demand and sales you'll get.
2. Ask for the sale
Selling your offer will never be "too much" or "invasive."
People want to know about what you do. If you don't tell them enough, it won't stick.
The average person needs to hear about your offer at least 7 times before deciding whether they want to buy.
You read that correctly, bestie. Seven-friggin'-times.
During the inquiry stage with one of my clients, she said she needed help with website SEO. This was after a back-to-back posting spree on my Insta stories about ranking on page 1 for 10+ keywords with a single blog post.
After some guided questions, I realized she didn't have her website copy done yet, so I told her it was one of my copywriting services.
Guess what?
She was surprised. She didn't know about my website copy offering even though we've been interacting for about a year.
So, go ahead and promote that program, course, service, and product. It makes you top of mind of your ideal client.
Your sales mindset shift prompt: If I don't promote my offer, no one will know I have one.
This is your permission to promote yourself some more. Maybe the 10% of people who will see it today won't be the ones who saw it three days ago.
Marketing your services is never too much as far as you do so with the right sales messaging.
3. Stick to what works
This one is a tough one, but I want you to do it.
Consistency is hard and requires intentionality and discipline. It's even harder when you see a guru getting 10 times your result in one go—using a "powerful" strategy. 🙄
It's hard not to develop that shiny strategy syndrome because you want results. I get it.
Sometimes it's good to switch things up, but don't do this every time. Don't make this a habit. Instead, learn to build up consistency.
Your sales mindset shift prompt: I won't go after every shiny strategy. I'll stick to what's working for me.
Going after every strategy will slow you down, wear you out, and turn you away from your "main" goal. It will make you information paralyzed.
Try to be on a low-information vibe, taking your time to consume only the best content.
4. Develop an abundance mindset
Growing up, I believed that money is hard to make.
My parents told me,
"Do you think money is easy to make?"
"Sally, don't waste my money. It's not easy"
"I don't pluck money from trees. I work hard day and night to get the ones you see."
My parents truly worked their asses off to feed me and my siblings (I'd forever be grateful to & for them). Those two are angels in human form.
It was tough coming from an average background. All I knew was scarcity and a lot of pessimistic people.
So, just like me, you might have been brought up in an environment where y'all didn't have much—and somehow, that fixated your mindset on scarcity.
Now, you ask yourself hopelessly, "Why will people even buy from me?"
Look, people need solutions. They want help.
You just have to be the person who helps them find their answers.
Your sales mindset shift prompt: Money is an energy and it flows to me easily.
My mindset took a 360-degree spin the first time I came across Melyssa Griffin's website in 2020.
And I want your mind to make that shift too.
It won't be immediate. It won't happen in a day. But with consistent nurturing of this positive view that you attract every good thing—money, good clients, growth, and joy, you will get there.
5. Normalize asking for help
It's not a shameful thing to ask for help.
And sometimes, I know that "not asking for help" comes from a place of distrust rather than shame.
I also have outsourced some projects (in the name of getting help) that almost landed me in trouble with a couple of clients. So, I get it.
But, you can find your perfect-fit virtual assistant, biz partner, or copywriter. All you have to observe is whether:
Their values and personality align with you
Their work samples are good enough
They are committed to learning and helping your brand grow.
Your sales mindset shift prompt: I will build my brand strength by outsourcing my weaknesses.
People want to help you. Some free, some paid. But the point is, they want to help you—so, let them.
Outsourcing your weaknesses saves you time and gives you the confidence to show up for those who need you.
6. Focus on the transformation
You panic and think,
"Will they really buy from me?"
"Who am I, though?"
"There are many others with better certifications, followership, and experience than I have."
Relax!
First off, I need you to understand that you're doing the world a favor by selling your transformational offer.
You're not taking their money or ripping them off. You are helping them achieve their dreams through your method—and this is why your ideal clients will buy from you.
You need to start seeing yourself as a transformation giver, not a salesperson.
Your sales mindset shift prompt: I'm not selling slots. I'm selling a transformation.
This way, you help people see what transformation they'll get when they use your offer, without manipulating them to buy.
You'll be able to walk them through your process—and show (not just tell) them their goals waiting on the other side of their YES.
7. Prioritize collaboration
You're not in competition with anybody. Period.
There's a competitive market, yes. But, being in a race to compete with others comes from a place of scarcity.
WE. CAN. ALL. WIN.
Your sales mindset prompt: I choose collaboration over competition.
Collaborating with people who have the same, similar, or complementary business as yours is a great way to broaden your reach and increase your audience size.
Try a joint Instagram live with that business strategist. Do a joint-venture masterclass with that messaging expert. Launch a collab program with that coach. Mkay?
The wrap-up: Mindset shifts to make more sales
The first thing you need to improve to make the kind of sales you want for your business is not brand strategy, content, or CTA buttons.
It is your mindset.
You are a business owner, and businesses are supposed to make sales. You know your products and services better than anyone. You know the value they bring to your ideal clients' lives.
If you're not getting the sales you want, it could be that your perfect-fit client hasn't seen your offer yet. So, don't stop promoting.
Focus on these seven sales mindset shifts above to get great sales results and hit your money goals.
Which of the mindset shift prompts resonates with you the most? Let me know in the comments.
PS: If you want to know how your audience perceives your brand and how to scale based on your positioning, take the quiz. 👇
love a fun quiz? let's get this one poppin'
What is your brand positioning?
---
Need help with your sales messaging? Check out the ways we can work together to achieve your money goals.
Share this post with your friends!